Black ice warning for road users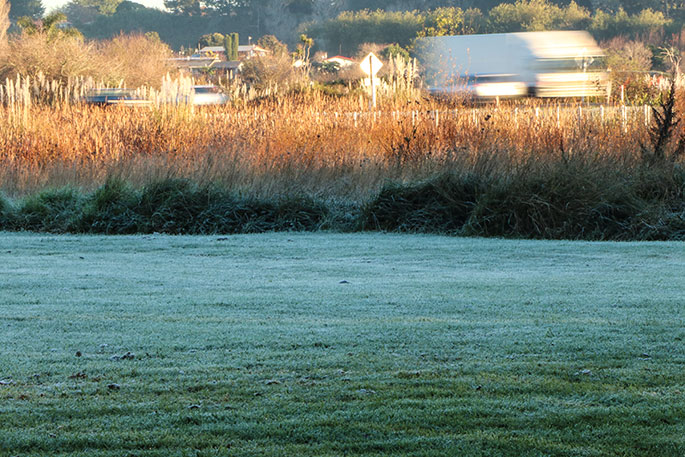 As winter sets in and the temperatures drop, motorists are being warned of the potential of black ice on the roads.
Superintendent Steve Greally, National Manager of Road Policing says driving in winter is not the same as driving in summer; New Zealand seasons are distinct, especially in our alpine and rural areas.
"Extreme weather conditions such as ice, snow, fog and wet weather can hit quickly, so people need to be prepared for the weather conditions and know how to handle the vehicle they are driving."
New Zealand Transport Agency Director of Safety, Health and Environment Greg Lazzaro says pre-planning is essential for safe travel and if drivers want to avoid delays caused by road restrictions, road closures, or vehicle breakdowns.
"Check traffic and travel updates before you leave, think about where you're going and what route you should take – choose safety over convenience.
"Always check the weather forecast and consider if you really need to travel, especially if the weather is poor," says Greg.
If the weather is bad and your travel can't be put off, allow extra time for your journey.
Motorists are advised to drive in the middle of the day or in daylight hours, when visibility is better and ice and snow are less likely to be on the road.
Avoid driving at night, when hazards rapidly multiply.
"When you're on a wet, icy, or snowy road, it's important not to brake suddenly or to accelerate quickly, as you could aquaplane or skid," Steve says.
"In these situations, more than ever, driving to the conditions is crucial.
"People need to watch their following distances, make sure before they set out that their headlights and windscreen wipers are working, and check weather reports in alpine areas."
As part of the winter driving focus, Police and the NZ Transport Agency will be doing safety checks of commercial and passenger service vehicles, and their drivers on roads around New Zealand's ski fields.
"People can also expect to see a strong Police presence around New Zealand's popular routes commonly used for transit to and from the ski fields, including our Impairment Prevention Team," says Steve.
"We're out there because we want everybody to get where they're going, and home, safely.
Over the winter months we'll be reminding people to take care and be aware of the hazards of winter driving, like black ice.
"Most things can be handled on the road if you drive at a safe and sensible speed and give yourself time and space between cars to react."
Simple rules for safe winter travelling:
• allow extra time
• ensure your vehicle is safe for winter driving
• drive to the road and weather conditions
• slow down and be prepared for unexpected hazards
• allow greater following distance between you and the vehicle ahead
• make sure your cell phone is well charged, check car charger also
• have blankets, snacks, bottles of water ready in case of emergency or a breakdown
• Learn about winter driving, including how to get your vehicle ready and how to put on snow chains, at https://www.nzta.govt.nz/safety/driving-safely/winter-driving/
• Check weather, travel conditions and traffic information on our highways before you set off at http://www.journeys.nzta.govt.nz/, or call 0800 4 HIGHWAYS.
More on SunLive...