Tauranga teens to take on new motorsport event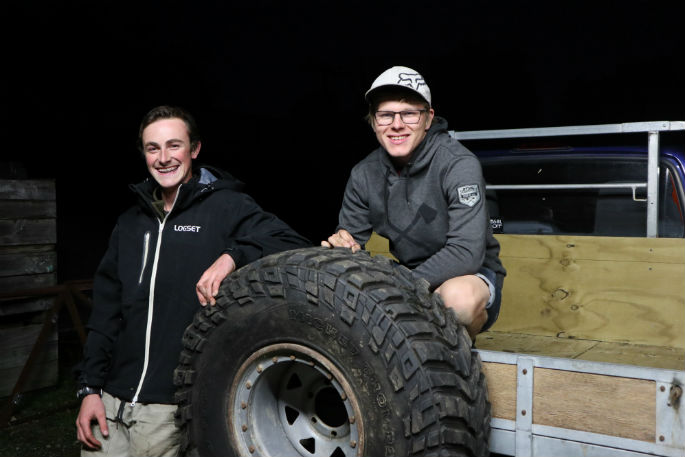 Two Tauranga teens are taking on a unique motorsport event later in the year.
It is called King of the Hammers in America or Ultra4. Here in New Zealand the four-wheel-drive racing event is known as King of the North.
Organiser Caleb Thompson says the event started in the US when founders Dave Cole and Jeff Knoll decided to combine rock crawling and off-road racing. The main event each year is the King of the Hammers, in Johnson Valley, California.
Caleb says 12 people turned up the lakebed 13 years ago for the inaugural event. This year there was more than 69,000 spectators and 9000 RV's.
They witnessed UTV racing (4900 Class), Every Man Challenge (4500, 4600 and 4800 class), Shootout, T1 race (desert trucks), and the main race - the 4400 Unlimited class.
"Ultra4 in the US has a big racing series across the country, a new series launching in Canada, a new race launching in Mexico and a five round series in Europe that started in 2012 in England.
In New Zealand, at the Polaris 4WD Park, Woodhill, Auckland, August 10-11, competitors can expect a new challenge and spectators can expect some exciting watching, Caleb says.
They have designed a 5.5km loop track, with a sand base.
"We plan to make some obstacles on to test man and machine to their limits as well as encourage safety and team work," says Caleb.
Dyson Delahunty (19) and Kieran Boston (16) are entering as a team, in the UTV section of the event, with a Polaris RZR.
Dyson says King of the Hammers race is a cross between 4x4 and off-road racing, and he has grown up doing both.
"King of the Hammers has been on my bucket list for a few years now."
Kieran has been watching King of the Hammers for a couple of years now and he says it looks like fun.
"I'm most looking forward to being out there racing and seeing the sport grow in New Zealand as it's been a dream of mine to go over and watch the King of the Hammers for many years.
"My favourite part is watching the top guys battle it out over the tuff terrain and huge rock steps and watching how their trucks handle the abuse," says Kieran.
For someone who didn't know anything about Ultra4 or King of the Hammers, Caleb explains it like this:
"It is purpose-built vehicles, with the speed of Offroad racing and the challenge of obstacles. It is more than just the racing, it's an event to let creativity shine with vehicle builds and ideas, a place to go hang out and compete against people that have the same passion.
"Our good friend and race director of Ultra4 JT Taylor said it best – 'Take all of your money, light it on fire and throw some big tyres on it'.
"Some people live for boating, we live to go wheeling!"
With this event being the first of its kind for New Zealand, Caleb says the golden question is how big the turn out for the event will be.
"I would love to see a big turnout, the support so far has been awesome. We are running under official Ultra4 racing rules, so there are a few new safety rules that need to be met before we can allow people to race.
"Whether we get a big turnout or a small turnout we will still put in the same amount of effort to make it a memorable event."
More on SunLive...