Costume extraordinaire moves to the judging panel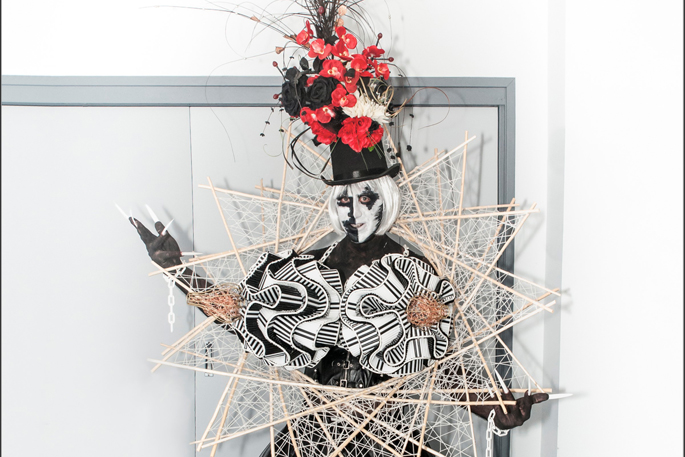 Contestants in the Waihi Beach Wearable Arts competition will be relieved to see past supreme winner Cherie Elmsly is suiting up as a judge this year, rather than participating in the event.
Cherie has entered nearly every Arty Bra show since the show came into existence over ten years ago, and she has won numerous times in various categories, sometimes entering two creations.
The Visual Arts teacher at Paeroa College resides in Waihi Beach with her two daughters.
Cherie encourages secondary school students to enter the show this year as there are NCEA level two credits that can be acquired through your school.
"I have thoroughly enjoyed the many experienced of creating new and exciting entries for the show, every year it has evolved and grown, and you wonder how you can possibly do better than the time before.
"There is a lot of talented and creative people out there."
The process is what Cherie enjoys most. She says seeing a creation transform from your vision board and research to planning, experimenting, souring resources, construction, and feeing the end product come to life on stage is incredible.
"I really recommend anyone having a go either on your own or as a team.
"Get involved, be inspired, and most of all be creative!
"Winter is a great time to start a new project."
After winning multiple awards over the years, Cherie says the pressure starts to build each year, and people in the community ask if she is entering again.
This year, Cherie will not be entering the show, as she instead has accepted an invitation to be on the judging panel.
"This is an exciting opportunity for me to play a different role in the show, I absolutely cannot wait to see what this year's entries bring."
Despite sitting on the other side of the stage this year, Cherie sympathises with the contestants, as she says she understands the enormous time and effort being put into the creations, however Cherie says judging will be a difficult and challenging new task.
Her time however is not over in terms of creations, she has bigger prospects in the back of her mind.
"I investigated the WOW Wearable Arts competition however the cost, standard and pressure at a worldwide level proved a little too much at this stage.
"I am so proud of what I have accomplished here in my community and where we are heading. It is still in my future plans to enter at WOW."
Waihi Beach Wearable Arts event coordinator Kelly Moselen says this year's show is bound to be entertaining, with Crystal Chandelier being the MC.
"We are really trying to lift the bar for this event and give the artists a chance to shine with their creative skills, so we would encourage anyone to give it a shot."
Kelly is encouraging members of the Waihi community to give it a go, with the entry fee being only $20.
The winner of each category will receive $250, and the supreme winner will be awarded $500.
"It should be quite a high level, high energy and funny night. There is always a lot of hilarity in the night because of Crystal, and the Arty Bra's are modelled my men, so the comedy levels are quite high."
As well as the Arty Bra's, other categories include steampunk, Kiwi as Aotearoa and recycled.
Funds raised from the show are going to CanSurf, which is a summer camp experience for CanTeen, the peer support network for young people living with cancer.
"The charity provides a respite weekend full of adventure for children living with cancer.
"The CanSurf events have been happening for years, so we are really happy to be able to support them, because it's such an amazing weekend for these kids," says Kelly.
The Waihi Beach Wearable Arts show is on Saturday, August 31 at the Waihi Beach Community Centre.
Tickets are $35 per person and will be on sale later this month.
For more information, visit the Facebook page here.
More on SunLive...