Small changes for huge impact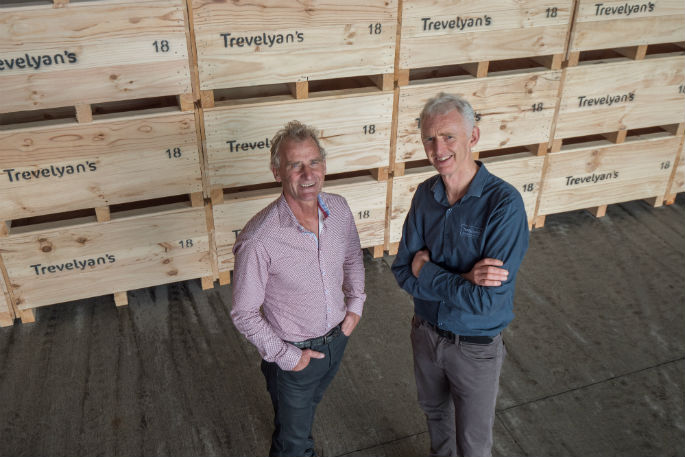 The numbers are staggering.
Bay of Plenty post-harvest operator Trevelyan's saved more than 300 tonnes of waste from landfill last year.
That's the equivalent of two blue whales – the largest mammals to have ever lived. Or one and a half times the maximum take-off weight of one of Air New Zealand's new Boeing 787 Dreamliners.
Trevelyan's has dramatically reduced its carbon footprint and is helping staff and business partners cut their waste in a bid to operate as sustainably as possible.
Trevelyan's fifth annual sustainability report tracks the company's progress economically, socially and environmentally. And it shows the company reduced CO2 emissions per tray by 58 per cent since 2010, having diverted that 300 tonnes of waste from the tip last year.
Trevelyan's Alister Hawkey says refrigerant gas used in its 35 coolstores continues to dominate the company's greenhouse gas emissions. "We have a strong focus on preventative maintenance to avoid these gas losses. And we are trialling a secondary refrigeration system which uses a refrigerant with a lower global warming potential. This is the best available solution at present but further progress needs to be made."
Trevelyan's has also enjoyed a series of 'big little wins'.
"Some changes are based on experience, many on good information and all are undertaken with a clear goal of ensuring we stay ahead of the game," says Alister.
A new initiative called 'Tip it Tuesday' helps staff understand and minimise the waste they produce. A general waste landfill bin is tipped out and picked over to see what the biggest sources of waste are and what can be recycled.
Trevelyan's canteen is now using more compostable packaging and general waste bins have been removed, encouraging staff to bring zero waste lunches or take any plastic food packaging home.
The company's business partners have also been asked to find solutions to 'waste' items such as plastic strapping, plastic pocket packs and tray liners used to pack kiwifruit and avocado.
Chemical containers and plastic milk bottles are returned to suppliers, staff pass unwanted or to-be-fixed items onto colleagues and a custom-built sorting table has been built to remove and recycle glass. Innovative solutions have also been found to turn waste from production lines into compost, and fruit label backing paper into an absorbent and non-toxic bedding material for raising calves and piglets.
"We have reduced waste to landfill to 33 tonnes per year, which is less than 10 percent of our overall waste," says James Trevelyan. "Every little bit counts and even the smallest changes can have a huge impact on the environment in which we work – for good!"
More on SunLive...