Rocking it with the cool cats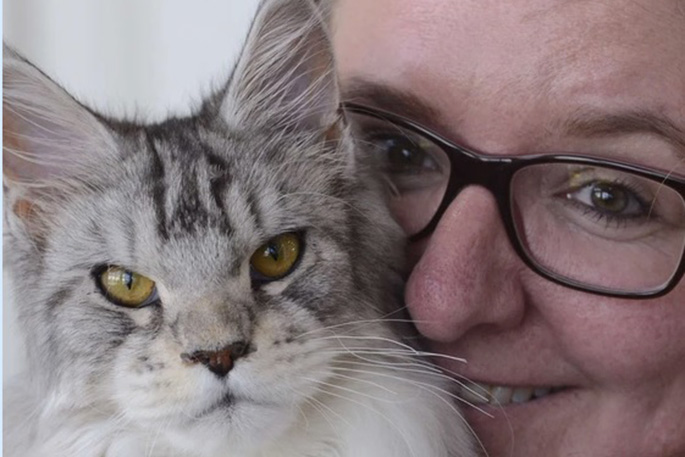 It's a wonderful world of cats today at Tauranga Racecourse.
From 9am – 5.30pm, the 2019 national show for patched and pointed cats, hosted by Patches & Pointed Inc. will be an opportunity for cat lovers to come and see top cats from around the country.
The theme for this year's show is 'Rocking it with the Cool Cats', with many varieties of cats, from longhaired and shorthaired being judged.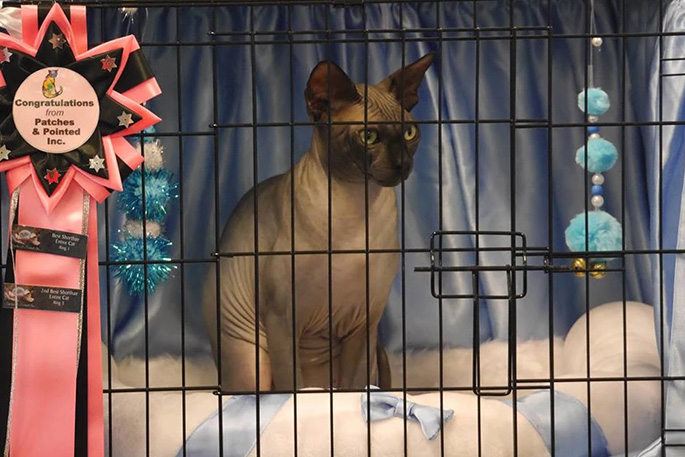 A winning cat from a previous show
It's a one ring show, but with multiple judging options. The international judging panel is made up of Kit Fung from Hong Kong, Lyn Sherer from Memphis Tennessee, Veikko Saarela from Finland, Robbie Walker from Brisbane, and David Scadden from Rotorua.
Kit Fung has worked for the Hong Kong Police Force for 24 years. He is a CFA All breed judge with 12 years' experience in breeding American Shorthair, has owned three National Winners and over 20 ID Divisional Winners. He also owned the only Longhair Manx in Asia. He is used to handling some other breeds included Persian, Exotic, Maine Coon, Ragdoll, American Curl, British Shorthair, Oriental Longhair.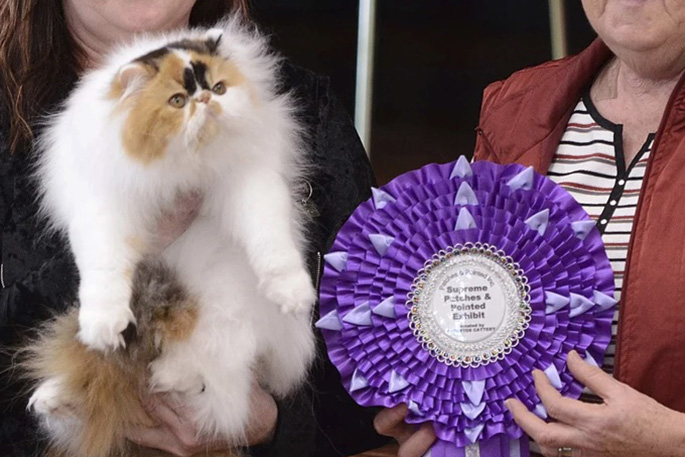 Photo: Winning cat from a previous show/Patched & Pointed Inc website
After breeding and showing for 10 years, Lynne Sherer became a TICA Judge in 1986. She has been breeding and showing Maine Coons since 1976.
Robbie entered the cat fancy in 1997, breeding Scottish Folds and British Shorthairs under the prefix Glencairn and later Duart. He gained his Group 4 licence with QFA Inc. in 2010. Currently Robbie is the Honorary Council Steward of the Cat Section with the Royal Brisbane Show and also the Chief Steward for the Sydney Royal Easter, and since 2012 has taken an active involvement with running four ACF National shows.
Veikko Saarela has been a Longhair Judge with FIFE since 1994 extending his license to All Breeds in 2012. He is still actively breeding Persians and Exotics and has bred many National Winners and Scandinavian Winner cats. He has officiated as a judge in 10 World Cat Shows and 5 Scandinavian Winner shows.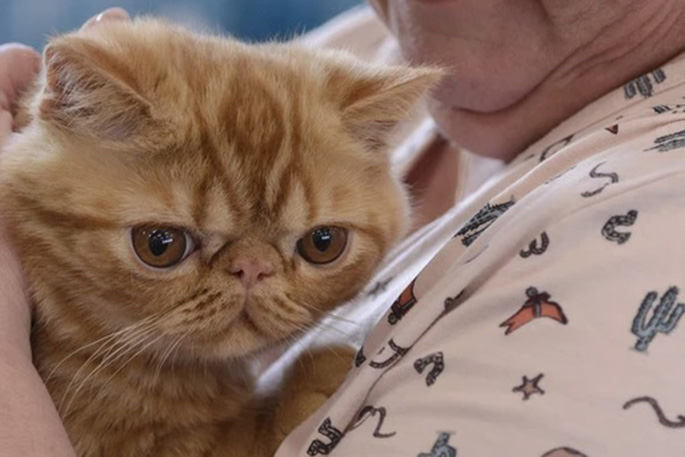 Photo: Winning cat from a previous show/Patched & Pointed Inc website
​David Scadden retired from the breeding game after breeding Birmans since 1985. His other great love are Bengals, which he and his wife Jacqui originally imported into the country in 1996 and bred successfully for a number of years.
"We have a number of desexed Birmans, Bengals and a Maine Coon to keep us well and truly occupied," says David in his judges profile. "I started judging in 1992 and reached the status of All Breeds in 2005, learning a great deal about all aspects of felines along the way.
"I really enjoy judging and try to talk to and educate the spectators as much as possible on the various breeds. I feel that a cat show has to be entertaining and informative. I enjoy meeting fellow cat fanciers from around NZ and other parts of the world."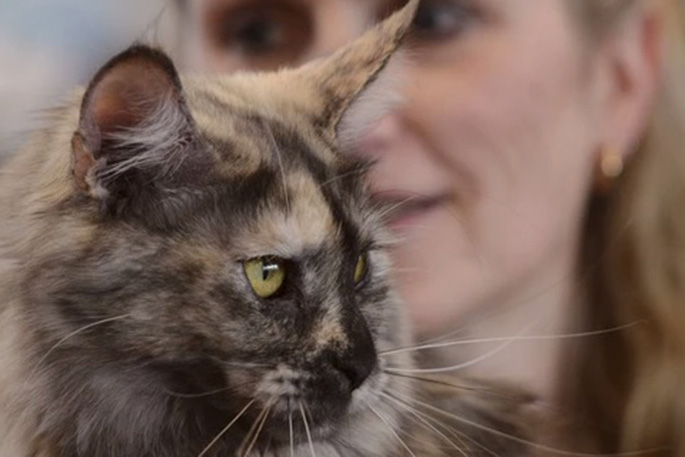 Photo: Winning cat from a previous show/Patched & Pointed Inc website
The judging sections in today's show are entire cats, entire kittens, neuter/spay cats and neuter/spay kittens, companions and domestics.
Each judge will award a Top 10 Longhair and Top 10 Shorthair, then the judge will select Top 15 All Breeds. The judging panel will then decide the Supreme Pedigree Exhibit National Show 2019 winner, and the Supreme Domestic or Companion Exhibit National Show 2019 winner.
The organisers of the show encourage cat exhibitors coming to Tauranga to book accommodation in 'Cat Friendly Motels', listing them on their website.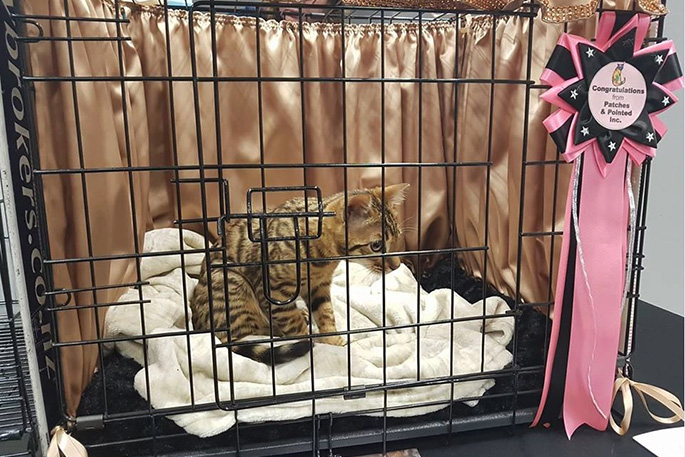 Photo: Winning cat from a previous show/Patched & Pointed Inc website
Patches & Pointed Inc are a small club that specialises in broken coloured cats of all breeds and are an affiliate club of the NZ Cat Fancy Inc.
Patches & Pointed was founded in 1999 by Chris Lowe and Brenda Ward who had a vision of setting up a specialised club specifically for patched and pointed cats. In the early days, the show was only for these cats, but as time went on it was agreed to open up the shows so all cats could be shown at the show, while retaining a 'special' supreme prize that Patched & Pointed cats only were eligible to enter. This has become a closely contested section amongst the broken coloured cats.
The show is sponsored by Royal Canin, Cat Evolution, Odorex, Petplan, Newflands, Catfence NZ, Quality Presentations, Classic Cuisine, PrintPro, Pet Travel NZ, and Tauranga, Papamoa Village, Katikati, Te Puna Vets.
​The public are invited to 'rock it with the cool cats' at the Tauranga Racecourse in Greerton from 9am- 5.30pm. Check their website for more information www.patchesandpointedinc.co.nz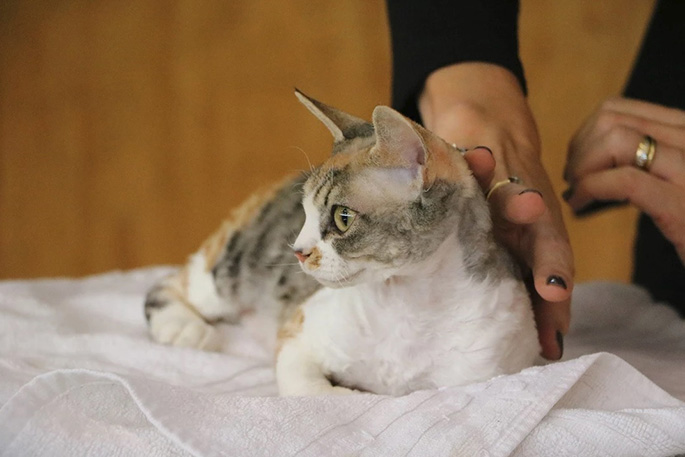 Photo: Winning cat from a previous show/Patched & Pointed Inc website
More on SunLive...