Thames school mates at sea together in Navy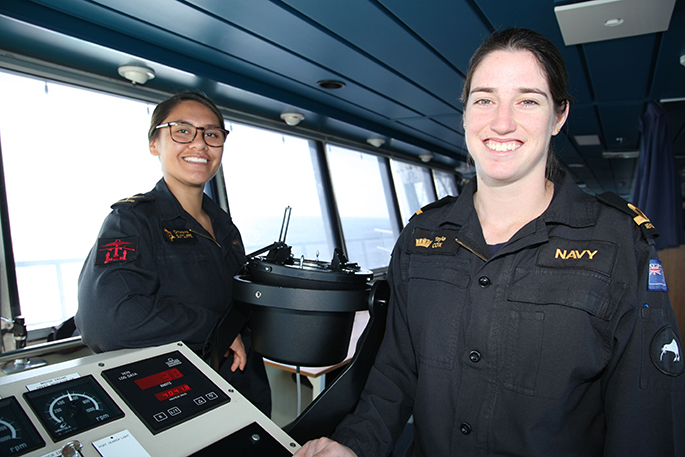 Omarama Sutcliffe and Tayla Cox were friends at Thames High School and when one joined the Royal New Zealand Navy - RNZN, she convinced the other to follow.
Able Logistics Supply Specialist Sutcliffe and Sub Lieutenant Cox are both serving on HMNZS Canterbury, which has for the past two months been ranging along the east coast of the upper North Island on training exercises.
Omarama, 22, said it was a spur-of-the-moment thing joining the RNZN in 2015.
"It was the last year of school, and I was considering what to do. Halfway through the school year there was an expo, where we got to see what the forces did. It just did it for me. It was cool," says Omarama.
After 18 weeks of Basic Common Training, she trained initially as a hydrographer, before changing trade to supply.
Tayla was a year behind her friend at school. Omarama told her about the RNZN and suggested she join as an officer, telling her she would be really good at it.
Tayla said she had no idea what to do when she finished school.
"For me, the Navy offered a challenge," says Tayla. "You have a different day every single day."
The pair served together on HMNZS Endeavour, the RNZN's former tanker, before linking again this year on HMNZS Canterbury.
Tayla, 21, is a fully qualified watchkeeper and is in charge of launching and recovering the ship's boats and aircraft.
"We get the ship on a safe course, and check the wind. The Operations Room checks the helicopter's course, then the flight deck says it can see the helicopter, and I give the green light," says Tayla.
Ships had their own personalities, she said.
"Canterbury is a really cool ship, with a great command team - everyone gets on so well.
"Someone my age, getting paid to do this, that's exciting. When I was 18, on HMNZS Endeavour, I was driving a ship through South East Asia. We work pretty hard at sea, but we get to see a lot of different places and they give us time off to explore."
Omarama loves the logistics side.
"We have a morning meeting at 8am, then we look at the demands, the items needed," says Omarama. "We're the people who everyone comes to. We sort local purchase orders, re-order stock, prioritise items needed for the ship - it's everything that makes a ship operationally ready."
She said it was a "bit of a crack-up" the friends being first on HMNZS Endeavour together, and now on HMNZS Canterbury.
In between, she has served on frigate HMNZS Te Mana, including a five-month deployment to Hawaii and South East Asia.
She has been back to Thames High School to talk to students, and one of them has since joined the RNZN.
More on SunLive...