Tauranga lawyer gains prestigious law scholarship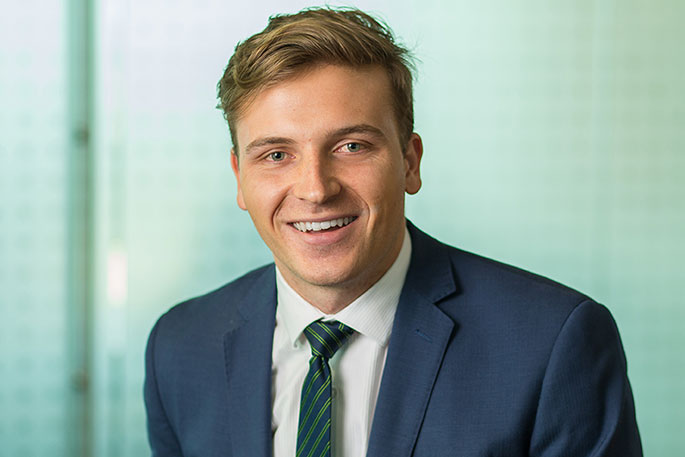 A Tauranga lawyer has accepted a generous scholarship to study a Master of Laws in International Legal Studies at Duke Law School, being a faculty of Duke University in Durham, North Carolina in the United States.
Blair Shepherd will be the sole New Zealander in a class of 102 LLM students from 41 countries and will study a primarily course-based programme, mainly alongside final-year US Juris Doctor students. Blair's primary academic focuses will be international arbitration, international trade and climate change.
The LLM programme will conclude in May 2020; he then intends to sit the New York Bar Exam in July 2020.
"When I began looking into applying to the top US law schools in the spring of 2018, it quickly became apparent that obtaining offers of admission – let alone (very necessary) scholarships – is relatively uncommon for New Zealanders; it is primarily the domain of judges' clerks and Big Law prodigies," says Blair.
"Yet I still decided to take on the onerous, expensive and months-long task of applying to these law schools, despite having barely any savings to contribute to fees and my family having no funds to assist. Reflecting on that audacity, some of it was certainly due to my belief that "you don't know unless you try".
"But much of it owed to my faith that the incredible quality and depth of my experiences and training at Holland Beckett would hold me in good stead."
Blair was offered both admission and significant scholarships by 7 of the 9 universities he applied to (Duke, Georgetown, Cornell, University of Pennsylvania, Northwestern, University of Texas at Austin and Vanderbilt) and was put on standby for the University of Chicago.
He eventually settled on Duke, which Times Higher Education last year ranked as the number one law school in the world.
Born and raised in Tauranga, Blair attended Tauranga Boys' College, where he was Deputy Head Prefect, Arts Dux and Halberg House Leader in 2011.
He then spent five years studying for his law degree and a BA in politics, philosophy and economics at the University of Otago. His study there included a half-year exchange at the University of Tübingen in Germany.
Blair spent the summer of 2015/2016 at Holland Beckett Law as a summer clerk while he was a student at the University of Otago.
He then joined the firm in a permanent position in the Litigation and Disputes Resolution team commencing in February 2017.
Holland Beckett Law Partners and Rotary Club members Bill Holland & Dean Thompson successfully nominated Blair for the week long RYLA Camp in 2018 (Rotary Youth Leadership Awards).
In Blair's resignation letter to the partners at Holland Beckett Law he says "I came to Holland Beckett primarily because I believed that the experience that I would gain in litigation here would be far superior to at a large city firm.
"That belief proved to be well-founded. None of my litigator peers have been afforded anything near the same standard of opportunities for advocacy and client contact as Holland Beckett has given me – even while I was still a Law Clerk. Not only did those opportunities give me ample experiences to cite in my applications, but they also helped me to discern a career in law. Before I started at Holland Beckett I was a passive law student and avid international relations student, however my experiences at Holland Beckett have helped me find a pathway in law.
"Without those experiences that may have never happened – already in just over two years I have seen many talented junior lawyer friends leave the profession for good, due to unsatisfactory first jobs. I hope that you will continue to forge a reputation as New Zealand's best law firm for new lawyers to gain real experience."
Blair's community involvement includes volunteering at Baywide Community Law Centre, being on the board of the Merivale Community Inc and being a Trustee of the Bay of Plenty Youth Development Trust (which operates the new Tauranga Boxing Academy).
"Attending the blessing of our incredible new boxing gym this month was certainly a highlight of my time in Tauranga," says Blair.
Holland Beckett partner David Fraundorfer says Blair has developed into a very good lawyer early in his career. This academic opportunity will open up his experiences and expand his horizons.
"Not only is Blair a very smart lawyer but he is also an all-round good guy. He has played a wide range of sports and has musical talent as well.
"It's a shame to see him go but I know he has a great future ahead of him and we wish him all the best."
More on SunLive...