Tauranga climbers making their mark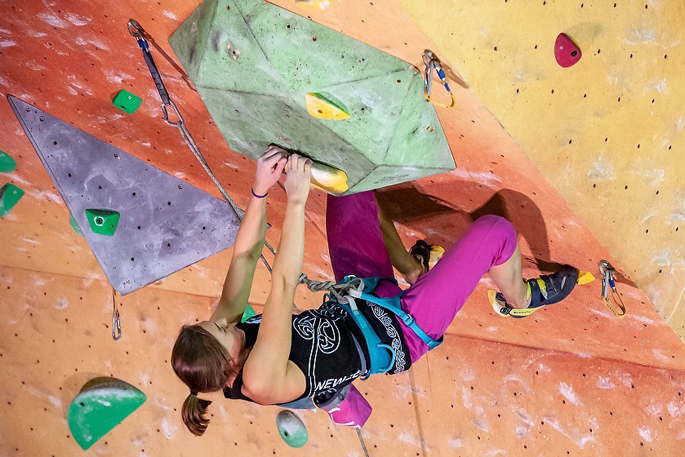 Tauranga sport climbers are making their mark in New Zealand and Australia amassing two gold, two bronze and five silver medals in the space of two weeks.
Olympic hopeful, Sarah Tetzlaff brought home one gold and two silver medals from the 2019 Australian Youth Championships last month.
The 19-year-old Sarah Tetzlaff was one of five climbers from the Bay of Plenty Sport Climbing Association selected to attend the championships.
"It's New Zealand's most successful campaign in Aussie ever for the sport. The team came away with four gold, four silver and a bronze. It was super exciting," says Sarah.
"Competing in Australia was very challenging and exciting. It was a great way to put my training to the test, and overall I'm pretty stoked with how I performed."
More than 300 athletes competed across three disciplines – speed climbing, lead climbing and bouldering.
To qualify, climbers had to be ranked in the top two in New Zealand in a discipline for their age category.
As New Zealand does not yet have a speed wall and is unable to run legitimate speed competitions, all members of the New Zealand team were given the option to compete in speed.
"This year the national team selection policy was changed in order to ensure that the top climbers in New Zealand make the team and are being supported in their journeys to become the best they can be on the international stage," says Sarah.
"This is largely due to sport climbing appearing in the Tokyo 2020 Olympics – it would be awesome to see a Kiwi sport climber at the Olympics in years to come."
A combined placing was given to each climber who competed in all three disciplines. Sarah came first in speed, second in lead and fifth in bouldering in her U20 age group, securing her silver in the combined category.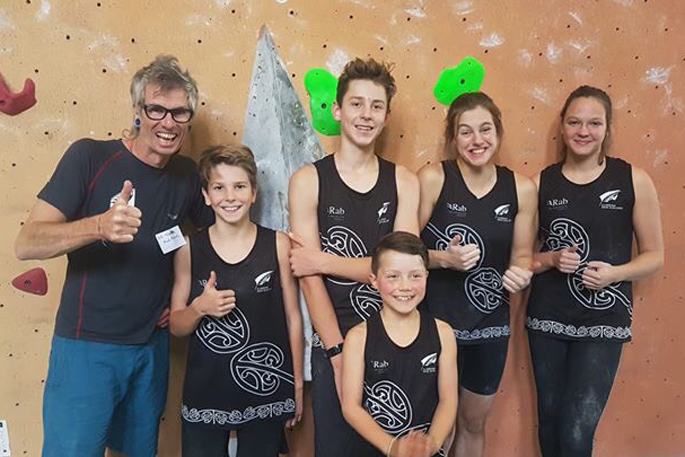 Also representing New Zealand from BOPSCA were Kieran Death, 12, who came fifth overall, Sophia Osipova, 17, Antony Death, 14, and Lily Taylor, 10.
A week prior, Sarah was awarded gold and silver in the Climbing New Zealand National Lead Championships in Female U20 and Open Female respectively.
BOPSCA climbers Lily and Abby Gebert, 14, were also awarded silver with Kieran being awarded bronze.
In lead climbing, climbers are tied into a rope and must clip into safety equipment as they climb upwards.
They were given six minutes to complete each 12m high route, which increases with difficulty the higher the climber gets.
Anyone who is affiliated to a regional club can complete at nationals, with 19 climbers competing from BOPSCA ranging in age from seven to 38.
A total of around 120 climbers competed across the eight age/ability categories, including four paraclimbers.
"It was a great turnout and was definitely larger compared to previous years," says Sarah.
"It has become an extremely important event, as doing well at this event allows the top climbers for each category to qualify to compete overseas at international events such as Youth and Open World Championships, Open World Cups, Oceanias and Oceanic competitions."
The climbing community is a close-knit one and national events are not just about competing, says Sarah.
"It's often one of the only times that climbers from all over the country get to catch up with one another.
"Being at this event is always a great experience, seeing everyone cheering for their mates, especially their biggest rivals."
Results (BOPSCA Climbers)
2019 Australian National Youth Championships, May 24-26
Sarah Tetzlaff (U20): 1st Speed, 2nd Lead, 5th Boulder, 2nd Overall
Sophia Osipova (U20): 6th Speed, 10th Boulder
Antony Death (U16): 9th Speed, 19th Boulder
Kieran Death (U14): 4th Speed, 10th Lead, 6th Boulder, 5th Overall
Lily Taylor (U12): 10th Speed, 11th Lead
CNZ 2019 National Championships- National Lead Championship, May 18/19
Pourewa Rangi, Male U12, 8th
Lily Taylor, Female U12, 2nd Silver
Kieran Death, Male U14, 3rd Bronze
Mischa Boorman, Female U14, 5th
Caitlin Bruton, Female U14, 9th
Antony Death, Male U16, 4th
Kade Allen, Male U16, 7th
Julian David, Male U16, 11th
Abby Gebert, Female U16, 2nd Silver
Lilly Hammond, Female U16, 11th
Lucy Preston, Female U16, 12th
Charlee Bluck, Female U18, 5th
Jorja Rangi, Female U18, 6th
Allie Reid, Female U18, 7th
Sarah Tetzlaff, Female U20, 1st Gold//Open Female 2nd Silver
Sophia Osipova, Female U20, 3rd Bronze//Open Female 10th
Irralee Hair, Female U20, 4th//Open Female 12th
Paul Hubble, Open Male, 17th
Amanda Speed, Open Female, 4th
More on SunLive...