Dedicated to artist's legacy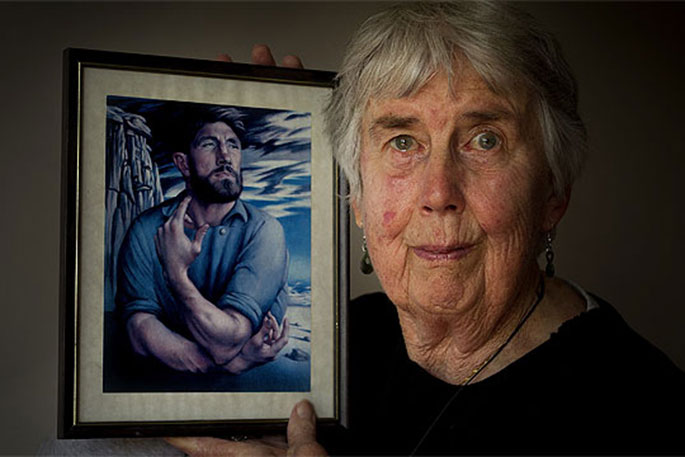 Jacqueline Bullmore dedicated her whole life to her husband's artistic legacy.
Ted Bullmore was one of the most gifted artists of his age.
He was known in Rotorua and Tauranga for his extraordinary talent, but by the country's sporting set as a top rugby front row forward.
Built like an oxo cube, he was, unusually for an artist more comfortable in aesthetic pursuits, a gifted rugby player, representing Canterbury.
He was also an All Black trialist in the 1950s.
In 2006, Mrs Bullmore gifted 287 of Ted's works to the Tauranga Art Gallery, a nod to the affection in which he held the town as a teacher and artist of great potential.
Appropriately, the exhibition was entitled, A Surrealist Odyssey.
There his surreal, lustrous and gothic works for which he had earned critical acclaim in England, were displayed for some time.
Not so well known in New Zealand, but as in the case of many artists living in relative obscurity until they died, Bullmore had one fan of note – the film director, Stanley Kubrick.
Kubrick purchased two of Ted's works, one appearing as a prop in his famous movie, A Clockwork Orange.
Ted and Jacqui pined for home; they settled in Rotorua until Ted died, aged 45, in 1978.
Ted taught art at Rotorua Boys' High School.
During an interview Jacqui said she and Ted had cruised to the Northern Hemisphere to expand on Ted's undoubted gifts. In Florence, the fulcrum of gothic works, Ted was admired by art scholars.
Ted and Jacqui left New Zealand with another promising artist, Barrie Bates, ONZM.
They got the pip with each other and soon parted company. Jealousy was at the core of their parting of the ways. The Bullmores had thought him an inferior artist, Jacqui implied during my 2006 interview with her in Tauranga. Bates became Billy Apple, ONZM.
When pressed, Jacqui said of Apple: "Let's just say he won't talk to me."
(Curiously, an official biography about Apple was recently published, written by Tina Barton, a noted art curator in Wellington, who was raised in Rotorua.)
In 1959, the Bullmores considered their destiny in Rome and Florence.
Rome was ruled out with Jacqui's pregnancy, which produced their daughter Marianna.
Settled in Florence, Ted painted at Pietro Anagone's studio, a propitious circumstance as Ted Bullmore could gain a true measure of his undoubted talent.
On the third morning, Anagone said of his antipodean prodigy, "There isn't really anything I can teach you that you don't know already."
In Florence Ted Bullmore painted portraits quickly and often. He worked swiftly in all media. He was also a sculptor.
Rotorua HSB principal Ted Hamill reached out.
"We emigrated to Rotorua, because Ted Hamill knew him and the school needed a teacher."
Each Friday Ted Bullmore would repair to Mamaku to paint. The canvases of those renderings remain held by the trust in which the Bullmore collection is held.
Ted Bullmore remains a fabulous artist largely unnoticed in today's world.
Jacqui Bullmore, who died on June 1 aged 85 at Christchurch, spent 41 years keeping her husband's legacy alive.
More on SunLive...