Football Ferns – Sermanni secured for Tokyo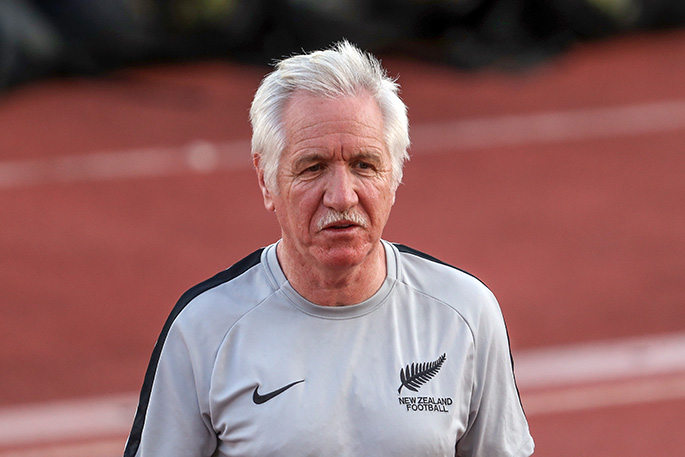 New Zealand Football is pleased to announce that Football Ferns coach Tom Sermanni will remain in charge of the national women's team until the completion of the 2020 Tokyo Olympics.
The vastly-experienced Scotsman, who has arrived in Le Havre as the team prepares for the start of the 2019 FIFA Women's World Cup in France, had initially signed on until the end of the World Cup.
New Zealand Football has extended his contract until the end of the Tokyo Olympic Games which will be held from 24 July to 9 August in 2020.
New Zealand Football Chief Executive Andrew Pragnell says Tom has been a natural cultural fit for the Football Ferns and the team has achieved some great results during his tenure.
"We are really pleased to have Tom confirmed through until the Tokyo Olympics," says Andrew.
"He came into the Football Ferns during a challenging period but the team has made a huge amount of progress in a short time under his leadership.
"The Ferns have undertaken an important cultural rebuild, Tom and the support staff are working really well with them, and as a result they have gone on to achieve some significant results on the world stage. We are looking forward to seeing what the team can achieve this month in France and next year in Tokyo."
Under Tom, the Football Ferns won the 2018 OFC Women's Nations Cup in New Caledonia to secure qualification for the FIFA Women's World Cup and also the Tokyo Olympics.
This year, the team has recorded wins over England, Norway, Mexico and Argentina. The win over the Lionesses was the first in Ferns history while the victory against Norway was the first time they had beaten a higher-ranked opposition in four years since they defeated Brazil 1-0 away from home in 2015.
Tom is delighted to continue working with the Football Ferns as they continue to improve.
"The past eight months with this team have been both rewarding and enjoyable," says Tom.
"I've been especially impressed with the focus and desire of the group to continually strive for improvement. Our immediate focus is on the FIFA Women's World Cup here in France where we are looking to make history by getting out of our group. But it is great to know we have more time together as a team and over the next 12 months we can continue to build towards the Tokyo Olympics."
The Football Ferns' best result in the Olympic Games came in London in 2012 when they progressed to the quarter-finals.
The World No 19 Ferns begin their FIFA Women's World Cup campaign this week and will meet the Netherlands, Canada and Cameroon in Group E.
More on SunLive...