Waikato Uni students to parade through CBD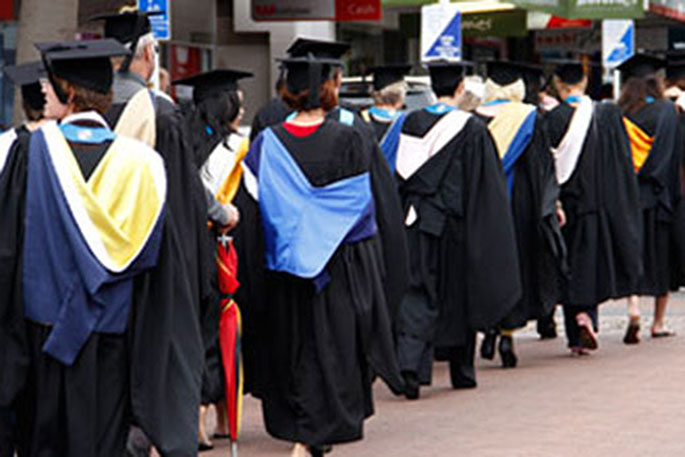 Devonport Road, from The Strand to Elizabeth Street, will be closed from 11am as graduating Waikato University students take their ceremonial walk through the CBD.
Tauranga City Council says there will "be a rolling road closure from 11am to 11.30am".
"The road will be opened immediately after the graduates have moved through."
Senior Deputy Vice-Chancellor Professor Alister Jones says the graduation ceremonies taking place at the Tauranga campus are more intimate compared to large scale university graduations.
"A year ago we said we would have our graduation at Tauranga's new campus, and the Vice Chancellor did say that the graduation would happen in June rather than April in Hamilton to make it more intimate.
"We are having three graduations which are 45 minutes each rather than two or three hours like the Hamilton campus."
Other road closures around the CBD include:
Hamilton Street and Harington Street road closure
• Hamilton Street and Harington Street are closed to through traffic outside the Harington Street car park building construction site. Access to and from Harrington House basement parking and the Library car park will be from Willow Street only. Access to and from Quest Apartments and the Citizens Advice Bureau will only be from Durham Street. Pedestrian access on the library side of Hamilton Street will be maintained at all times. The closure will be in place until building completion in early 2020. Be aware of a significant increase in truck movements out of Hamilton Street.
Spring Street road closure
There is no through access down Spring Street to Grey Street at this time. Spring Street is now open from Cameron Road to Durham Street. Traffic is now able to turn right from Durham Street into Spring Street and from Spring Street into Durham Street. There is no through access between Grey Street and Durham Street to allow for the remaining construction of the Spring Street/Durham street intersection. Access to the basement carpark and other properties in this block of Spring Street will be from the Grey Street only. Pedestrian access is available.
More on SunLive...