Greg Brownless to continue his vision for Tauranga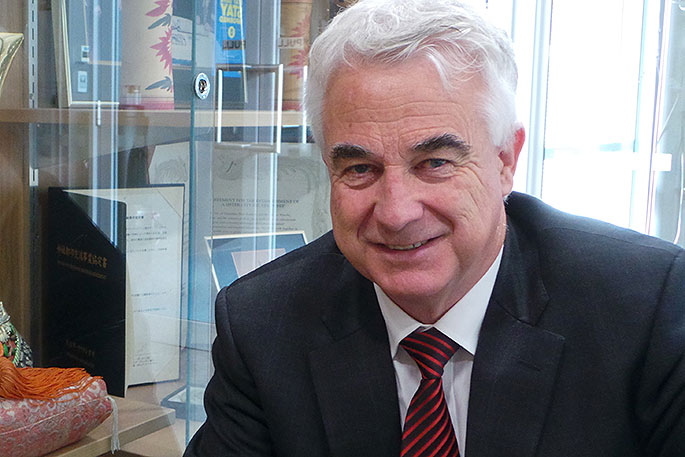 Tauranga City Council's incumbent mayor Greg Brownless has announced his intention to contest the mayoralty in the 2019 elections, continuing on with his vision for Tauranga to grow effectively under efficient management.
While being instrumental in making changes, he believes there's still a long way to go.
"I thought I could make a difference and run this city in an efficient way that was fair to most people.
"Obviously I've struck quite a difficult time. I believe I'm doing well under the circumstances and things could always be better."
The last term has been a rough ride with roading issues, the Phoenix car park redevelopment and the Bella Vista homes development to deal with.
In 2016, Greg received 9110 votes, nearly 2000 votes ahead of Kelvin Clout, who is the current deputy mayor.
Why the strong support?
"I think they saw me as a voice of moderation and common sense; that I'd be fiscally responsible, and get to the bottom of issues."
At the start of his term he found himself quickly enmeshed in issues, some inherited and some new.
"When I first got elected the thing that was forefront in many people's mind was Phoenix car park. I felt the number one issue for people there was parking, and sure, they found some more parks but I voted in favour of keeping it as a carpark fullstop."
"It was to be paid for from development contributions, but my solution was to purchase an older house in the area, remove the house and turn the property into a park.
"To take the car parks away, in my mind, was not sensible."
He also found himself hit with the Bella Vista debacle early on in his mayoralty.
"Bella Vista originated prior but it became public virtually as soon as I was elected mayor. I had to face up to it and I did face up to it.
"Unfortunately Council signed a number of inspections off. With the new CEO and his pragmatism I feel we've got it pretty much sorted."
The council's new chief executive Marty Grenfell stepped into the role in September 2018 and initiated a re-evaluation of the Greerton roading, Kulim Park, Phoenix Park and the Mount Surf Club project.
Choosing Marty Grenfell as the new CEO is a decision Greg is pleased with.
Other highlights of his term included opening the new waterfront area and seeing the southern pipeline connected up across the harbour.
"This Council has continued progress on the provision of wastewater and water infrastructure."
During this term, Gail McIntosh, one of the councillors died. A by-election was held to replace her.
"Losing Gail took us by surprise," says Greg. "We knew she wasn't well but no one expected her to go that quickly. It was a very sad time. She was so forthright, she called a spade a spade."
He also appreciated her financial acumen and ability as an accountant.
When it comes to money, Greg has a strong sense of financial prudence. "Some people think I'm a bit tight with Council money."
He's in discussions with Government over working together on much needed roading projects for Tauranga.
"Both Government and Council are responsible for different areas of transport expenditure but the only way Tauranga is going to get the roading and transport solutions is by working together. Transport and housing infrastructure go hand in hand and need to be funded at the same time. I'm strong on the fact that without transport, new housing areas can't go ahead."
Getting this right will lead to continued economic growth.
"We have the most efficient port in the country here and we need a huge investment in the road and rail that supports it."
While supporting groups that take care of the homeless as a good cause, Greg believes that money for groups dealing with homelessness and social issues should be coming directly from central government through taxes and not from local ratepayers.
He has mixed feelings about a museum.
"The museum project got out of hand in terms of cost. I think if it had been kept at a more reasonable level the community and therefore Council would have supported it."
He also believes businesses should survive or fall on their own merits and not be subsidised by Council.
"Corporate welfare is off my agenda. There's no need to subsidise private businesses.
"This is an example where my opinion is different from the majority of councillors."
He is referring to a majority decision to give an additional funding of $60,000 to Our Place which he opposed.
Another difference of opinion was over the proposal for Council to gift 11 Mission St to the Otamataha Trust.
"I prefer that Council provide that land to The Elms Trust, the purpose for which the property was acquired in the first place."
Another example of where his opinion differs from some of the councillors is around levels of rates increases.
"I think you need to look at efficiencies and the way Council is run before simply looking to rates increases that are significant year on year."
He likes to lead by example and put his money where his mouth is. A recent example of this was the shortfall of funds at the Papamoa Surf Life Saving Club. Greg donated $10,000 of his own money to the club.
"Ratepayers had already given a considerable amount of money. Anything you build these days seems to cost a lot more. So I put my hand in my own pocket. The club is gradually whittling down the shortfall and I was told afterwards that it inspired others to donate as well."
In 2018 he declined a dinner invitation with former US President Barack Obama.
"I had a citizenship ceremony in Tauranga with 60 people, so counting friends and family that's about 200 people I would have been letting down. I couldn't disrupt the plans those people had made. I'm not a self-promoter. To be in the same room with Obama means a lot for some people but for me it wasn't the deciding factor."
He believes to be mayor requires being an all-rounder.
"To me the community is about more than business. You can't be totally devoid of business sense. Business is important but there's a lot more to it. In most cases, business succeeds in spite of Council not because of it."
He himself comes from a successful business background. He placed his businesses in a charitable trust in 2007, with the result that millions of dollars have now been given to community groups.
"There is plenty of room here still to run a more efficient and even more importantly helpful Council organisation," says Greg. "The changes started half way through my term and I want to keep that going. There's more accountability than there has been for a long time.
"It's my aim to have Council as open as possible."
"I want this to be a place where staff can proudly say we do things properly."
His average day begins at 7.30am, dealing with correspondence and emails. The first appointment is about 8am and he gets home about 6.30pm. On a typical week, he usually has three nights out at different functions.
"A typical weekend is about one full day every weekend, but often spread over both days.
I try and go to as many things as possible when people ask me. If I can't go then I ask the deputy mayor or a councillor to go.
"In my mind if you want to do the job properly you have to be here. I would hope that any mayor puts that time commitment in.
"I think I've struck a particularly rough time over my term but that's no excuse. People aren't going to agree with everything, but I think consistently I've made decisions that most people would approve of.
"I have been instrumental in making changes and we're about a third of the way through those changes. If that can be kept up through the next term and the new council, then that would be great. If I'm the mayor great, if I'm not then I hope the next council and whoever is mayor keeps that change going."
Greg will be running against Tenby Powell, Kelvin Clout, Murray Guy, Danny Cancian, Dame Susan Devoy, RangiMarie TeAmopui-Kaa Kingi and Les Wallen.
More on SunLive...