Lifestyle regions continue strong growth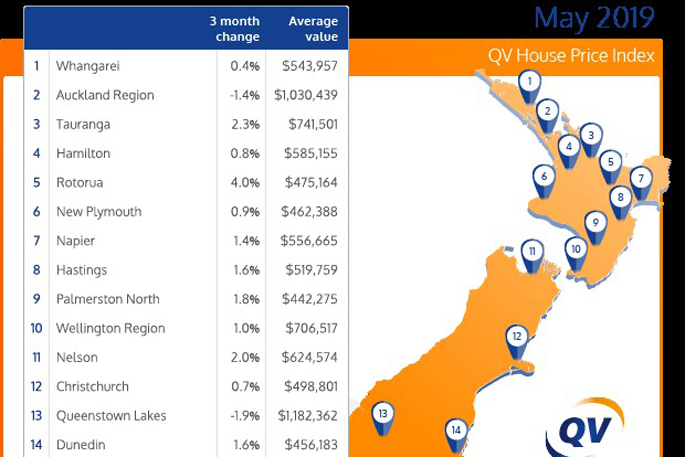 New Zealand's more affordable lifestyle regions continue to see strong value growth, in a quietening market heading into winter.

The Bay of Plenty region is an excellent example of a lifestyle region continuing to experience steady growth over the past quarter.
Tauranga has a relatively high average value of $741,501, and values have increased by 2.3% over the past quarter.

Despite the strong regional growth figures, the latest QV House Price Index figures show that value growth continues to slow nationally. The rate of annual growth nationally dropped from 6.9% in May last year to 2.3% at the same time this year.
The rate of quarterly value growth, nationally, has dropped to 0.1%.

Meanwhile, residential property value growth across the Auckland region decreased by 2.1% year on year and by 1.4% over the past quarter. The average value for the Auckland Region is now $1,030,439.
QV Senior Consultant, Paul McCorry says with the colder weather arriving, he is seeing the expected lull in the national property market.
"This seasonal fluctuation is something we anticipate, as people put off selling until the spring and summer period."

"Our major centres are seeing the market soften, with Auckland continuing to record single digit negative growth over the quarter and the capital city seeing values plateau over the last three months. The rate of value growth has also started to slow in Dunedin following a succession of strong quarters."

Paul says many regional centres are still very much in the upward stage of their growth cycle and they are continuing to achieve strong yearly and quarterly value increases.

"These areas, which are generally more affordable such as Wanganui, Manawatu and Palmerston North, continue to attract plenty of buyer demand. Attractive lifestyle regions such as the Bay of Plenty and the Hawkes Bay continue to post good year on year growth, which shows there is still plenty of scope for continued growth in these appealing locations."
Following the no capital gains tax announcement, the Reserve Bank have given lenders a boost, announcing a further cut in the official cash rate by 25 basis points, Paul says.

"It remains to be seen how much of this rate cut will be passed on to banks day to day customers but it is definitely good news for borrowers. With historic low mortgage lending rates on offer, budgets have the potential to extend a little further."

"Our Property Consultants are reporting that whilst well-presented and competitively priced homes continue to attract multiple offers, gone are the days where every vendor is guaranteed a handful of sealed envelopes on tender day. Sellers and their agents are now having to work extra hard to attract buyers towards higher-value properties. As a result, competitive pricing and effective marketing has become an increasingly important part of the sales process."

"Managing expectation remains key for real estate agents, particularly in the major cities where there can be a disconnect between the vendors price expectations and what buyers are willing to offer. For this reason, we're seeing a shift away from deadline and tender sale processes to fixed price or price by negotiation. While it isn't a buyers' market just yet, this trend does represent a shift in power to some degree."

Paul says as winter settles in, it will be no surprise to see listing numbers reduce and days to sell increase.
"It is very plausible that minor negative growth will persist in Auckland and perhaps in other regions. However, despite the subdued activity, the current low interest rate environment coupled with loan-to-value ratios designed to insulate the market against a major downturn should mean that similar market conditions will prevail over the coming months."
Tauranga home values rose 5.9% year on year and by 2.3% over the past three months. The average value in the city is $741,501.
The Western Bay of Plenty market rose 7.3% year on year and by 3.6% over the past three months. The average value in the district is now $675,491.

QV Tauranga Property Consultant Alecia Dalzell says demand continues to be steady for properties in new subdivisions in the $700,000 - $800,000 bracket along with section sales and older homes requiring renovation.
"High valued beach front properties still have longer marketing periods, however these are still selling well around asking price."
More on SunLive...