Residents question Windermere roundabout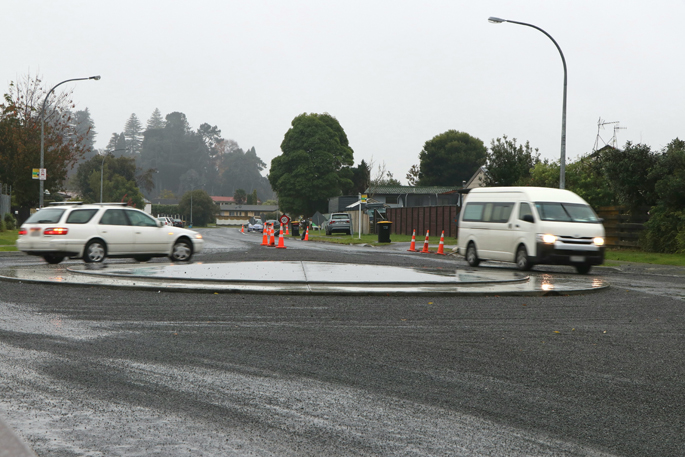 A new roundabout being built in Windermere has left residents asking two questions.
Why are they building the roundabout, and why has it taken so long to build?
A resident who lives in the area says the construction for the roundabout started in October last year. It was stopped shortly afterwards with construction then starting up again in February.
The resident says it was meant to be completed by the end of March but it was 'still a hole in the ground.'
In response to being asked why the roundabout has taken so long to be built, Tauranga City Council acting manager for transportation Phil Consedine says it's due to the proposed roundabout requiring room for construction, some utility services required relocating to accommodate the extended carriageway width.
"This posed initial delays at the start of the works and have now been resolved. Council is currently working with the contractor to resolve some unforeseen circumstances with the pavement structure.
"Once this has been assesses, works will recommence."
Phil says they cannot confirm a completion date at this stage.
"We are currently waiting for pavement test results before final surfacing can be carried out."
He says there are two aspects to why the roundabout is being constructed.
"One – It is a speed-calming feature for all traffic on Windermere Drive. It marks the need to lower speed specifically for vehicles coming from the northern end of Windermere Drive through the area of the Windermere Campus, where there are the bus stops and more pedestrians crossing the road.
"We have had speed raised as an issue in this area previously.
"Two – with the changes to the PT Blueprint in December 2018 there is a significant increase in the number of buses using Windermere Drive, and interchanging at the Windermere Campus.
"They currently have to travel to the end of Windermere Drive to turn around, and at off peak times some buses were observed to three-point turn at Lagoon Place.
"The roundabout will enable the buses to U-turn in a safe manner, and will reduce some of their travel times. It will also reduce some of the bus traffic further along Windermere Drive," says Phil.
More on SunLive...