Heavy rain expected to ease this afternoon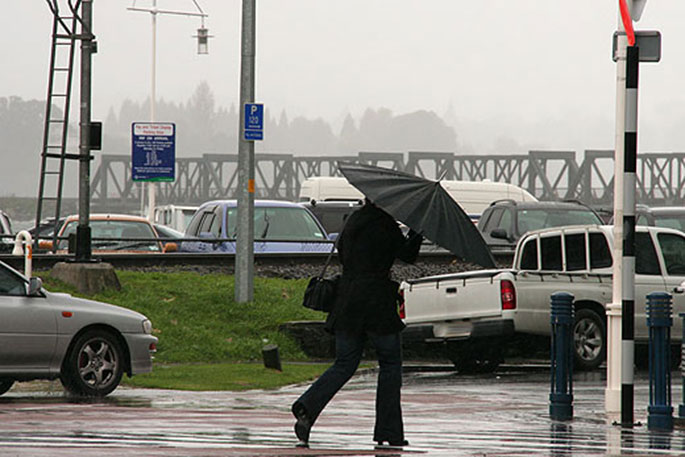 Unsettled weather is the theme for the Bay of Plenty, as well as the rest of the North Island today.
A reasonably deep low pressure system is moving over the North Island and upper South Island today, says WeatherWatch.co.nz
This is expected to bring in unsettled weather, while a ridge of high pressure brings more settled conditions further south.
Northland, Auckland, Waikato & Bay Of Plenty
Morning heavy rain, possible thunderstorms for Northland and Auckland. Heavy rain easing to the odd shower in the afternoon as north to northeasterly winds tend northwest. Heavy rain may not affect Bay Of Plenty till midday then easing there late afternoon.
Highs: 16-18
Western North Island (including Central North Island)
Cloudy with the odd shower, rain develops in the evening (possibly heavy) as southeasterlies strengthen. Rain clears overnight. Snow may lower to 700m about the Central Plateau for a time overnight before clearing.
Highs: 12-15
Eastern North Island
Thick high cloud, some scattered rain possible spreading from the west. Rain (possibly heavy) develops about the Wairarapa around midday spreading into Hawkes Bay late afternoon then Gisborne later in the evening as southwesterlies freshen. Snow may lower to about 700m in the ranges behind Hawkes Bay and Wairarapa overnight for a time before clearing before dawn on Thursday.
Highs: 13-16
Wellington
Rain with heavy falls, clearing overnight. Snow may lower to 600m overnight for a time about surrounding hills / ranges before clearing. South to southeasterly winds strengthen in the afternoon rising to gale through Cook Strait.
High: 12
Marlborough & Nelson
Rain, heavy falls possible in the afternoon then easing evening and clearing overnight. Some snow may lower to 600m for a time at night for Marlborough before clearing. South to southeasterly winds strengthen around midday.
Highs: 8-11
Canterbury
Mostly cloudy north of about Banks Peninsula with a few showers, rain near Kaikoura with snow lowering to 500m in the ranges for a time in the evening then clearing overnight. Further south expect plenty of high cloud, mid level cloud may thicken up a little in the afternoon. Cool south to southwesterly winds.
Highs: 7-9
West Coast
Plenty of high cloud with breezy southeasterly winds, there may be a few showers north of about Westport during the day.
Highs: 10-12
Southland & Otago
A few morning showers about Southland then expect sunny spells, Otago sees a mix of sun and cloud. West to southwesterly winds.
Highs: 6-8
More on SunLive...