Joint effort in helping keep BOP children warm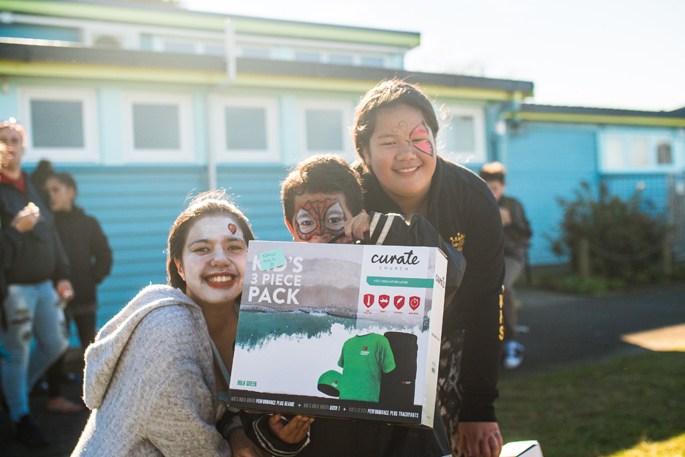 Humbled from the launch and success of 'Warm Up The Streets' in 2017, Stoney Creek and Curate Church have partnered again with the goal to provide 3000 packs of Stoney Creek fleece clothing to kids in need.
Kids across Tauranga, Whakatane, Opotiki and Te Puke will receive their pack via low decide schools and partner organisations including Open Home Foundation, Ngatai Ranginui Iwi and Tauranga Police.
Their hope is for the Bay of Plenty community to get behind this project and contribute what they can towards 3000 less Kiwi kids being cold this winter.
Stoney Creek and Curate Church are calling out to individuals and businesses to donate towards this project as 'Warm Up The Streets' partly relies on these funds in order to pull this off. They believe that serving our community enriches our society and brings people together.
"It's a chance for us to make a real difference in a no-strings attached gift to our community," says Curate Church lead Pastor Katie Milgate.
Packs will be distributed at 'Winter Parties' on June 22, where recipients and their whanau can celebrate alongside those involved in the project with a sausage sizzle, Milo, entertainment and face-painting.
For those kids who are unable to attend the winter parties, their nominating organisations will collect and deliver their packs in person.
"There are thousands of kids right here in our Bay of Plenty backyard that have issues around being cold with a lack of clothing – and that leads to lots of things – a snivelling cold right through to attendance issues at school and low self-esteem," says Stoney Creek CEO Brent McConnell.
"Our community and our backyard is something that myself, our family and our entire team at Stoney Creek are passionate about, through this initiative, we are hoping to mitigate some of these issues and bring a smile to the faces of the kids and communities that receive these packs."
"It's our privilege as Curate Church to be able to help children and families who need help staying warm in winter," says Curate Church Lead Pastors Joel and Katie Milgate.
"Warm Up The Streets meets a practical need but it also says to these kids and families 'we believe in you.' Whether it be the sincere 'kia ora' of the guy serving at the BBQ, or the care taken to match names, sizes and location invite to each child there is a lot of aroha here.
"Every shirt has a label on the inside on the garment that says 'we believe in you.' We hope that one day when a child puts it on they see this cool little label and it will remind them to reach for their potential."
More on SunLive...