Powerlines catch fire in Papamoa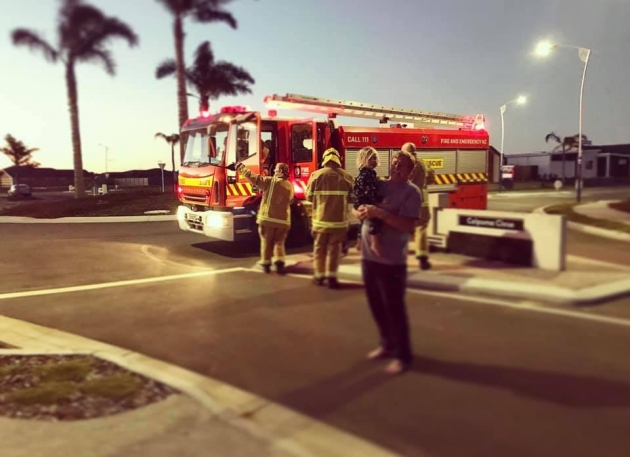 Power went off across Papamoa this evening as power lines caught fire.
Sparks lit up the lines in Colpoma Close about 5pm on Monday evening, causing a fire and power outage, just as people were preparing their evening meals.
Bianca Aitken says it was a scary experience having the power lines next to her home catch on fire.
"My husband was in his office which is right where the power line is," says Bianca. "He saw an intense blue light from the door and opened up to see it was the power line.
"There was an intense blue light and sparks. We came out the front door and it just carried on for five minutes but felt like forever. Then the sparks and light stopped, and it caught on fire."
She and her husband Justin had already phoned the fire brigade.
"The fire luckily actually just died out before they got here," says Bianca. "It was scary and the kids were pretty scared."
Power went out to properties in streets around Papamoa East with some residents reporting that lights were flickering, dimming, or not working at all and some power points were not working. Cassinia Close, Portofina Court, Sarcodia Place, Palm Springs Boulevard and Madeleine Terrace were all affected.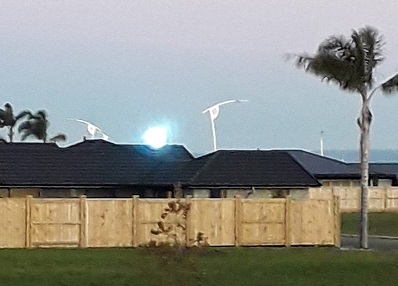 Intense blue light photographed by Annette Kennedy.
Power was expected to be restored by 10.30pm on Monday night, but was restored by approximately 5.40pm
"We actually turned our power off when the sparks were going," says Bianca. "And when the fire man arrived, we turned ours back on. So, it actually may have affected other areas more even though it was so close to us."
"We have only been living in Papamoa since February. We moved from Welcome Bay. We have just built this house."
Colpoma Close is a part of a new subdivision at the end of Palm Springs Boulevard.
"So, our road is not complete," says Bianca. "It's just a grass land which will be developed and there is a row of power lines through this field.
"I'm just so thankful it was only a small fire cause my daughter was saying 'I don't want to leave this house'."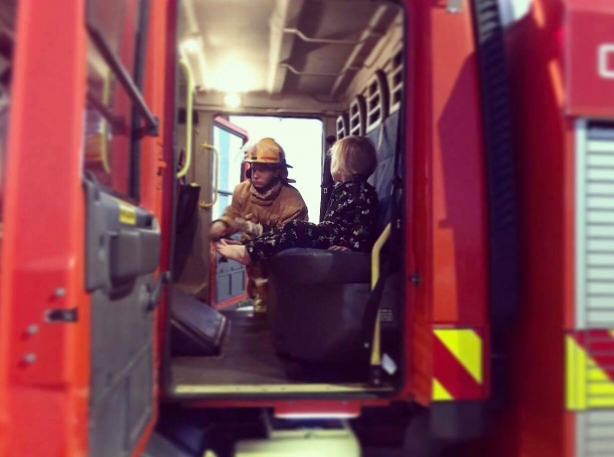 Zavier Aitken, age 2, in the fire truck with the fireman. Photo: Bianca Aitken.
Bianca's father Dave Lodetti, who lives a few houses away in Montiicola Drive came around to be with the family, holding the couple's son Zavier, age two, while the fire brigade dealt with the situation.
"Zavier loves fire trucks and got to sit inside," says Bianca.
"I'm just so thankful that the fire didn't go further. It was honestly right next to the house."
Bianca says the power company completed working on repairs just before 9pm.
More on SunLive...