NZ U-20s confident for Colombia test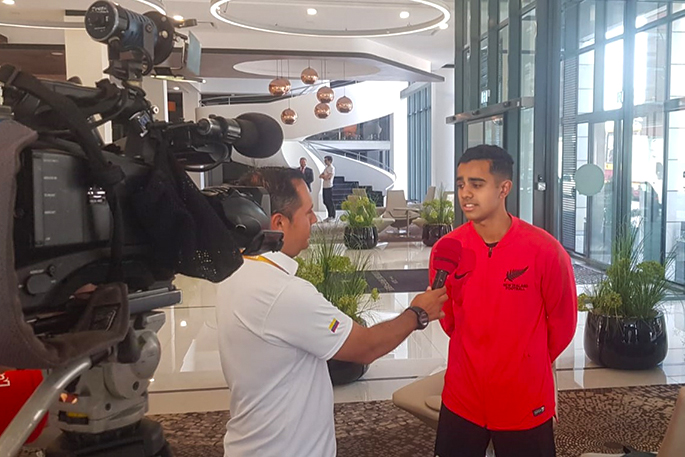 They are the first team from New Zealand to win two games at the FIFA U-20 World Cup and they are confident they can make further history on Monday morning NZ time in the Round of 16.
Des Buckingham's team, who beat Honduras 5-0 and Norway 2-0 to finish second in Group C, will look to continue their dream run when they meet Colombia in knockout football.
New Zealand has qualified for the Round of 16 on two occasions previously – in 2015 in New Zealand when they were beaten 2-1 by Portugal, and in the Korea Republic in 2017 when they were knocked out by the USA.
Centre-forward Max Mata, who was suspended for the first two games, made his first appearance in the 2-0 loss to Uruguay and said there is plenty of belief they can make the quarterfinals for the first time.
"I am very excited. For me they are another beatable opposition," said Max, who plays professionally in Switzerland. "We have already proved a lot of people wrong and surprised a lot of people. So far, so good. For us it is positive. We look forward to the game. The most important thing is we have fresh legs and everyone is ready for the game."
Des said it was a straightforward decision to bring Max to the FIFA U-20 World Cup even though he couldn't play the first two games.
"I brought him to this World Cup for two reasons; Max is a goal scorer," says Des. "Max is important for and will come into play for us in that Round of 16 game. Whether that is as a starter or if he comes on. We have also got some other quality players in that area, Ben Waine and Callum McCowatt to name a couple.
"The second reason we brought Max is that he is a true leader. He is a great player but also his values and beliefs, and the way that he has carried himself away from the pitch in the first two group games has been hugely impressive. To have him and all of the others available for that Round of 16 game puts us in a good place."
Des made nine changes from the team which won the first two games. The new-look line-up competed well and could have claimed a point before Uruguay scored late to win 2-0.
Max, the captain in the fixture, said the team will have learned plenty from playing South American opposition in the lead-up to the Colombia game.
"It was definitely a good feeling to be back on the pitch and to get used to that feeling again. I felt privileged to pull on the shirt. It was my first full 90 minutes in a long time so it was good to be back out there. With the changes we were quite disjointed in the first half and a bit confused with some of the roles and responsibilities. The main thing was we were in the position where making the knockout stages was already secured. So there are plenty of positives. From here we will reflect on the game and look at what went wrong, and work on it as we build towards Colombia."
Max described the feeling within the NZ U-20 squad as "very positive and powerful". He said a lot of that comes down to some important cultural work they have done together as a team.
"We have set out our goals, values and methods of creating success on the field and we have been doing a really good job of those things and the results are a sign of that success. On the pitch we took a different approach to the game and it didn't quite go to plan, but that is OK we are still through to the next round."
Max feels the level of maturity and composure shown by the NZ U-20s so far is a reflection of how the sport is growing and improving in New Zealand.
"I think it is just pure development of football in general in our country. We have quite a few players in this squad who are based overseas, obviously that helps in terms of composure and improvement, and performance. In New Zealand the development of football is getting better and better. And getting better quickly. We are proving to the world that we can compete on the world stage. I think a few people are looking over their shoulder at us and saying what is New Zealand doing? What is coming out of New Zealand? For us we just need to keep our feet on the ground and continue to work hard. If we stick to what we know and who we are, then good things will happen."
FIFA U-20 World Cup
Round of 16
Colombia v New Zealand
Stadion Widzewa Łódź, Poland
Live on SKY Sport from 6am, kick off at 6.30am
Updates on Twitter: @NZ_Football #COLvNZL #U20WC #NZU20M
New Zealand (from): 1. Michael Woud (GK), 2. George Stanger, 3. Dalton Wilkins, 4. Gianni Stensness, 5. Nando Pijnaker, 6. Dane Schnell, 7. Elijah Just, 8. Joe Bell (c), 9. Max Mata, 10. Sarpreet Singh, 11. Matt Conroy, 12. Cameron Brown (GK), 13. Liberato Cacace, 14. Leon van den Hoven, 15. Trevor Zwetsloot, 16. Dominic Wooldridge, 17. Callan Elliot, 18. Ben Waine, 19. Callum McCowatt, 20. Willem Ebbinge, 21. Zac Jones
Coach: Des Buckingham
More on SunLive...