Kiwi K4 crews qualify for next round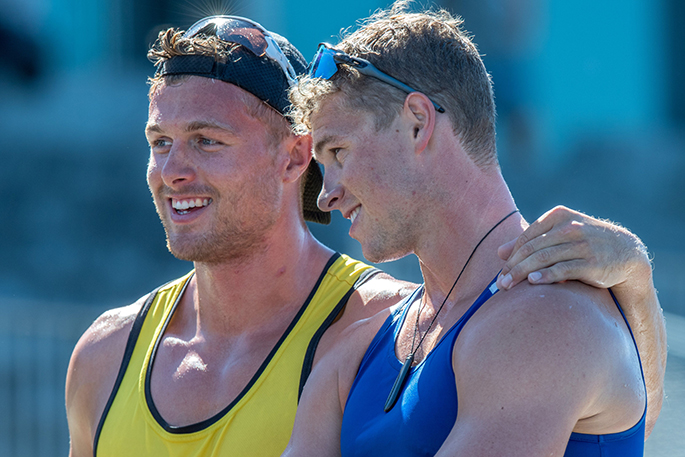 Kiwi canoe crews have qualified for the next round in world cup races in Germany.
New Zealand's men's and women's K4 500m crews both progressed to the semi-finals and the Kiwi pairing of Kurtis Imrie and Max Brown advanced to the B Final of the men's K2 1000m on day two of the ICF Canoe Sprint World Cup in Duisburg, Germany.
On another quality day of action in near perfect conditions on the Wedau Regatta Course, the youthful Kiwi women's combination of Alicia Hoskin from Poverty Bay, Briar McLeely from North Shore, Danielle Watson from Mana and Britney Ford from Poverty Bay produced a solid paddle to cross the line seventh in a time of 1:39.003.
The women in black finished more than six seconds adrift of heat winners, Poland, the 2018 World Championships bronze medallists. The Kiwis return to the fray later today at 7.24pm to line up for their semi-final.
New Zealand's developmental K4 500m crew of Ashton Reiser from North Shore, Ben Duffy from Arawa, Zach Ferkins from Poverty Bay and Hamish Legarth from Hawkes Bay also earned a route into the semi-finals.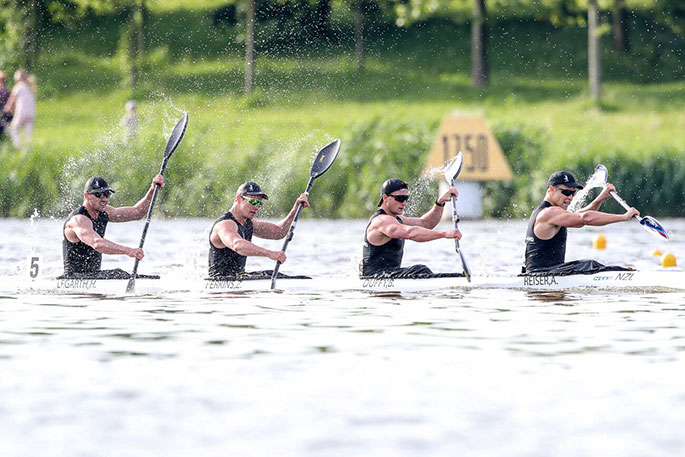 NZ's K4 Men's team
The quartet, competing in the third of four heats, clocked 1:26.503 to place seventh behind Slovakia (1:22.873) and advance on best time into the next stanza, which takes place later today at 7.42pm.
One week after Max Brown from Whanganui and Kurtis Imrie from Mana enjoyed the finest regatta in their career to place eighth in the A Final in Poznan, the duo qualified for the B Final of the K2 1000m in Duisburg.
The young rising talents of the New Zealand men's programme sat fifth at halfway in the semi-final before winding up sixth in 3:20.767 behind the powerhouse victors – Germany (3:14.150).
Max and Kurtis return tomorrow for the B Final at 9.06pm, where they will line up in lane one.
Once again, a young, developing New Zealand squad will have learned much from racing against top-class opposition on the global stage.
The action on the third and final day of the regatta will start on Sunday at 7pm NZ time and can be followed on www.canoeicf.com
Below is a list of when the Kiwis will be in action on day three of the event. All times NZ.
Women's K4 500M – Semi-Finals – 7.24pm – B Final (8.30pm) – A Final (11.14pm)
Alicia Hoskin/Briar McLeely/Danielle Watson/Britney Ford
Men's K4 500m – Semi-Finals – 7.42pm – B Final (8.36pm) – A Final (11.23pm)
Ashton Reiser/Ben Duffy/Zach Ferkins/Hamish Legarth
Men's K2 1000m – B Final – 9.06pm
Max Brown/Kurtis Imrie
Men's K1 5000m – 3.20am
Quaid Thompson
More on SunLive...