Te Puke given a reality check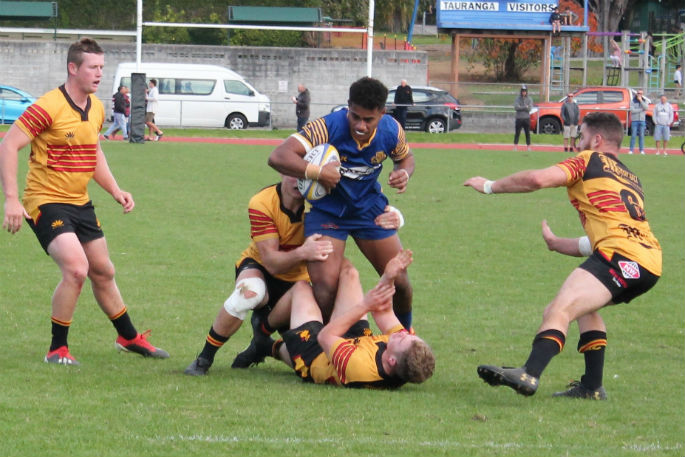 Sometimes in sport the best laid plans can turn to mush.
Te Puke Sports was expected to start the Farmlands Co-operative Baywide Premier 1 Championship round last Saturday in exactly the same way they demolished their opponents in the qualifying round.
The forward pack would dominate the set pieces, out-muscle the opposition at the breakdown and with so much front-foot ball allow the likes of Declan Barnett, Wemin Kapia and Brad Armstrong to run riot in the backs.
But Tauranga Sports had other ideas as they thrashed the defending champs 34-10 at Tauranga Domain in a season-defining performance.
Possibly annoyed at being left out of the title race discussions that have so far this season involved Te Puke, Te Puna, Rangiuru and Whakarewarewa, the Tauranga players lifted their game to another level.
The margin of the victory would have caused some discussion in rugby club bars on Saturday night throughout the Bay of Plenty.
An element of luck is usually needed to turn around a team's fortunes and Tauranga Sports certainly had more than their fair share. They scored tries from three intercept runaways that started in their own half with the Te Puke Pirates hot on attack.
Two of those went to outstanding centre Emoni Narawa who has that God-given talent all Fijians have to effortlessly out sprint the defence with no apparent effort. Emoni was a star at Hamilton Boys' and last year with the Bay of Plenty team that won the national under-19 title.
He is one player to keep close tabs on with a place in the Steamers later this year looking likely.
The third of the intercept tries created the biggest roar of the afternoon when loosehead prop Jessie Williams took a wayward pass and then showed a surprising turn of speed for such a big guy to waltz away under the bar.
Certainly it is far too soon to be writing off the Te Puke Pirates who have set such high standards over the last two seasons.
They will bounce back quickly and are unlikely to throw as many poor passes the rest of the season as they did at The Domain.
This Saturday Rotorua's Whakarewarewa travel to Murray Salt Stadium to face a wounded and fired-up Te Puke team. It is definitely not the best time to play them but Whakarewarewa have a more-than-useful side with plenty of Steamers spread through their squad. This will test their title aspirations.
The other Premier 1 games are likely to be just as competitive as the club rugby season intensifies with playoffs not too far away for whoever can make the top four.
Mount Maunganui host Tauranga on Sir Gordon Tietjens Field at Blake Park, Greerton Marist are home to Rangiuru while Te Puna and Rangataua Sports clash at Maramatanga Park.
If you can get out and watch a game on Saturday, you won't be disappointed.
* Draws/results: boprugby.co.nz. Games kick off 2.45pm.
More on SunLive...