Mountain snow flurries for NZ today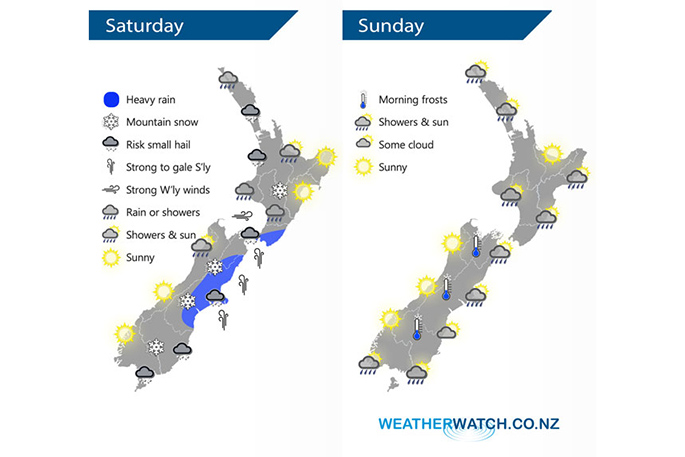 Snow flurries are expected to affect parts of the South and North Island today.
Weather analyst Aaron Wilkinson from WeatherWatch.co.nz says a low pressure system to the east will churn a very cold airflow over New Zealand today. This will tend westerly over the North Island and southwesterly for the South Island.
Showers, some possibly heavy with a risk of small hail and thunder are expected for the western North Island on Saturday. Some showers may be heavy with hail and thunder; and snow flurries will affect higher parts of the Central Plateau and Desert Rd.
Snow flurries are expected to get down to 300m about the lower South Island for a time on Saturday, 400m in Canterbury, and 800m about the Central Plateau.
Conditions about the Bay Of Plenty, especially in the east, may not be as bad, with some sun at times. Still, showers will likely push through with a chance of small hail. There may also be blustery west to southwesterly winds. There is an expected high of 14 degrees and an overnight low of 5 degrees in the Tauranga region.
Rotorua's forecast is for westerlies, and a few showers, which will be clearing in the evening. The temperature is expected to reach a high of 11 and plummet to an overnight low of 3 degrees. On Sunday the overnight temperature is expected to drop to 1 degree.
In Taupo, there will be showers today with a chance of them being heavy, but clearing in the evening. There will be westerlies, which will be gusty at times. A high of 10 degrees is forecast for both Saturday and Sunday, with an overnight low of 1 degree on Saturday night, and zero degrees on Sunday night.
Cold south to southwest winds will lie over the South Island on Saturday, spreading onto the North Island overnight. Cold southwesterlies will ease over the country on Sunday.
Strong southerlies are expected in the east from Canterbury through to Wellington, with heavy rain about Canterbury in the morning then easing to showers. There will be the odd shower and risk of small hail from Southland up through to Canterbury, with showers about north Westland and Buller clearing in the afternoon.
Showers will be restricted mostly to the southern and eastern parts of New Zealand on Sunday, clearing away from the inland areas. From Auckland northwards there will be morning showers which will clear with sunny spells increasing. There should be sunny weather for the West Coast of the South Island, Nelson and the Bay Of Plenty on Sunday.
More on SunLive...