More power to the people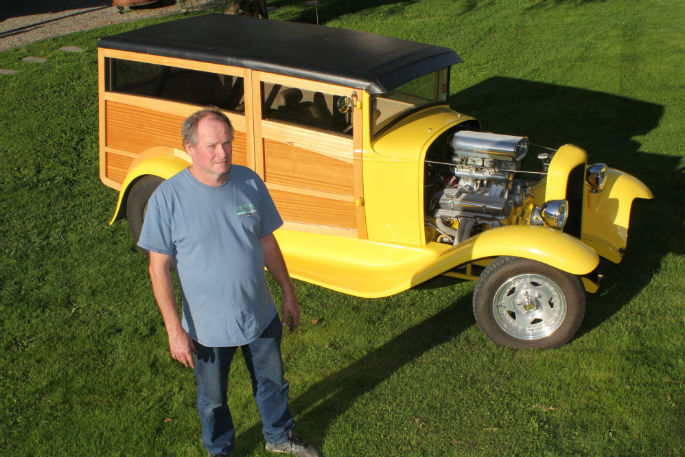 They guzzle gas for breakfast up at The Lakes Tauranga.
On the first Sunday of every month, just before 9am, the air comes alive with the rumble of big engines. The Oilers have arrived and their mates aren't far behind.
Oilers Hot Rod Club president Brent Woodcock, or just 'Woody', will be there in his aptly named Model A Woody, and about 50-70 other car owners will add their rumble to the event also.
Pretty much anything goes, Woody says, from hot rods to muscle cars, classics, vintage and whatever else gets your motor running.
"Come on down and bring your cars, have breakfast at the Mill House and mix 'n mingle with like-minded people," the advertisement says.
Woody's story is similar to that of a lot of car enthusiasts. His first pride and joy was a T-Bucket but, sadly, he crashed that on Range Rd when he was in his late 20's.
"I think everyone has grown up now. You could be 20 and own a hot rod and now you can't unless you have got parents with plenty of money."
He has owned "a few" hot rods and big cars with big personalities. He's currently offloading his "dirty old Chevy pick-up" so he can buy a '51 Chevy two-door coupe.
His sales pitch for the pick-up will appeal to like-minded people – "It's a big old beast - long wheelbase. You want to get a sheet of ply or a sheet of Gib and it fits right in there".
And it turns a few heads when he rocks up to the hardware store drive-through.
The replica Woody also turns a few heads. It came into his life as a pile of parts on a trailer. The wooden cab was just a piece of furniture and it had no engine. He has painstakingly put it back together and installed a 350 cubic inch engine and TH350 transmission.
"It is terrible to drive. When I first got it the old tyres on it were crap. It used to wobble around and it was actually really horrible."
He fixed the wobbling with new tyres and a quick blast up the road reveals the appeal. The ear splitting noise, the rich smell of petrol and the sheer acceleration and power, is what it's all about.
"You forget that you are in it and you are cruising down the road and people are staring at it and you wonder why. You start to realise after a while why people are attracted to them."
Being part of a club is important. Members share expertise and stories. They host events and travel to those hosted by other clubs. Sometimes they will head up to Meremere for the drag races and once a month they have breakfast down at The Lakes where anyone can come down and sample the sights and sounds and smells of hot rod life.
Do you have a car story you want to share with The Weekend Sun? Email daniel@thesun.co.nz
More on SunLive...