Kaiser's wild goose chase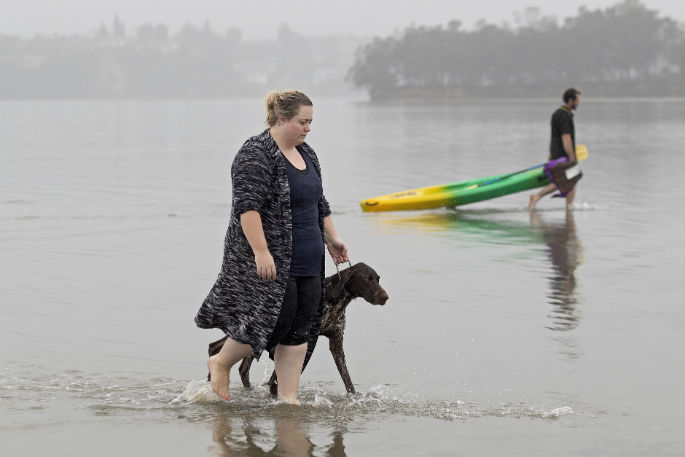 Kaiser was just following his natural gun dog instincts – seeing, chasing, catching.
In this case it was geese that took Kaisers fancy. Kaiser is a German shorthaired pointer. They love game birds, they love geese.
But this week, Kaiser's wild goose chase on Tauranga Harbour, went horribly wrong. It could have been the death of him. Kaiser's near ill-fated day unraveled like this.
"I thought I would let my dog have a quick run on the beach," says dog owner Laura Shields. That was right at the bottom of 13th Avenue by St Mary's Catholic Primary School. "But I didn't realise there were geese out there." Pointers are playful hunting dogs and apparently intelligent – until they get a whiff of a wild goose.
"He took off and swam," says Laura who was standing on the beach watching. Kaiser made it to an exposed sand dune a kilometer out into the harbour. Then things turned bad. He got stuck. There was a strong incoming tide, Kaiser was marooned and the picture looked bleak.
Kaiser was on firm ground for a time and probably didn't understand his best bet was to try to swim ashore.
"At the start, I was really pissed off at Kaiser, and then when he started howling and crying I got really upset," says Laura. "He looked like a little dot running along the sand."
Then enter a would-be rescuer, a would-be hero. According to Laura, "a lovely lady" called Olivia pulled on her togs and tried to swim out to Kaiser. "But the water was too deep and the current too strong," says Laura. "She couldn't make it out to Kaiser safely."
Laura resorted to plan B - called her brother Liam Thompson for help. "I was at work and I got a phone call from Laura," says Liam. "She was pretty distraught." So at this point Kaiser is stranded by a strong incoming tide out in the harbour, he's howling and yelping, and Laura's beside herself. There's huge drama.
A calm and focused Liam borrows a canoe from the nearby St. Mary's Catholic School. The cavalry was on the way. "It took me about 15 minutes to get out to where Kaiser was stranded. And he started growling at me before he recognised me."
Even then, when he got into the canoe for the rescue, he wouldn't sit down," says Liam. Both could have ended up in the swirling tide but fortunately Liam kept the canoe balanced.
Two hours after the episode began, the rescuer and the rescued arrived ashore to a cheer squad of St Mary's Catholic School students crowded on the beach. They loved a real-life happy ending.
Laura says she is glad it was her brother who went out to Kaiser because he wouldn't have let anyone else rescue him. And the dog bearing the mighty German Emperor's name is actually a bit of a sook.
"Kaiser is a bit of a dummy, and he just turned into a little crying child as soon as he realised he was stranded."
He also has other delightful personality flaws. Laura and her partner originally bought Kaiser for hunting. But he failed that – he's gun shy. He became a family pet.
Laura told The Weekend Sun this was the first time Kaiser had run off and not returned. "He's generally a pretty good dog." Despite his hankering for geese.
More on SunLive...