Secondary teachers to strike again in June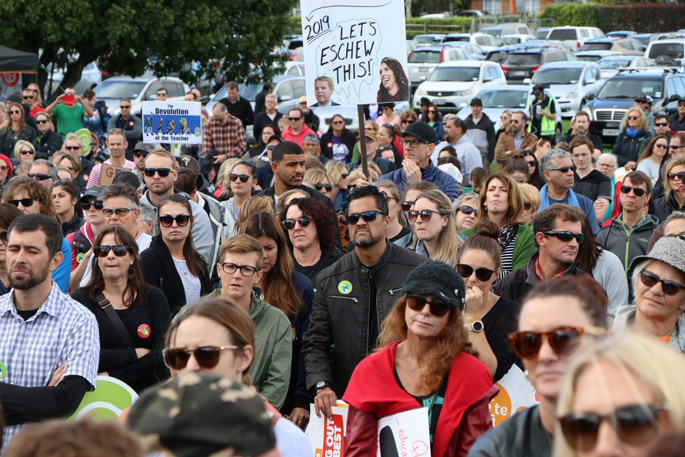 Further strike action is on the cards for secondary teachers after this week's "mega-strike" of primary and secondary teachers.
Members of the Post-Primary Teachers' Association will take part in two waves of industrial action starting on June 4.
In a four-week initiative called "rostering home," teachers will opt not to teach a chosen year group on a particular day.
Teachers will also take part in a week of rolling regional strikes, striking on a specific day of the week depending on where in the country they live.
PPTA president Jack Boyle says he hoped yesterday's show of support from parents, students and teachers would prompt the Government to find a solution to the stalled negotiations.
However, he says at this point the strike action due to start on Tuesday would go ahead, and schools had been issued with formal strike notices.
Year 9 students will be the first affected by the action. Jack says it was up to principals whether students were told to stay home, or whether alternative arrangements were made for them at school using non-PPTA members.
Below is a list of the planned dates for action, and the year groups that will not be taught on that day:
Tuesday June 4 - Year 9
Tuesday June 11 - Year 10
Tuesday June 25 - Year 11
Tuesday July 2 - Year 12
Rolling regional strikes will take place during the week beginning June 17.
Monday June 17 - Auckland/Tamaki Makaurau, Northland, Counties Manukau, Hauraki-Coromandel
Tuesday June 18 - Waikato, Taranaki, Central Plateau, BOP
Wednesday June 19 - Otago, Southland, Aoraki
Thursday June 20 - Canterbury, West Coast, Nelson, Marlborough
Friday June 21 - Wellington, Hutt Valley, Wairarapa, Manawatu-Whanganui, Hawkes Bay, East Coast
Education Minister Chris Hipkins has been adamant there is no more money in the Government's coffers.
Last week he told teachers to expect "disappointment", saying the offer to primary and secondary teachers, worth $1.2 billion over four years, would not be increased.
"There's not going to be any more money so they can choose to accept the offer, they can ask for the offer to be reconfigured. But striking, in the hope that more money will eventuate, is going to lead to disappointment," he said.
He reiterated that to the crowds of striking teachers in Wellington on Wednesday.
He acknowledged teachers wanted "progress to be faster".
"I cannot offer you that. What I can offer you is that we'll continue to listen and we'll continue to work with the teaching profession," he says.
At the rally in Auckland, New Zealand Educational Institute Te Riu Roa President Lynda Stuart vowed further strike action if the government didn't move on their offers.
"The situation is so serious I'm prepared to keep going until we get what we need," she says.
Primary school teachers held a week of rolling strikes in November. Further industrial action has not yet been announced by NZEI.
More on SunLive...