Papamoa school celebrates waste reduction success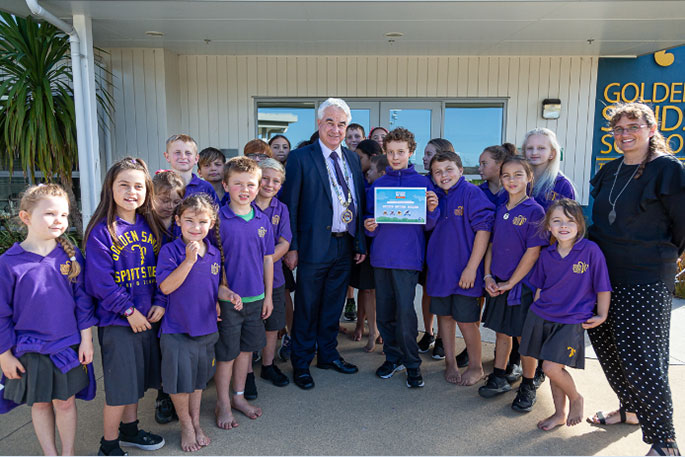 Mayor Greg Brownless has helped Golden Sands School celebrate their achievement in the Tauranga City Council Resource Wise Schools programme.

This free, five-stage programme was set up in 2014 and aims to help schools teach about reducing waste and minimizing waste to landfill.
Over half of the schools in the region have participated so far. Golden Sands School have reached Stage 4, putting them in the top 30 per cent of participating schools, a fabulous achievement according to the Mayor.

"Golden Sands School has done superbly by reaching Stage 4 of the Resource Wise School education programme.
"This means they have been able to divert at least 70 per cent of paper, cardboard, and containers from their rubbish. A fantastic achievement by the students and teachers of Golden Sands, so I wanted to come and congratulate them in person."

The Mayor was taken on a tour of the school to see some of the initiatives that helped the school achieve Stage 4 and presented the certificate to the children and teacher responsible for driving the programme. As well as diverting waste, Stage 4 of the waste reduction programme also entails providing classroom education to students and investigating other opportunities to stop waste from going to landfill.

Through their participation in Resource Wise Schools, Golden Sands School is also part of the Paper4trees programme, which focuses on saving paper from landfill. Free bins are supplied to collect classroom paper and cardboard. For every two cubic metres of paper and cardboard that is recycled, one native tree or plant is awarded.

Golden Sands School has their own worm farm to help process their food scraps, which is supplied by Tauranga City Council as part of the programme.
The school also uses compost bins for the grass clippings and leaves collected around the school. Soil collected from the worm farm and compost is used in the school garden.

The Resource Wise Schools programme is available for all educational organisations within Tauranga, including early childhood centres, and primary, intermediate, and high schools.
It consists of five stages of waste reduction for participants to work through: Fantail, Tui, Kiwi, Kōkako and Moa. Participants receive information and support to achieve each stage, as well as recognition for their efforts.
Annual audits of a school's waste inform the tailored action plan for improving waste reduction results.

For more information on the Resource Wise Schools programme, visit Tauranga.govt.nz/resourcewiseschools


More on SunLive...