New murals brighten up Hillier Centre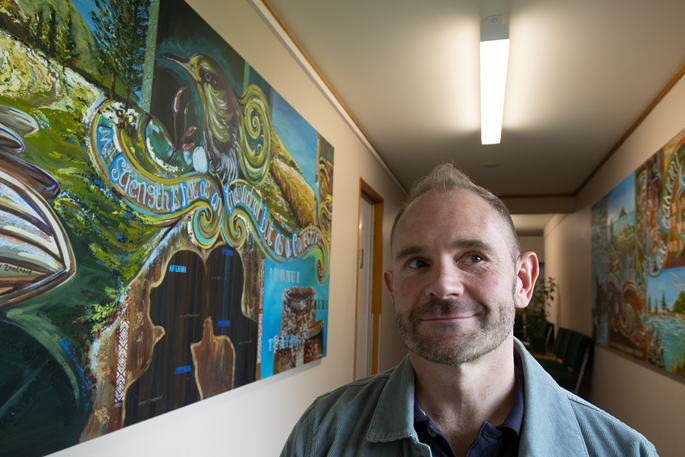 Many gathered at the Hillier Centre in Tauranga this week for a blessing of two new murals in their facility.
The Hillier Centre is a non-profitable organisation and community centre hosting various services to the community, such as family works, to support people experiencing challenging or difficult times to help make positive changes in their lives.
A Hillier Centre spokesperson says the murals are a great asset to the facility.
"Having some meaningful, warm, colourful and inspiring artwork to enjoy around our building will hopefully help people towards this and make them feel that this is a friendly and inviting place to be."
Nik Williams, who works at The Incubator Creative Hub, painted the murals. After speaking to staff at the Hillier Centre, Nik discovered their philosophy is about encouraging and supporting the health and wellbeing of families and children.
"They were keen to see murals that promote New Zealand for its natural beauty, as a place to live and raise children.
"The use of colour, landscapes and Maori art to inspire emotions as well as incorporating bright and vibrant imagery was also very much a part of the desire for this project," says Nik.
"I felt that the Centre was about working together and supporting the community. The Maori proverb, 'E hara taka toa I te toa taki tahi, he toa takitini ' - 'My strength is not as an individual but as a collective' resonated strongly with me from working as an art teacher in UK secondary schools. The success of the school relies on teachers, children, parents and the community all working alongside each other."
Nik says he decided to divide the panels up into separate sections which represent the variety of work undertaken at the centre with families, children and organisations.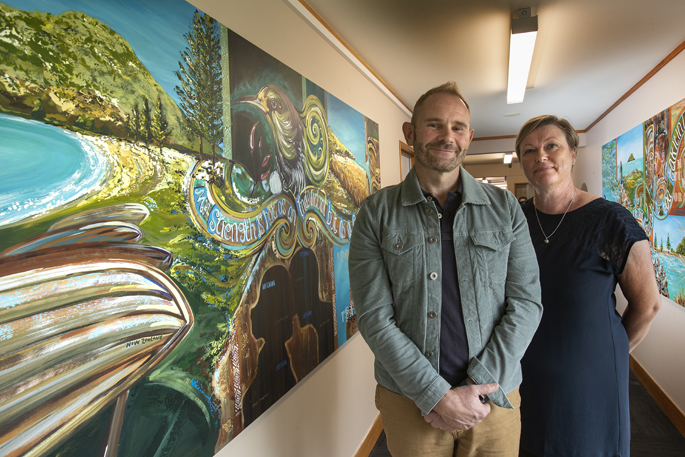 Nik Williams and Karen Cheneler, Hillier Centre Coordinator. Photo: John Borren/SunLive.
"The flowing koru patterns going across the murals link the sections together with the message of strength as a collective reinforcing the need to work together to achieve a successful outcome.
"As a landscaper painter I have also used my own style and interpretation of Mauao along with other messages and imagery to inspire and motivate. Art has a strong and powerful way of delivering messages, I hope that the murals will encourage, stimulate and provide discussion to those that visit the centre."
The Incubator founder and director Simone Anderson says as soon as they saw Nik's work, they knew he would be the right fit for the job.
"He has a unique way of interpreting the story of a landscape visually."
Nik says he is pleased with his end result.
"Hopefully they will do the trick of enhancing the corridor and bringing a smile to people's lives."
The Creative Communities Scheme facilitator Lena Kovac says the Communities Scheme, provided by Creative New Zealand is a fantastic vehicle to enable creative grassroots projects to come to fruition that would otherwise not have the financial means.
"Over the past five years, about 200 projects have received funding though this scheme in the Tauranga region. Nik Williams' murals for the Hillier Centre is one of the many great projects that demonstrate how communities can be engaged and transformed through art."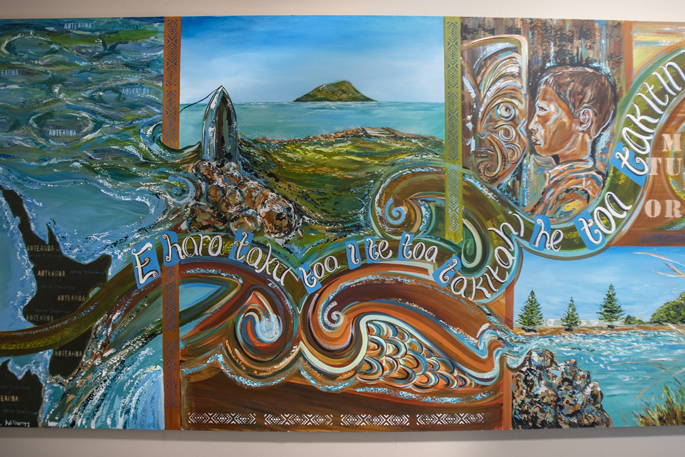 Nik Williams' mural in the Hillier Centre. Photo: John Borren/SunLive.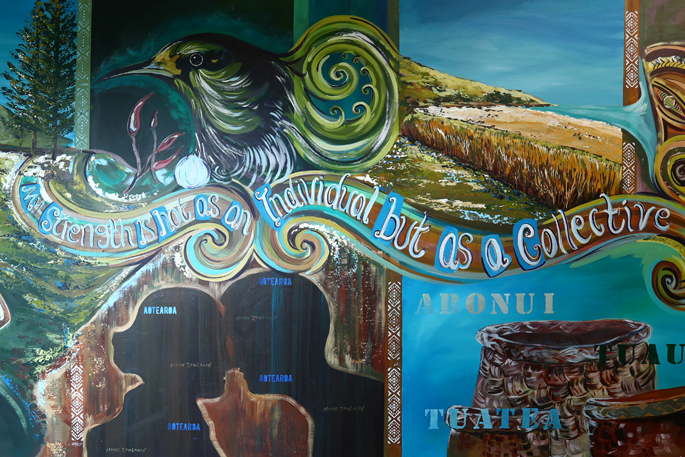 More on SunLive...