SMA families fight for drug funding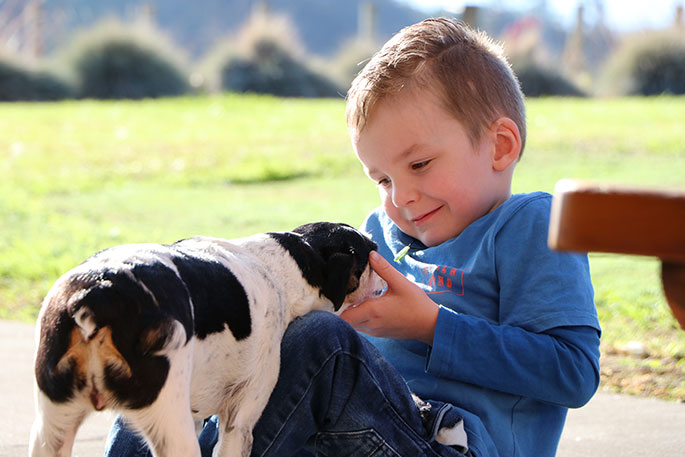 Lincoln Woodmass suffers from spinal muscular atrophy. Like others with SMA, it can be difficult and tiring to run around, dance and play, which is all the four-year-old wants to do.
Lincoln's diagnosis with SMA came two years ago, shortly after his second birthday.
The condition is a genetic disease affecting part of the nervous system, which controls the ability to move muscles voluntary.
After many discussions, submissions and a petition to parliament, Lincoln's parents Tania and Regan believe it's Pharmac's duty to fund the drug Spinraza – a drug that is believed to give SMA patients more mobility and strength.
The Woodmass family are not in the fight alone, Tania says they are part of a tight knit SMA community with many other families.
Fiona Tolich is someone who the Woodmass family admire greatly. Not only because she is a mother who deals with SMA herself, but because she is leading the fight for Spinraza to be made available in New Zealand.
The severity of Fiona's SMA is much less compared to Lincoln and others affected.
When she was growing up playing soccer and cricket, she experienced many knee dislocations, eventually forcing her out of the sports.
"I wasn't as fast and when playing cricket, I always wore wicketkeeper pads because they were lighter, and I just found them easier to run in.
"At the time I hadn't been diagnosed, and they thought the weakness in my legs was actually due to my knees."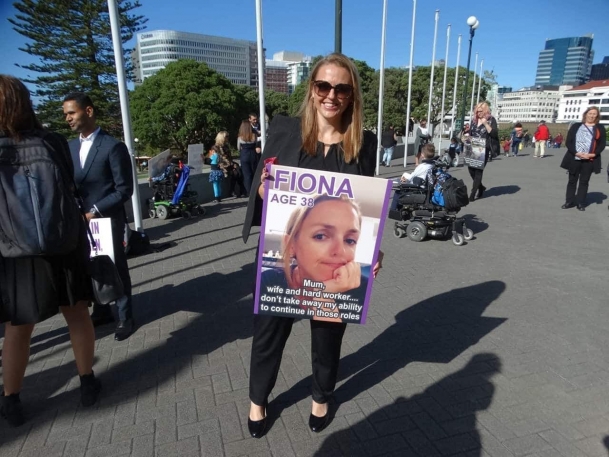 Fiona Tolich at parliament. Image: Supplied.
After having her first child at 30, Fiona says she to struggled walk while holding her son with her knees often giving way.
"I'd be carrying him like a newborn and my legs would give way and I'd have to catch myself.
"I was at the point where I went to an orthopedic surgeon and said look, I actually think my knees need looking at, and he actually picked up that it was neurological and then it sort of went from there, but had I not been carrying my son, I would have just ignored it because, you know, you don't do things for yourself, but if you think it might impact you or your child."
A year ago, Fiona attended the Cure SMA conference in the United States, and she saw the positive effects Spinraza has on people living with SMA.
"I've looked at videos of what children were like before Spinraza and the mobility that they now have, or the strength they've got back but that's the thing, is in some it's a little bit of a lottery so you might make some huge gains, or it will hold you where you're at.
"With SMA, you know early as the muscles have atrophied, because what happens is the nerves die and the signals no longer go through the muscle."
Since Fiona's diagnosis, she continually devotes her time to pushing the petition to Pharmac to fund Spinraza.
The drug, which is developed by American biotechnology company Biogen, is available in in 50 countries around the world.
Fiona says Pharmac's reasoning to not fund the drug is because they don't know the long term success, however she and many others in the SMA community believe it ultimately comes down to cost.
"Pharmac said in one article that it costs a million dollars per year per patient. That was a direct quote from them, and that is incorrect.
"As far as I'm concerned, all they're doing is trying to get this perception out that Pharmac only have so much money to spend, and there is not enough evidence for them to spend that much money.
"They pride themselves on financials and that doesn't have the people at the heart of it. And you hear all the conversations around the well-being budget and what of that I can tell you now, I don't know a single SMA family that doesn't have some sort of stress on their mental health."
Fiona says caring for an individual with SMA is like having a permanent newborn.
"You have to get up and roll them over in the night because they don't have the strength. Lincoln's type 3 so he's much stronger, but he will get to the point where he won't have the muscle strength to roll over. So his parents will have to wake up and move him so that he doesn't get bedsores or anything like that.
"It's just horrendous, watching Lincoln as just one example where he used to run through my house. Now, it's like Lincoln, slow down just walk."
As for Fiona, her fight for Pharmac to fund Spinraza continues. At the end of June she is submitting and presenting her petition to the Health Select Committee.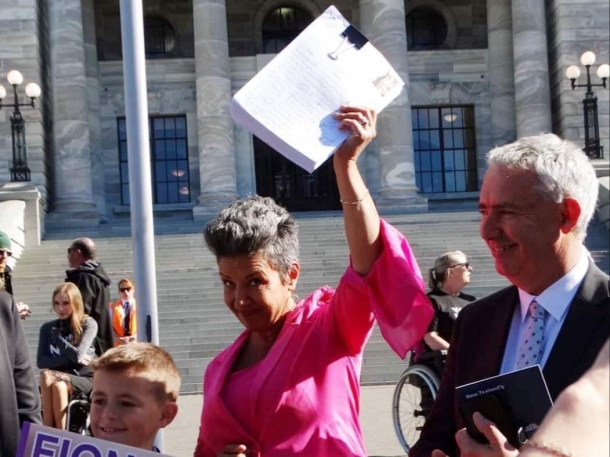 Paula Bennett with the petition at Parliament. Image: Supplied.
"Someone has to speak up, and I don't think it's fair that parents of sick children should be fighting so hard at the expense of spending time with their kids."
When asked directly why Spinraza isn't funded in New Zealand, Pharmac Director of Operations Lisa Williams says they take their responsibility to fund the right medicines for New Zealanders very seriously.
"We have a fixed budget, which means we must make careful and considered decisions about spending any available money on medicines to deliver the best health outcomes for New Zealand.
"We understand that patients, their families and whānau and clinicians want the newest medicines in the hope they will provide the best possible health result. We too want to invest in new medicines to improve the range and effectiveness of medicines available for all New Zealanders.
"Many new medicines are launched without clear evidence that they work as the pharmaceutical companies claim. These treatments can look promising, but we need to be absolutely sure they will deliver the benefits claimed, and that we spend public money wisely.
"If we fund a treatment with high uncertainty about its results, the reality is that it would take away funding from other more proven treatments."
In regard to Spinraza specifically, Lisa says Pharmac expert clinical advisors recommend that the funding application be deferred until longer term follow up analyses are published from two clinical trials.
"We are in regular contact with the supplier and expect to receive updated data by the end of 2019.
"Recommendations from our expert clinical advisors are a key input into PHARMAC's assessment of any funding application. We generally do not make funding decisions until we have a recommendation from our experts and we have completed our own assessment of the medicine."
More on SunLive...