Bright future for gifted sportsman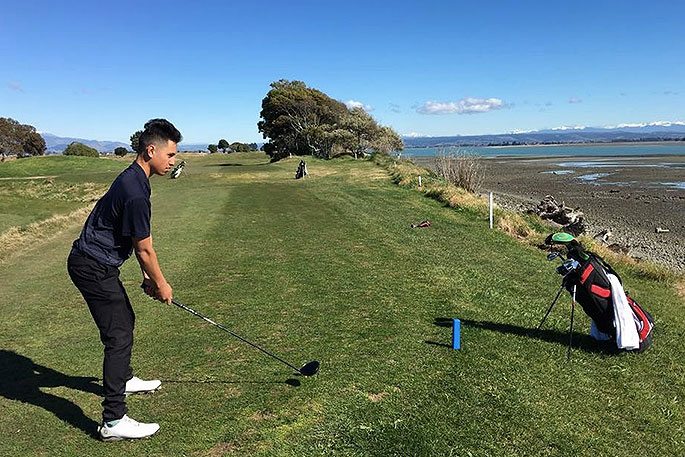 It's a lot to take in when you are just 16 years old.
James Tauariki has been compared to New Zealand golfing greats Danny Lee and Michael Campbell but the Rotorua Boys' High School student is not buying into all that.
He's just doing what he loves – hitting golf balls and playing with his mates.
James burst onto the national and world golf scene last year, when he shot an extraordinary round of 13-under par 57 at his home course of Springfield Golf Club.
That is the very same course US PGA Tour professional Danny Lee grew up playing on, so the comparisons began immediately.
Breaking the 60 barrier is regarded as the Holy Grail in golf, with only a small percentage of players worldwide having managed the feat.
So for someone as young as James to do it, is something very special.
James, who plays off an impressive +1.6 handicap, admits he has not got close to matching such a low score since and has not thought about it too much.
"I do put a little bit more expectation on myself now knowing I can do that kind of stuff. I don't know what happened that day. Every part of my game clicked I guess. It is a once in a lifetime sort of thing."
He would much rather talk about the highlight of his young career so far in winning the prestigious New Zealand Maori Golf National Tournament at Taupo in January.
James is the youngest male winner of the event that former US Open champion Michael Campbell won aged 19. James defeated the highly regarded Marcus Lloyd from Kawerau in the final 6/5, which is quite a thumping in golf match play.
"It is important because it is our tournament, the one Maori tournament and is special to our culture," says James.
In March, James realised his dream of representing New Zealand at golf when he was part of the NZ Institute of Golf junior team that competed in China in the first junior team competition between the two countries.
The Kiwis were up against the heavily funded Chinese under-19 team and while results did not always go their way the experience was a special one for James and his teammates.
"It's pretty cool going over there and playing against the kids over there who are the same age as us and knowing that we can compete with the best 12 of their golfers," says James.
Later this year he would love to help Rotorua Boys' win the New Zealand Secondary Schools championship in Palmerston North.
Then after he finishes school, a scholarship to an American college to play golf and study is his goal.
He is not looking too far ahead but trying his luck as a professional golfer is always at the back of his mind as a long term goal.
James is coached by Rotorua-based professional coach Paul Hartstone who he credits for making a major impact on his young golf career so far.
"Apart from my parents he has been the main man in my golf. I have been coached by him for six years now."
Tiger Woods and former Rotorua Boys' student Danny Lee are the two golfers James admires the most.
"You have to love Tiger especially after what he has been through and what he has done. The game definitely wouldn't be what it is without him.
"Danny is like a real idol of mine. He has been in almost the same position as I have at school and the club so yeah I would love to be like Danny."
There is one other unexpected part to the of James Tauariki story.
He is the only sportsman to have represented New Zealand at rodeo and golf.
He made the New Zealand high school rodeo team earlier this year and says there is similarities with golf in the mental strength and good hand-eye coordination needed.
At this stage, he is going to enjoy both sports and see what happens in the future.
But if he keeps improving you can expect to see the name James Tauariki at the top of golf leader boards for many years to come.
More on SunLive...