Carrington strikes gold in Poland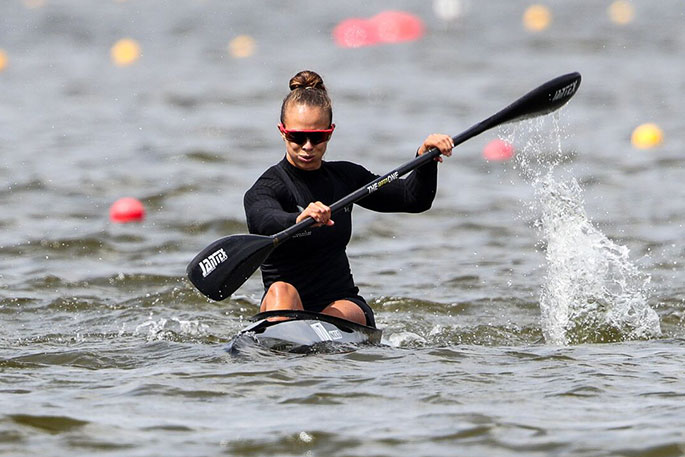 New Zealand concluded an outstanding performance at the ICF Canoe Sprint and Paracanoe World Cup I in Poznan, Poland as Lisa Carrington struck K1 500m gold and Carrington alongside Caitlin Ryan, Aimee Fisher and Kayla Imrie claimed top spot in a thrilling K4 500m final.
The stunning K4 victory capped a stupendous regatta for the New Zealand squad as they snagged four gold medals in total and also saw their group of younger paddlers turn in some eye-catching displays.
Carrington kick-started the Kiwis medal push on the final day of action at Lake Malta as the 29-year-old followed up her crushing victory in Saturday's K1 200m with an equally dazzling display over the K1 500m distance.
The Kiwi kayaking superstar made a blistering start and quickly seized control of the race, opening up a lead by more than a length at 250m.
She then continued to shrug aside the tricky on water conditions to extend her advantage and stop the clock in a scintillating 1:47.839.
It was an exceptional paddle by the double Olympic gold medallist and eight-time world champion, who continues to defy belief with her ability to consistently produce at the highest level.
In a further measure of the quality of her performance, Carrington destroyed the 2017 World K1 500m world champion Volha Khudzenka, of Belarus, who had to settle for a distant silver in 1:50.323. Lize Broekx of Belgium (1:50.495) completed the podium positions.
"The (K1) 500m is always a tough race and this weekend the standard was really high," explains Carrington, the 2015 World K1 500m champion.
"Today was an opportunity for me to practice against some tough competition and use it to rise to the challenge and also work on a few things strategy-wise.
"The conditions were challenging, windy with lots of water movement, so to be able to paddle through that was pleasing."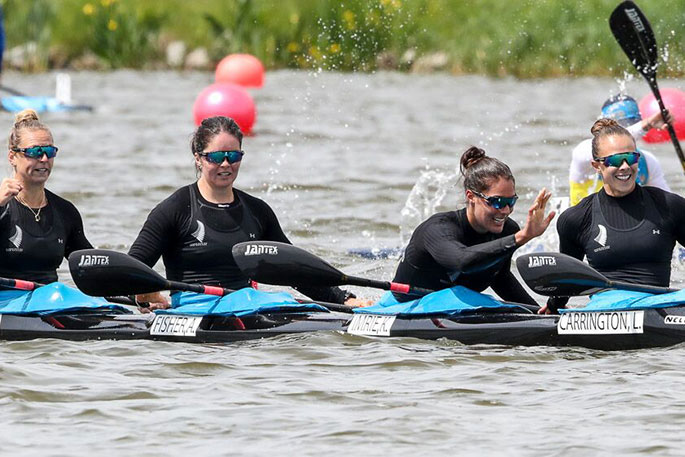 Carrington then returned for the K4 500m final alongside her team-mates Ryan, Fisher, Imrie as the stellar quartet timed their attack to perfection to overhaul France in the latter stages and strike gold in 1:31.543.
The Kiwi crew had missed out on automatic qualification for the A Final after finishing second behind Germany in their heat and the foursome had required the inconvenience of a semi-final to advance.
However, when it counted most the women in black delivered in spectacular fashion. Placed narrowly behind the French and German crews at halfway they refused to panic and powered home in the second half of the race to strike gold - 0.780 clear of a spirited French crew in silver. Poland finished strongly to nab bronze in 1:33.131.
It was another brilliant performance from the rapidly developing crew, which last year won World Championship silver behind Hungary after a titanic tussle.
Fisher and Ryan earlier teamed up but narrowly missed a medal in the women's K2 200m final, placing fifth in 38.418. In a fast and furious final, the Slovenian pair of Spela Ponomarenko Janic and Anja Osterman unleashed an impressive paddle to strike gold in 37.786. The Kiwi boat finished strongly but finished 0.174 shy of the podium.
Max Brown and Kurtis Imrie have proved two of the breakout New Zealand performers in Poznan and today completed their men's K2 1000m assault by placing eighth in the A Final in 3:15.790.
The young duo made a rapid start and were in medal contention for the first third of the race. However, perhaps understandably their vastly more experienced rivals prevailed in the latter stages with the German pair of Max Hoff and Jacob Schopf striking gold in 3.09.426.
It was hugely impressive display from the Kiwi pair to qualify for the A Final and their success provides a huge boost to elite men's kayaking in New Zealand.
The day after posting a confidence-boosting fifth place finish in the K1 200m B Final, Kayla Imrie wound up her K1 challenge by placing sixth in the C Final over the 500m distance. The Mana Club athlete led at mid-distance before slipping back to cross the finish line in 1:56.993.
The Kiwi Men's K4 500m crew of Ashton Reiser, Ben Duffy, Zach Ferkins and Hamish Legarth concluded their campaign by placing eighth in the B Final in a time of 1:25.369. France claimed victory in 1:20.721.
Canoe Racing NZ HP Coach Gordon Walker was delighted with the efforts of the New Zealand team in Poznan and added: "It was a really good regatta for the team all-round. Overall the competition was pretty tough and in almost every boat classification the best in the world was there.
"It is particularly satisfying to see that growth on a broader level whereby the para programme, men's programme and the women's programme all enjoyed success."
Kiwi medals at ICF Canoe Sprint and Paracanoe World Cup I in Poznan, Poland:
Gold – Scott Martlew Men's KL2 200m
Gold – Lisa Carrington Women's K1 200m
Gold – Lisa Carrington Women's K1 500m
Gold – New Zealand Women's K4 500m (Lisa Carrington, Kayla Imrie, Aimee Fisher, Caitlin Ryan)
More on SunLive...