Moving to the beat of their own drum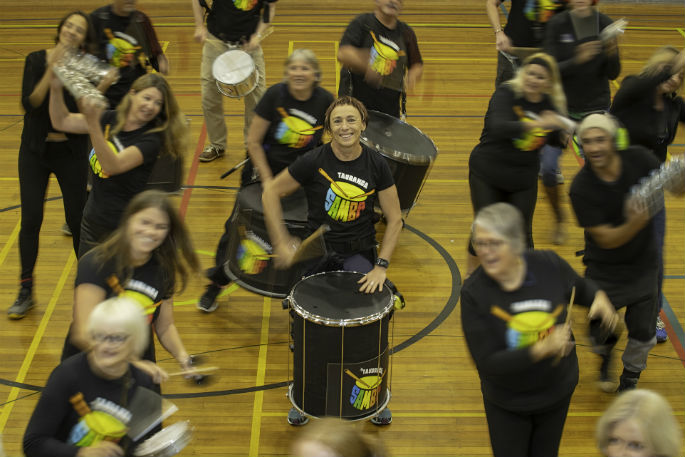 Some people hear the call of the drums and can't help but move their feet.
And some of them have banded together to make a social group of people who want to bang out their own tune.
The Tauranga Samba club is looking for new recruits – whether you have any drumming experience or not. Anyone can join as long as you're willing to give it a go.
"We are a community group – everybody is welcome regardless of skill, talent, history, ability, interest, anything – we practise every Tuesday night and anybody can show up," says Tauranga Samba's Holly Boissoin. "Everybody that shows up has to join in, that's all!
"As you become more familiar you do really start to enjoy your instrument and you can choose which instrument you want to play. Some people really want to play drums or some people like to play the little tam, I play the cowbell at the front, so it's really varied."
Holly moved to New Zealand from Canada a decade or so ago and, after a stint in Christchurch, decided it was time to try something different.
"I moved up here to the North Island for a change of scenery and something a little less shaky."
That's when she discovered Tauranga Samba.
"It was the day I moved into town, I was getting settled into my new place and reading the paper for local news as you do when you move to a new town and there was an article about the band.
Two days later I went to practise and I didn't know anybody but I just showed up and they welcomed me with open arms."
And it's a nationwide group – with bands in Hamilton (called 'Sambatron') to Wellington and all over. Holly says a lot of the time the groups will meet up to perform or practise together, or to boost each other's numbers if necessary.
"It's a very supporting, friendly community, it's just really fun."
And it's not about being good, it's just about having fun, says Holly.
"Some people who join do have drumming experience, and they enjoy percussion and want to keep that going and some people see us perform and think it looks really fun so they show up and they want to be a part of it, and that's how I found a band.
"You can come and go as you please – we have a lot of members but we don't need everybody there to perform, we just need a base number for each instrument.
"We just like to try and send out the message that everybody is welcome and we want to train people up to be a part of this band – we were all new once, everybody in the band now knew nothing at one point and it's about learning something new and having a great time," says Holly.
And the performances?
"Performing is a real rush – you can get addicted to it I tell ya! The crowd cheering you on and applauding you and dancing while you play… it's very addictive, it's such an amazing experience."
So what are you waiting for – are the drums calling you? For more information, search 'Tauranga Samba' on Facebook or visit: www.taurangasamba.co.nz
More on SunLive...