Fisher and Ryan lead Kiwi challenge in Poznan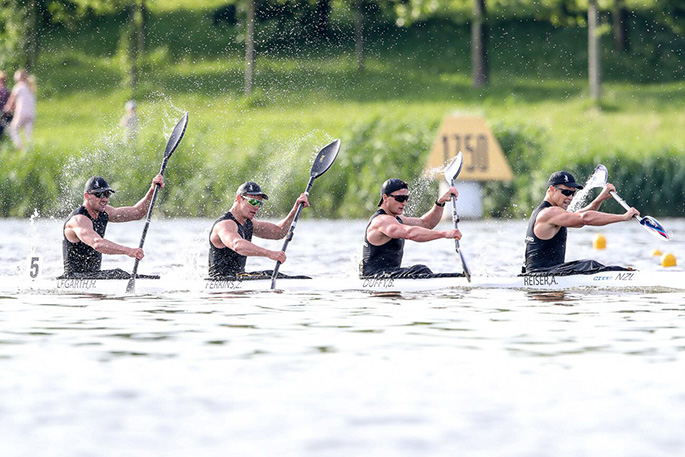 On a jam-packed schedule on day two of the ICF Canoe Sprint and Paracanoe World Cup in Poznan, New Zealand advanced two boats to A Finals and a further six through to semi-finals on Lake Malta.
Leading the Kiwi charge was the New Zealand duo of Aimee Fisher and Caitlin Ryan who in the opening event of the morning session – the K2 500m – earned safe passage into the medal race.
Competing in the third semi-final, the quality pairing held a decisive advantage at halfway only for Slovenia to take a narrow victory in 1:44.045 – just 0.268 ahead of the Kiwis. The final takes place later today (Saturday) at 11.16pm.
Later the same combination teamed up for the heats of the K2 200m and claimed third place to book their spot in Sunday's A Final. In a tight three-way battle, host nation Poland edged top spot in 37.725 from China (37.737) with the Kiwi crew close behind in third (37.793).
On day one, eight-time global K1 200m champion (six world, two Olympic titles) Lisa Carrington had eased into the semi-finals in her speciality event and on day two the champion Kiwi athlete returned to the fray in the women's K1 500m heats.
The 29-year-old produced a controlled performance, recording a slick time of 1:49.025 to place second in heat four behind the 2017 world champion Volha Khudzenka of Belarus (1:48.393). In a measure of the quality of the heat, Carrington and the experienced Khudzenka produced the two quickest times across the five opening round heats.
Carrington's New Zealand team-mate Kayla Imrie will also join her in tomorrow's K1 500m semi-finals after executing a confidence-boosting paddle to place fourth in a time of 1:53.720 behind Maryna Litvinchuk (1:51.872) of Belarus in heat three.
Carrington, Imrie, Fisher and Ryan were all then back in action in the heats of the women's K4 500m but in a tight tussle with 2016 Olympic silver medallists Germany the quartet just missed out on the heat win, which would have seen them advance directly through to the A Final.
Little separated the two crews at halfway but it was Germany who prevailed in 1:31.757 ahead of the Kiwis who placed second in 1:32.349. New Zealand will now line up in tomorrow's semi-finals.
The Kiwis second women's K4 500m boat of Alicia Hoskin, Briar McLeely, Danielle Watson and Britney Ford produced a gutsy display to place fourth in heat three and also advance to the semi-finals. The young developmental crew held their own to stop the clock in 1:36.937 – a little over two-and-a-half seconds behind the vastly more experienced heat winners from Poland (1:34.357).
Belarus qualified quickest from the K4 500m heats with an impressive heat one victory in 1:30.961.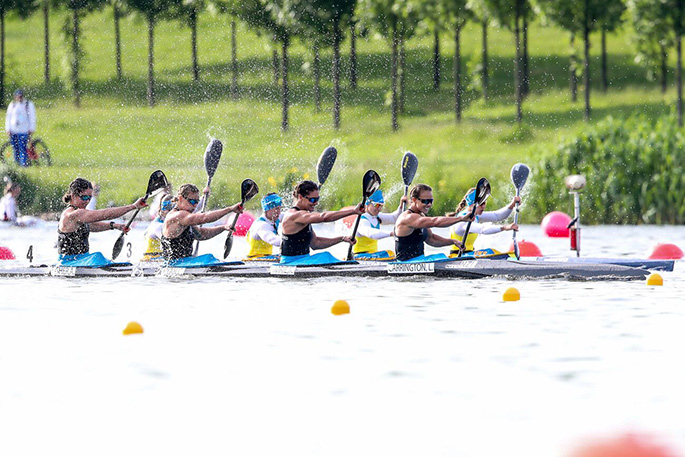 NZ women's K4 crew competing in their heat. Photo: supplied
In the men's events, the Kiwi combination of Max Brown and Kurtis Imrie performed with pride to place sixth in the K2 1000m and progress to tomorrow's semi-finals.
The young New Zealand crew stopped the clock in 3:17.201 behind the powerhouse heat winners from Germany (3:12.773).
In the final event of the day New Zealand men's K4 500m boat of Ashton Reiser, Ben Duffy, Zach Ferkins and Hamish Legarth placed seventh in heat three, recording a time of 1:25.059, to advance to the semi-finals. World champions Germany nabbed top spot in a slick 1:20.167.
Para canoeist Scott Martlew, who on day one qualified quickest for the final of the KL2 200m, returned to compete in the A Final of the VL3 200m. In what is the Christchurch paddler's secondary event, he crossed the line ninth in a time of 50.579. Vladyslav Yepifanov of the Ukraine grabbed gold in 48.015.
Martlew's compatriot Peter Cowan placed eighth (53.654) in the VL3 200m B Final.
Earlier, the Kiwi K2 500m pairing of Alicia Hoskin and Danielle Watson exited the semi-finals placing seventh in 1:48.056 missing out on a B Final by just one spot.
Day three can be followed on canoeicf.com from 7pm (NZ time) later today (Saturday).
See below the Kiwis in action on day three of the ICF Canoe Sprint and Paracanoe World Cup I in Poznan. All times NZ.
Women's K1 200m semi-finals
7.15pm – Lisa Carrington
7.20pm – Kayla Imrie
Men's KL2 200m Final
8.15pm – Scott Martlew
Women's K1 200m Finals
8.30pm – C Final
8.35pm – B Final
9.40pm – A Final
Women's K2 500m Final
11.16pm – Aimee Fisher/Caitlin Ryan
Women's K1 500m semi-finals
1.36am – Lisa Carrington
1.42am – Kayla Imrie
Men's K2 1000m semi-finals
1.48am – Max Brown/Kurtis Imrie
Women's K4 500m semi-finals
2.54am – Alicia Hoskin/Briar McLeely/Danielle Watson/Britney Ford
3am – Lisa Carrington/Aimee Fisher/Kayla Imrie/Caitin Ryan
Men's K4 500m semi-finals
3.06am – Ashton Reiser, Ben Duffy, Zach Ferkins and Hamish Legarth
More on SunLive...