Students overwhelmed by loans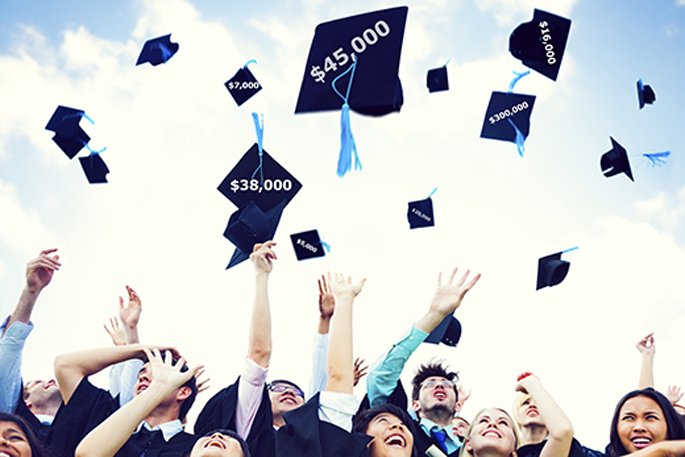 Many university students say they avoid thinking about their student loans and some who owe the most describe feeling "sick" and anxious about their futures when they do.
That's according to a just-published study by researchers at Lincoln and Canterbury universities about the impact student debt has on student wellbeing.
Some of the students interviewed during 2014 and 2015 described their debt as "eye-watering" and "painful" and the majority - 61 per cent - said they were worried about the toll student debt was taking on their peers' mental health.
One participant says the pressure from having so much debt "builds up and, like, feeds into everything: study, work, friends, all of it". Another spoke of an acquaintance's suicide and their student debt.
Data from the Inland Revenue (IRD) showed the average student loan balance ballooned from $15,883 in 2006 to $22,065 last year.
The total amount owed by 719,187 borrowers was nearly $16 billion as at June 30 2018.
The IRD estimated that it would take the average student who left study in 2016 nearly seven years to pay off their loan.
The study noted many students seemed uncomfortable talking about their loans and tended to at first downplay their impacts.
"It is a bit depressing when I think about it, so often-times I don't think about it," says one student.
While many say they were unfazed by their debt or felt they were capable of repaying it, 37 per cent expressed anxiety about their loans - particularly those with higher levels of debt.
Another student says: "It makes me feel weak, a bit sick and quite panicky. Ugh, I feel horrible when I think about it, like, what is this going to mean for me?"
Despite being worried about their future, many students seemed reluctant to ask for help - they didn't want to be seen as a "complainer".
Instead, they described "trying not to think about the future to keep your sanity in the present" and "push[ing] it to the side" as coping mechanisms.
The findings resonated with 20-year-old University of Auckland student Tessa Rooney-Broadbent, who told Stuff that while she checked the balance of her student loan regularly, she avoided thinking about how and when she'd pay it back.
About halfway through her law and commerce conjoint degree, she currently owes $30,000. She expected her debt to reach $60,000 to $80,000 when she graduates.
"I'm most worried about having it held over my head for 20-plus years - and not being able to travel overseas in that time without paying a lot of interest," says Tessa.
Dr Sylvia Nissen of Lincoln University led the study. She says student debt should be treated as a "collective public issue" rather than a problem for individual students.
"In New Zealand there's an assumption that students can take on high levels of debt and they'll be fine. But the [study's] really a call for us to pause and consider how these unprecedented levels of student debt might be affecting student wellbeing.
"Some people argue that loans are something that only affect you once you leave university. But from what students are telling us they're also very much affecting students now while they're in study."
The Labour-led government introduced a first-year fees-free tertiary education scheme last year in a bid to make higher education more accessible.
About 80,000 people were expected to take up the policy in 2018, but just 50,000 did.
The initiative was labelled a flop by National Party politicians.
But Sylvia cautioned against using only enrolment data to measure the policy's impact.
"That's overlooked the possible effects of the policy on student wellbeing - on their economic, social and mental wellbeing."
More on SunLive...