NZ Sailors well poised at Laser European champions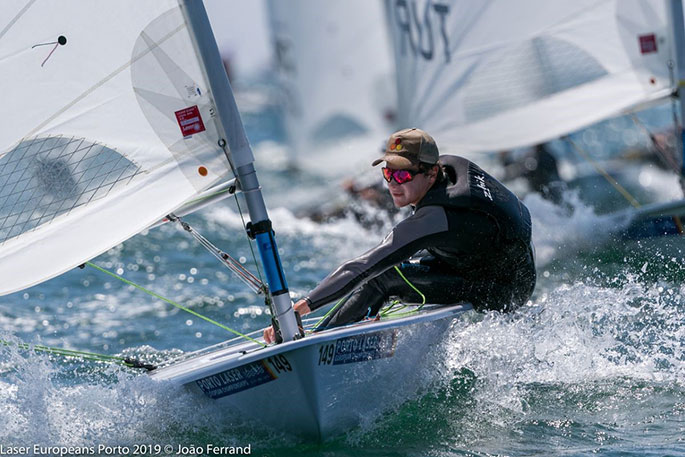 New Zealand's sailors emerged from an often treacherous qualifying series in good shape heading into gold fleet racing at the Laser European championships in Porto.
Sam Meech is fifth, George Gautrey seventh and Tom Saunders 22nd after three days of qualifying and all three will have the opportunity to stake their claim over three days of gold fleet racing.
Most of the top contenders have a sizable drop for their worst result on their scorecard, which is not unexpected given the often light conditions to date, meaning few can afford to slip up over the coming days.
Olympic champion Tom Burton from Australia is one exception and leads from two British sailors, Lorenzo Chiavarini and Elliot Hanson, but only 12 points separate second and 10th.
Meech has made steady progress up the leaderboard after ending day one in 31st place. He was fifth and first in his two races today but admitted he's often struggled with the conditions.
"It was another light-wind day out there but I had a decent day," he said. "I was a fifth in the first race and in the second race I was up there the whole way around, which was nice, a bit more relaxing.
"It's still really tricky conditions. It just seems like you were either in the pressure or you weren't and I couldn't really make sense of it. Hopefully we're not going to see that again and it looks like there's more wind for the next couple of days. The points are super-tight so it will all start again tomorrow."
Gautrey notched a race win as well and is only one point behind Meech in seventh, but his first race didn't go so well and he finished 31st.
"I had a tough first race when I hit the pin trying to get around after the start and, after doing my [penalty] turns, it was a long way back on a track that was hard to make gains. In the second race I had good pace and just tried to keep it simple. I found myself in front and led around the track.
"I'm going well but the real regatta starts tomorrow [with gold fleet racing]. I'm going to have to bring my A game if I want to be up there. It should be a good tussle, especially with a bit of breeze forecasted for the last couple days."
Saunders had his best day of the regatta with two top-10 scores but still doesn't feel like he's hitting top form.
Denmark's Anne-Marie Rindom has made an impressive start in the women's Laser Radial, with all six scores inside the top three. She holds a handy 12-point lead over Finland's Tuula Tenkanen, with Marit Bouwmeester of the Netherlands third.
Annabelle Rennie-Younger is the best placed of the New Zealanders in 57th, with Olivia Christie in 68th.
Results and standings after day 3 of the Laser European championships in Porto:
Laser (162 boats)
1st: Tom Burton (AUS) (9) 5 1 3 2 1 - 12 points
2nd: Lorenzo Chiavarini (GBR) (13) 1 3 4 4 4 - 16 pts
3rd: Elliot Hanson (GBR) 5 1 5 (21) 4 5 - 20 pts
5th: Sam Meech (NZL) 3 (25) 7 5 5 1 - 21 pts
7th: George Gautrey (NZL) 5 7 4 5 (31) 1 - 22 pts
22nd: Tom Saunders (NZL) 14 11 (16) 6 8 6 - 45 pts
155th: Luke Deegan (NZL) 51 49 50 46 (53) 45 - 231 pts
Laser Radial (120 boats)
1st: Anne-Marie Rindom (DEN) 2 (3) 1 1 3 2 - 9 pts
2nd: Tuula Tenkanen (FIN) 16 (18) 1 1 2 1 - 21 pts
3rd: Marit Bouwmeester (NED) 3 11 (14) 8 3 1 - 26 pts
57th: Annabelle Rennie-Younger (NZL) (38) 32 24 17 25 30 - 128 pts
68th: Olivia Christie (NZL) 34 34 34 12 34 (34) - 148 pts
More on SunLive...