BOP murder accused 'feared for safety'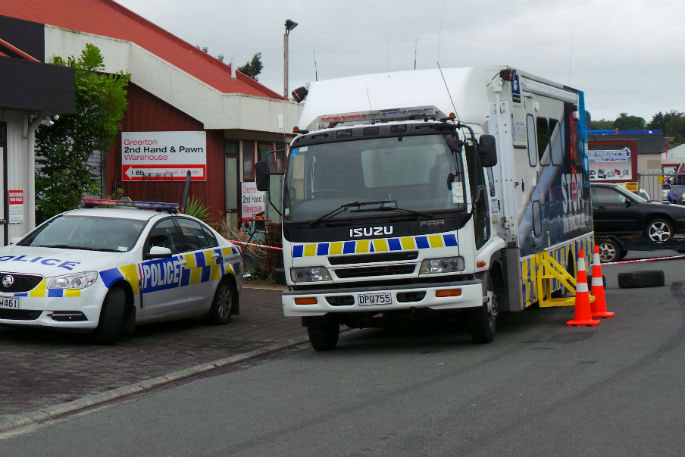 "I hope he dies". These are the four words a Bay of Plenty man accused of murder allegedly said as he was driven past Tauranga Hospital last year.
Colin Jeffries-Smith is on trial facing once count of murder in the High Court at Rotorua following the death of a Tauranga man.
As Jeffries-Smith was being driven past Tauranga Hospital, he saw the man he had shot twice in the back just minutes earlier being carried inside.
That man, who later died from his injuries, was Mongrel Mob enforcer Lance Wayne Waite.
Jeffries-Smith said just four words to the person driving the car, the court heard on Wednesday.
"I hope he dies."
The person who drove Jeffries-Smith on January 3, 2018, a former resident at the Tauranga address where Waite was shot twice, was giving evidence at the High Court in Rotorua on Wednesday at the trial of Jeffries-Smith, who faces one charge of murder.
Also on trial is Casino Heta Williams, who faces charges of firearm possession and accessory after the fact of murder.
The case outlined by the Crown at the start of the trial is that a drug debt owed by Jeffries-Smith had seen Waite 'tax' his Nissan Maxima, the catalyst for the killing.
Jeffries-Smith's defence lawyer Mark Edgar acknowledged his client fired the shots that killed Waite, but said he acted in fear for the safety of both himself and his family.
The witness, who cannot be named for legal reasons, gave evidence behind a screen, closely accompanied by witness protection staff.
Under questioning from Crown prosecutor Anna Pollett they described what they saw at their former address on the day of the shooting, a residence known as 'The Trap' and a place frequently used for drug dealing.
They said they were outside when they saw Waite "running out screaming".
They said Waite got into a car being driven by a customer of The Trap, which also doubled as a second hand goods store.
That was when Jeffries-Smith appeared.
"He didn't say much, the only words I got out of him was, I need to get away."
They said that it was on the way to Williams' property when they drove past the hospital, and then, according to the witness, Jeffries-Smith said: "I hope he dies".
After Pollett's questions, the witness was quizzed by Edgar, who at times adopted a more combative style.
He took aim at the witness's earlier description of Waite as a funny man, "a bit of a comedian", at one point holding a photo in front of the jury.
"He doesn't look very funny, in fact he looks quite scary," he said.
The witness's numerous involvements with drugs and gang members was also contrasted with claims of ignorance about underworld matters.
"Those drugs just keep following you around, don't they," Edgar said.
"Sadly, yes they do," the witness said.
Edgar also took aim at the fact the witness, after dropping Jeffries-Smith at Williams property, went to call on a man referred to as 'Uncle Frank,' Waite's uncle and also a Mongrel Mob member.
"You can't seriously be telling these people over here [the jury] that moments after you've spirited Colin away, you've seen the hospital scenario, you zoom straight round to the Mongrel Mob and say 'have you seen Lance,'" he said.
"The Mongrel Mob was the first place you went, and the fact you went there tells us a lot about your motivation."
At one point Edgar accused the witness of telling "a bald faced lie" and referred to his "Teflon" clothing.
The trial is set to continue and is expected to last six weeks and hear evidence from more than 80 witnesses.
More on SunLive...