Meech fights back at Laser European championships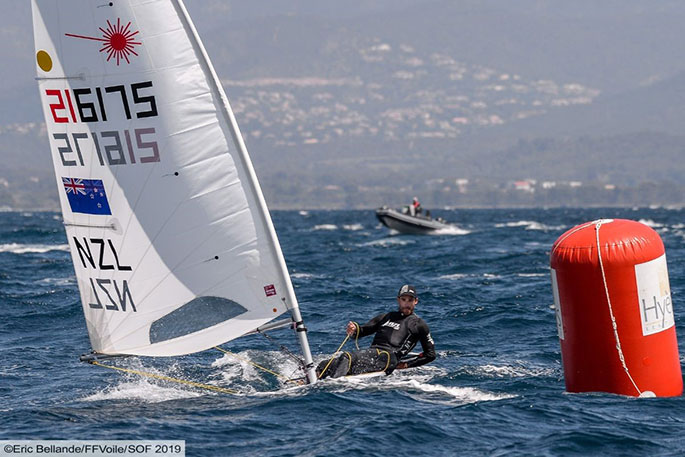 Sam Meech isn't used to making too many mistakes but he still managed to limit the damage to remain in contention at the Laser European championships in Porto.
The world's No 1-ranked Laser sailor started the second day in 31st but climbed to 12th after banking a seventh and a fifth in his two races today.
He knows he has plenty of improvement in him after mistakes have blighted three of his four races to date.
"I had a couple of absolute nightmares at the top marks today," says Meech.
"I couldn't buy a shift to come into the top mark on. I ended up underlaying one time and having to bail out and another time I ended up tacking too close and infringing someone and doing a 720 [degree penalty turn]. It was a pretty brutal first lap.
"Luckily the conditions were fantastic and I still had good speed and was going the right way most of the time so managed to catch up. But I really need to sort out the first half of the first beat and get up the front to make my life a bit easier."
George Gautrey doesn't feel like he's sailing particularly well, either, but registered another couple of handy scores to leave him in a good position early in the regatta.
He was fourth and fifth in his two races to leave him 10th overall, nine points behind leader Luke Elliott of Australia.
Crucially for Gautrey he's been very consistent and his drop for his worst result is so far the seventh he scored in the second race.
Many of those above him have much bigger discards which puts pressure on them not to slip up again.
"I don't feel as though I really sailed that well," says Gautrey.
"I was getting good starts and had decent pace but I usually made some interesting decision on the second lap.
"It's good to get another couple of keepers but I will need to iron out the mistakes as we move towards the later stages of the event. I'm feeling good but there's plenty of room to step it up."
Tom Saunders has been frustrated by his results to date, lying 34th overall after a 16th and sixth on day two in Porto. "Playing catch-up seems to be a common theme for me."
There's still plenty of time for Saunders to improve his position, with one more day of qualifying before three days of gold fleet racing.
Denmark's Anne-Marie Rindom scored two wins to lead the Laser Radial fleet from Canada's Sarah Douglas and Emma Plasschaert from Belgium. New Zealand's Annabelle Rennie-Younger is 57th and Olivia Christie 61st.
Results and standings after day 2 of the Laser European championships in Porto:
Laser (162 boats)
1: Luke Elliott (AUS) 1 (10) 1 3 - 5 points
2nd: Karl Tapper (FIN) (30) 3 2 1 - 6 pts
3rd: Tonci Stipanovic (CRO) (31) 1 2 4 - 7 pts
10th: George Gautrey (NZL) 5 (7) 4 5 - 14 pts
12th: Sam Meech (NZL) 3 (25) 7 5 - 15 pts
34th: Tom Saunders (NZL) 14 11 (16) 6 - 31 pts
149th: Luke Deegan (NZL) (51) 49 50 46 - 135 pts
Laser Radial (120 boats)
1st: Anne-Marie Rindom (DEN) 2 (3) 1 1 - 4 pts
2nd: Sarah Douglas (CAN) 3 (18) 2 6 - 11 pts
3rd: Emma Plasschaert (BEL) 8 (12) 2 2 - 12 pts
57th: Annabelle Rennie-Younger (NZL) (38) 32 24 17 - 73 pts
61st: Olivia Christie (NZL) 33 32 (61 DNC) 12 - 80 pts
More on SunLive...