NZ Laser sailors strive for success in Porto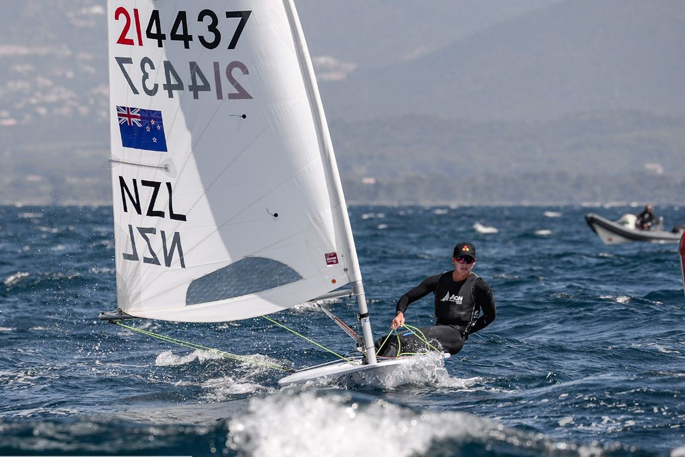 New Zealand's Laser sailors look to build on the success of other classes as racing got underway at the Laser European championships in Porto overnight.
Peter Burling and Blair Tuke snared gold at the 49er European championships yesterday, which came on the back of the silver won by Andy Maloney at the Finn Europeans and bronze won by Paul Snow-Hansen and Dan Willcox at the 470 European championships.
Sam Meech was among the favourites when racing started in the six-day regatta in Porto but lies in 31st overall. The world No 1 banked a third in his first race but got stuck in traffic at the start of the second race in the five-knot conditions and was 25th.
George Gautrey was the best of the Kiwis, finishing fifth and seventh in his two races to be 11th overall. The 160 boats at the regatta are split into three fleets of equal standard for the first three days before the top boats are put into gold fleet for three more days of racing.
"It was not a bad day, considering the conditions," George says.
"A combination of not much wind and a big swell made for an interesting challenge today. It was probably more a case of just trying to dodge bullets and get around the track unharmed.
"I feel like my sailing is getting there. I'm still just trying to build on results and put together another regatta so I'm there at the pointy-end of the fleet."
George placed 10th at his last regatta, the Semaine Olympique Française in Hyères, which was the first time the 21-year-old had qualified for a top-10 medal race.
Sam won silver in Hyeres and is invariably in contention for a medal at each regatta he sails. He wasn't the only big name to post a relatively big score on the first day in Porto, with world and Olympic champion Pavlos Kontides in 43rd overall.
Germany's Philipp Buhl is joint leader with Spain's Joaquin Blanco, with Niels Broekhuizen from the Netherlands level on points in third.
"I had a decent first race but in the second race the guy below me just luffed really hard so I was stuck head to wind at the start," Sam says.
"I was quite far behind and wasn't able to go to the right, which paid quite big on the first beat, and never really caught up, unfortunately. Hopefully that will be my drop."
The drop for a sailor' worst result will come into play after the fourth race, which will shake up the leaderboard.
Tom Saunders is 28th overall after a 14th and 11th in his two races, while Olivia Christie is 63rd and Annabelle Rennie-Younger 68th in the 120-boat Laser Radial fleet. Malaysia's Nur Shazrin Mohamad Latif holds an early advantage over Denmark's Anne-Marie Rindom after posting two wins.
Porto is expected to dish up a mixture of conditions over the next couple of days before the breeze builds towards the end of the week.
Results and standings after day 1 of the Laser European championships in Porto:
Laser (162 boats)
1st=: Philipp Buhl (GER) 1 4 - 5 points
1st=: Joaquin Blanco (ESP) 1 4 - 5 pts
3rd: Niels Broekhuizen (NED) 3 2 - 5 pts
11th: George Gautrey (NZL) 5 7 - 12 pts
28th: Tom Saunders (NZL) 14 11 - 25 pts
31st: Sam Meech (NZL) 3 25 - 38 pts
Laser Radial (120 boats)
1st: Nur Shazrin Mohamad Latif (MAS) 1 1 - 2 pts
2nd: Anne-Marie Rindom (DEN) 2 3 - 5 pts
3rd: Martina Reino (ESP) 4 2 - 6 pts
63rd: Olivia Christie (NZL) 33 32 - 65 pts
68th: Annabelle Rennie-Younger (NZL) 38 32 - 70 pts
More on SunLive...