Te Puke Sports continue to impress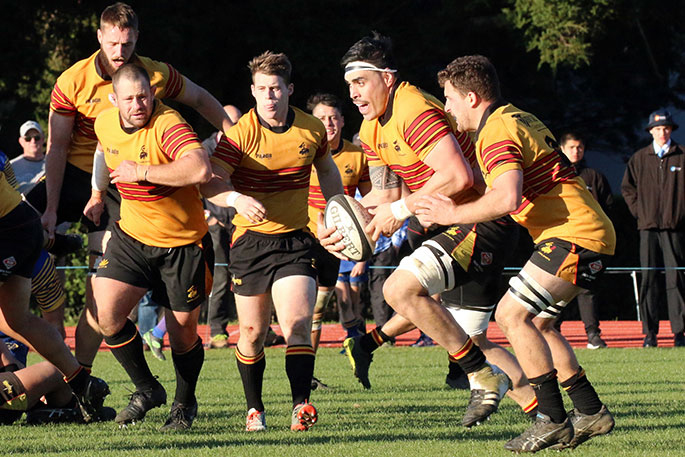 Te Puke Sports are certainly the team to beat in the Baywide club rugby competition.
The side notched up their ninth win of the season on Saturday, beating Ranguiuru 50-27.
Te Puke Sports manager Ross Flexman says despite his sides win, the team wasn't happy with their start against Rangiuru.

"Our discipline in the first 10 minutes wasn't where we wanted it to be, when we let Rangiuru in for two tries. But we will go through the video of the game and work out the errors."

Ross says it's the belief each player has in one another that has seen the team soar this season.

"It's just the general belief in themselves. The whole club is confident, and we've got a good support team right behind us. We've got the depth right through the development and we work together as a unit."

The Te Puke side is fortunate to have many Steamers players to their roster, however the leadership of co-captain Danny Underwood and Joe Johnston keeps them focused and structured.
Ross says he is happy with how the team is placed going into the second round, however the team is fully aware they will have to lift another notch if they want to stay out in front of the field.

In the other matches of the round, Te Teko lost 45-17 to Te Puna,Tauranga Sports beat Greerton Marist 50-14, Rangataua dominated Opotiki Sports winning 62-14, Arataki beat Rotoiti 59-19 and Whakarewarewa were too strong for Mount Maunganui, winning 40-31.

The final eight for Premier One of Round Two of the Farmlands Baywide competition is: Te Puke, Te Puna, Whakarewarewa, Tauranga Sports, Greerton Marist, Rangiuru, Mount Maunganui and Rangataua.

Click here for all Farmlands Cooperative Baywide Men's Club Rugby results.
More on SunLive...