Kiwibuild homes available to purchase in WBOP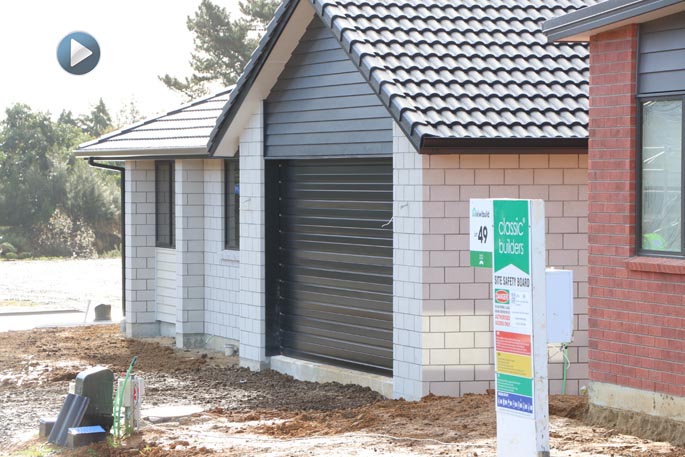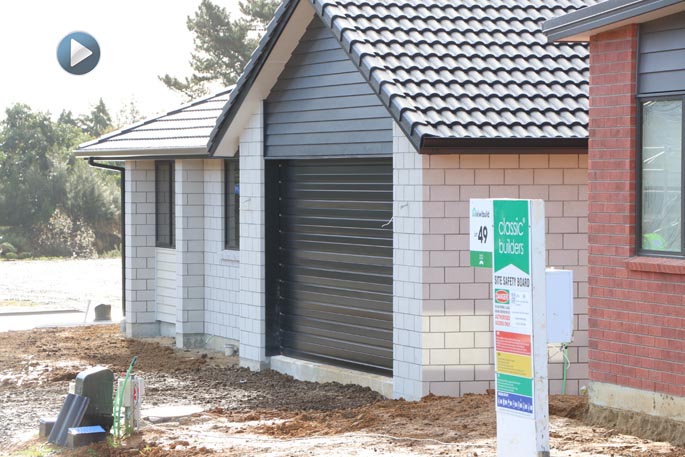 Click the image above to watch the video
First home buyers in the Bay of Plenty will be able to purchase Kiwibuild homes from today.
The Kiwibuild homes being built by Classic Builders in the Kaimai Views subdivision in Omokoroa are nearing completion with eight houses out of the 27 homes going on the market today, May 16.
Head of delivery of Kiwibuild Helen O'Sullivan, Classic Builders director Peter Cooney and Western Bay of Plenty Mayor Garry Webber were at the subdivision site on Wednesday to make the official announcement.
Helen says they are delighted to bring Kiwibuild to the Bay.
"This is an area were affordable housing is very much required. Our data shows that a large number of people are interested in Kiwibuild price points.
"It's really pleasing to be able to bring a start with the 27 homes we are announcing this week with Kiwibuild and Classic Builders," says Helen.
Peter says one of the requests from council was that 50 per cent of the housing being built was to be affordable.
"Kiwibuild has managed to allow us to fast track the development by under-riding the houses with the agreement that we've ended into with Kiwibuild," says Peter.
"We would be able to pick up the pace and provide a lot more housing in a much quicker pace which is required in the Bay of Plenty at present.
"So for us the collaboration between government, the council and ourselves has been extremely positive."
Peter says affordable housing in the Bay of Plenty is around the 500,000 dollar mark.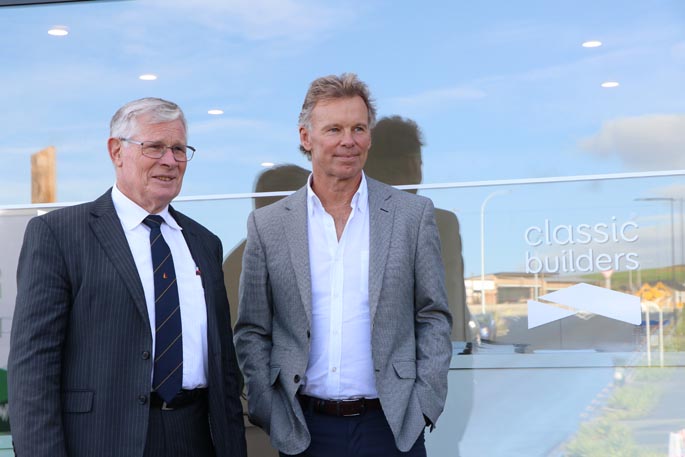 Western Bay of Plenty Mayor Garry Webber and Classic Builders director Peter Cooney.
"My understanding is it's the only special housing accord that has affordability targets in it," says Garry.
"Some of the conditions around it is that it has to go to first home buyers, that was part of the conditions that we put in place to make sure what we delivered as a subdivision was mixed and got the right sort of people in here, and we are pretty happy with what the end result is."
Garry says when Omokoroa was designated as a growth notice part of wider Tauranga City and greater Tauranga area one of the conditions was to deal with traffic and roading.
"One of the other conditions was that NZTA and central government were going to do a major upgrade of the road.
"So that was to be part of it, and we are anticipating that the roading will come. We had hoped it would have come sooner but that's one of the things when you put developments like this a little remotely, they require transport infrastructure."
The Kiwibuild houses have a price range ranging from $485,000 to $500,000 with a mix of two and three bedrooms.
The homes will be available through a direct sale without the need for a ballot.
To be eligible for a Kiwibuild home you must be at least 18 years old, a New Zealand Citizen, Permanent Resident or a Resident Visa holder who is 'ordinarily resident in New Zealand', be a first home buyer or 'second chancer', have an income of less than $180,000 a year for two or more buyers, or $120,000 a year for a single buyer and intend to own and live in the home for at least 3 years.
To check out the Classic Builders Kiwibuild homes, click here:
More on SunLive...