New Mural for Tauranga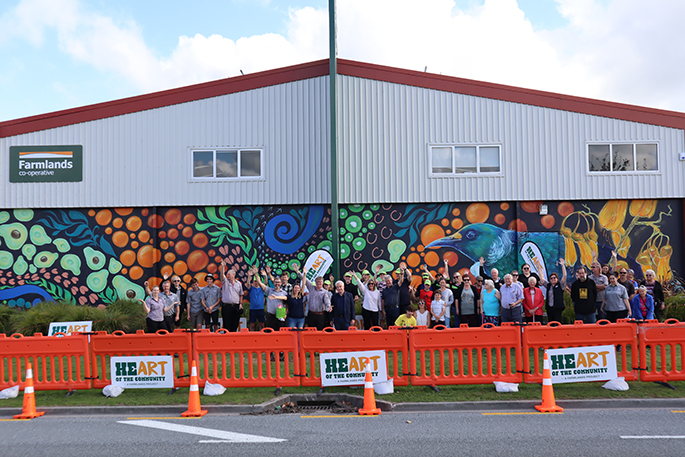 Farmlands Tauranga has unveiled the latest Farmlands mural.
Painted by award-winning artist Erika Pearce during the first week of May, this is the tenth mural commissioned by the Farmlands Cooperative Society.
The mural was presented to the public at a ceremony on Saturday morning May 4. Attending the event was Tauranga Mayor Greg Brownless who was delighted to see this attractive addition to the city.
"It was a really nice opening," says Greg. "It is wonderful that Farmlands has chosen Tauranga for its next HeART of The Community project."
He had been looking forward to seeing how Erika would reflect Tauranga's long history of agriculture and horticulture in her mural.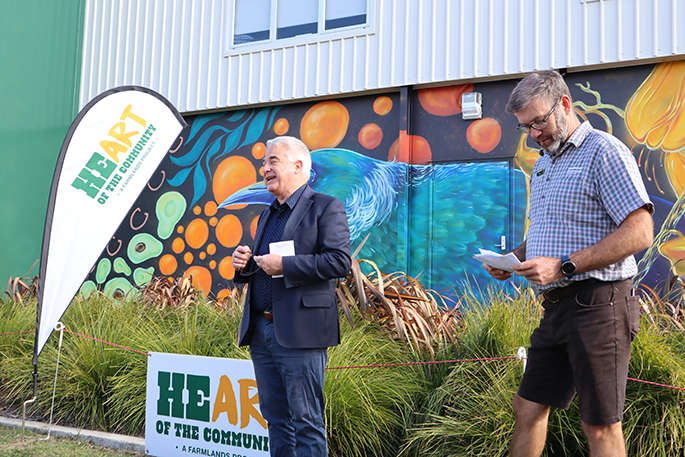 Tauranga Mayor Greg Brownless and Nigel Wilson - Business Manager, Farmlands Tauranga
Erika Pearce is a multi-disciplinary artist and designer whose award-winning artwork features in collections around the world. Her work typically reflects her passion for community, culture, the role and contribution of women and the natural world.
In this new work, the culmination of extensive research, community involvement and guidance – she took her inspiration from Tauranga's rich history of horticulture.
Stretching along 23m of the Farmlands Tauranga building, on Taurikura Drive off State Highway 36, Erika's design features kiwifruit, avocadoes, leaves, a tui, and kowhai flowers.
In 2017, Farmlands initiated the HeART of the Community project, bringing colour, stories and pride to the walls of 15 of their 82 stores.
"We were lucky to secure the artistic talent of Graham Hoete aka Mr G and together we completed seven of the 15 murals," Farmlands posted to their Facebook wall.
"Given the expectations, time and scale of the project, Farmlands and Mr G agreed the second half of the project should be expanded to involve other artists. We are grateful for the work Mr G put into our murals and we're excited to see how the rest of the murals turn out, having already seen works commissioned by Otis Frizzell in Taihape, and Mauricio Benega in Mossburn, which were completed in 2018."
In April, Farmlands asked their Facebook followers if they could guess where the next mural would be painted.
"HeART of the Community is back for 2019! Can you guess where we're headed next? Here are a couple of clues - the town name means 'safe anchorage' in reference to its location as the landing place of early Polynesian settlers. Famous for one particular fruit, this town is also known for its horticulture producing tangelos and avocadoes."
Most readers guessed Tauranga, and many came out on to witness the unveiling of Erika's mural.
More on SunLive...