Dodgy ankle strengthens resolve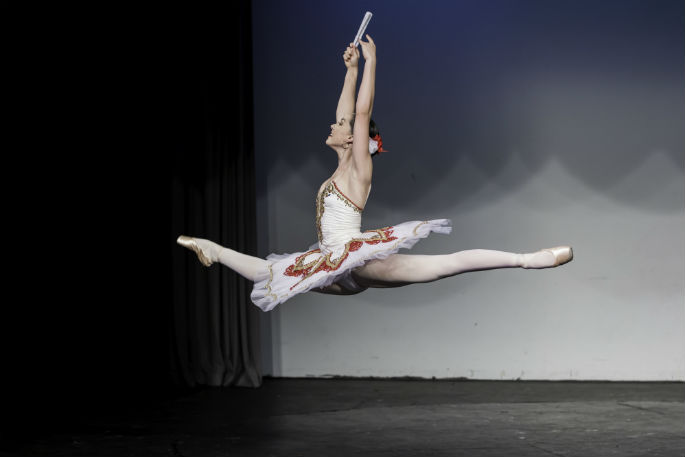 She has won a summer scholarship, a one week immersion at Rambert School - one of the world's most exclusive and prestigious dance schools in London.
It has been training dancers for almost a century. Now it's Arabella Moore's turn.
It's perhaps the most significant achievement in a litany of achievements for the teenage Tauranga ballet dancer. "One week, nine to five every day training – an awesome opportunity to get myself known at this school," says Arabella. Then it just could be the beginning of something much, much bigger.
"Because next year I would like to train full-time at Rambert." It would be two years with an option for a third. "Then hopefully I will get accepted into a company in Europe or Australia."
"I am beyond excited," says a beaming Arabella. She's just climbed off a plane from Wellington where she's been training full-time with the New Zealand School of Dance. She aspires to be a world class choreographer in the ballet, neo-classical and contemporary genres.
But not before some anxious times. "I had surgery on my ankle – os trigonum – an extra bone that develops behind the ankle bone." It took her out of dancing for eighteen months.
"A long process of waiting, surgery and rehab," says Arabella. She came back stronger than ever. "It just reminded me that I wanted ballet more than ever."
And being awarded the scholarship is a step in the right direction towards achieving that life-long dream. 'Life-long' is just 15 years to date. However Arabella has been dancing pretty much all those years.
"Since she was two and after lots and lots of tears," says Mum, Kat Moore. Tears of envy as Arabella watched her older sister Olivia being dropped off at ballet. Arabella wanted a bit of the action – she wanted to pirouette and pas de deux herself.
Dance is in Arabella's genes. This is a family that eats, sleeps and lives dance. Olivia dances with the Royal New Zealand Ballet, younger sister Lucia trains and competes as well and is also a NZ School of Dance national scholar. For her part, Mum Kat Moore sews all the girls' costumes and Dad CJ stage manages their local productions.
"Such a wonderful attitude and a very pleasing and talented student to work with." That's a glowing reference from former Hong Kong Ballet director and Rambert trained Rambert principal, Terry Etheridge. He had a scholarship for Ramberts and decided Arabella was right for it. The course is a chance for aspiring dancers to immerse themselves in dance, creative and performance during one week at Rambert. "But I am hopeful Arabella will be offered a place as a full-time student when they see her dance this (northern) summer."
Students are given the opportunity to train at the school's world-class facilities with faculty and alumni, experience the training environment and creative ethos, deepening technical training and nurturing creativity and artistic expression.
Arabella laughs at the suggestion of sacrifices she's made along the way. "I don't go to school which allows me to train more. I don't get to hang out with my friends at the weekend because there are always comp's or training. I have friends, but I don't get to see them much. But they understand and support me."
Arabella trained at Tauranga's Dance Education Centre which produced dance greats like Delia Matthews, principal of the Birmingham Royal Ballet and Ty King-Wall, male principal of the Australian Ballet Company.
Dance Education Centre's Debbie Gooch suggests Arabella has an exciting pathway ahead of her as a multi-functional dancer. "She's a natural athletic, highly physical dancer, which parallels the new wave of industry professionals."
An exceptional work ethic and rare choreography talent, Debbie says Arabella has a promising future both as a dancer and choreographer.
More on SunLive...