Papamoa's fire chief retires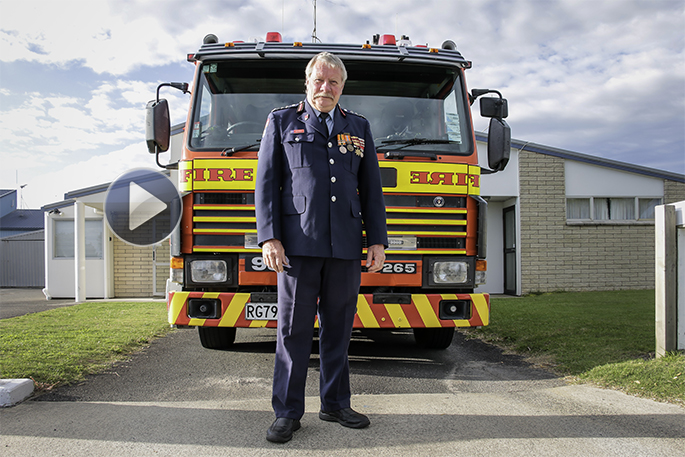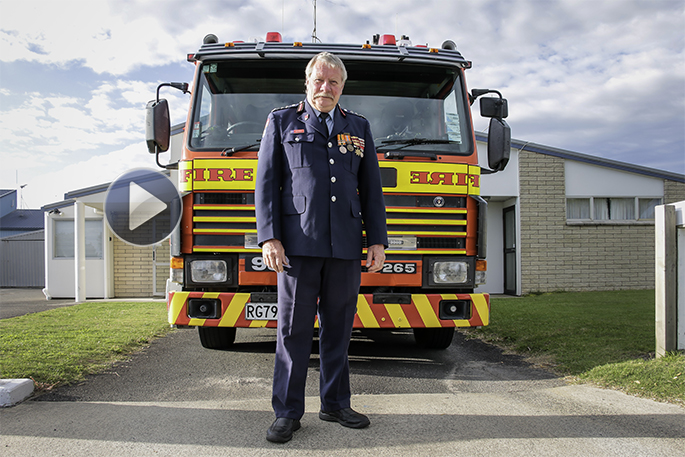 Click the image above to watch the video
Chief Fire Officer Allan Bicker has been a volunteer fire fighter for the Papamoa Volunteer Fire Brigade for over 30 years. On the last day of March 2019, he quietly went into the station and hung up his chief's hat for the last time.
His stepson Gareth Wood had messaged me from Christchurch the night before.
"Tomorrow my hero and best friend hands in his beeper to enjoy a well and hard-earned retirement," says Gareth. "He's an amazing role model for me and my sisters and a very humble man."
Allan was out driving a fire truck when I phoned him. It turns out he isn't quite retiring altogether – he'll still be delivering fire trucks for Fire and Emergency NZ, but his days as a volunteer fire fighter are over.
"It's 32 and a half years," says Allan. "Twenty-one and a half years as chief. All in Papamoa."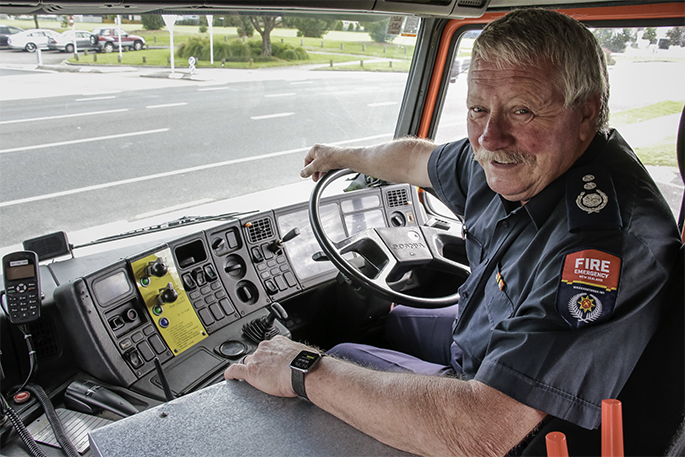 Our photographer Bruce Barnard and I met him for a tour of the station and a look back over the years. His wife Sheryl remembers him joining up in 1986.
"As we moved into our house in Simpson Rd, the fire siren went," says Sheryl. "They had an open day a couple of weeks later, he went to it, and that was it.
"Siren goes off, pager goes off and he goes off. It's 24/7. You get used to it."
"I had a look in the fire engine, and I was hooked," says Allan.
I look around the station. There's no fireman's pole. A large exhaust pipe curls down from the roof, and there are relics from yesteryear on display in the clubroom. A carbon tetrachloride fire extinguisher with a hand pump that's more than 50 years old, an old fireman's axe and the original stand pipes that firemen used to connect into water mains. Discontinued in the 50's and heavy to lug around, they were replaced by alloy pipes.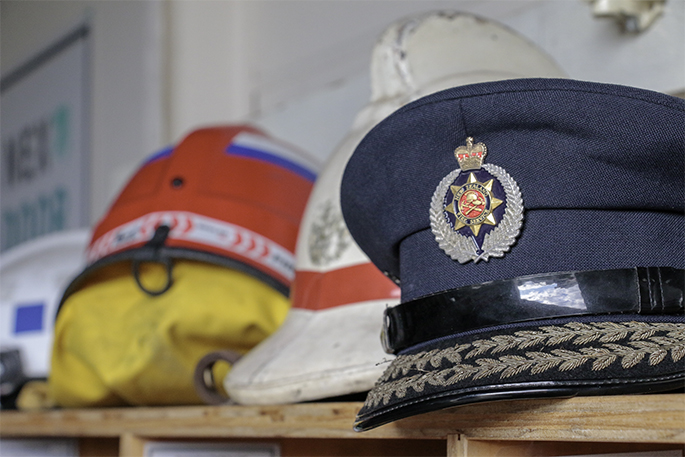 A dart board for the inter-station dart tournaments is at one end. An old white cork helmet, dating back to war times, sits on a high shelf.
"They started off with brass helmets but they became too expensive," says Allan. "Then cork ones from the UK. Then plastic. Now it's a composite."
The newer styles look more like a motorcycle helmet. A red helmet is worn by the station officer, yellow helmets for fire fighters, silver for regional management and black for the chief executives.
Allan as chief fire officer wears the white helmet.
"At a fire you'll see the white helmet standing back directing the red and yellow helmets," says Allan.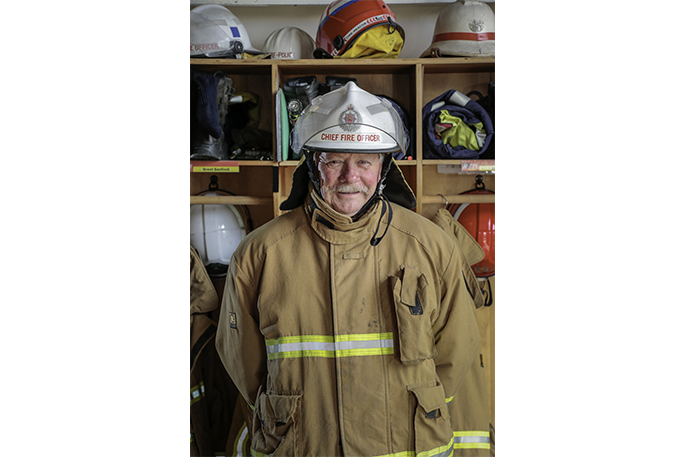 I ask him how many fires he's been to.
"Hundreds," he replies. It seems a majority of call outs are to houses where people have fallen asleep after putting a pot on the stove.
"There was a house fire a number of years ago in Dickson Rd, and what stood out about it was the amount of alcohol the gentleman had in his house that helped burn his house down. He had thousands of those miniature bottles.
"You can't smell smoke when you're asleep. It's not the flames that kill people, it's the smoke."
The Papamoa station has one fire engine, with 20 volunteer fire fighters who all live within a five kilometre radius. There's four-and-a-half minutes from when the siren goes off until the truck leaves. Socks, boots, trousers and jacket are positioned ready to jump into, taking only 30 seconds to get dressed.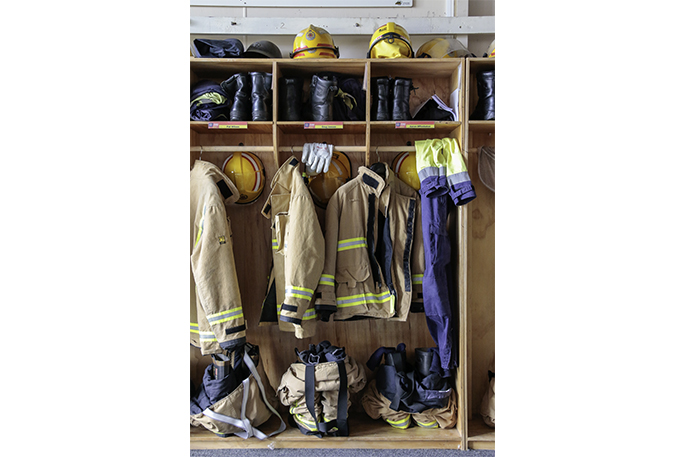 "Our siren goes up and down three times and turns itself off. Te Puke's goes up and down until somebody turns it up, so it could be longer than three times," says Allan.
Allan explains how the Papamoa station is a fire station not a fire rescue station.
"We haven't got rescue gear, only a fire engine. We do carry a first aid kit and defibrillator. We're there as fire protection and respond as a pump.
"We are co-responders all trained in CPR," says Allan, "responding to Code Purple alerts, which is respiratory, cardiac and the possibility of the person dying. Often we get there before the ambulance.
"Our first response area is from the end of Papamoa East to Royal Palm Boulevard. Our second response area is as far as Tiara Place. Mount Maunganui Brigade respond to that area as well."
"People don't realise they are volunteers," says Sheryl. "There's no reimbursement for petrol. They can get called in the middle of the night. They just do it because they want to help the community."
Allan also works for Fire and Emergency NZ, shifting fire engines around what is called Region 2.
"It's living the dream. This is a semi-retirement job, no stress and you get to meet a lot of people. And every now and then they fly me down to Wellington to bring a new fire engine back up."
Deputy Chief Brent Sanford is looking forward to a special farewell planned for his chief in the next couple of months.
"Only about eight per cent do over 25 years' service," says Brent. "Most do about ten years. Allan is a very noble man, and very quiet. He's passionate about the fire service, and very quiet about taking recognition."
More on SunLive...