Hahei tourism infrastructure feedback useful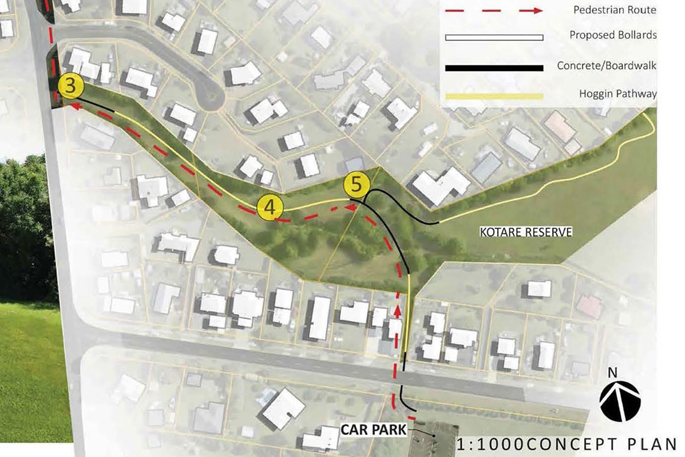 The Thames-Coromandel District Council thank residents for giving feedback from their consultation on two projects to improve tourist infrastructure in Hahei, and they now can proceed with the proposed walkway from the Hahei Visitor Car Park at the village entrance to the beach and the start of the Cathedral Cove track, and upgraded toilets by the community hall.
The projects have received a total of $1.5M from the government's Tourism Infrastructure Fund (TIF), which is covering the majority of the cost, as well as the extension of the Hahei Visitor Car Park.
The aim of the walkway is to allow visitors to park at the Hahei Visitor Car Park and then walk safely to the beach or the beginning of the Cathedral Cove track at the top of Grange Road.
This will also help reduce the number of vehicles driving around the village looking for parking on residential side streets.
The majority of submitters liked the low key approach of bollards as a safety solution for pedestrians at the beach end of Hahei Beach Road, and a colonial-look toilet facility that would fit with the village theme.
"General themes and comments were about providing clear signage, including symbols for tourists who may not speak English, identifying distances and terrain information to Cathedral Cove, and to provide clear walking options either via the concrete footpath up Grange Road, or a more 'natural' walk along the beach," says Project Manager Ross Ashby.
The majority of the submitters saw merit in keeping the parallel parking on Hahei Beach Road, with a longer term view to improve parking congestion at the beach end. There was also clear support for keeping the toilets in their current location, instead of shifting them as had been proposed.
The Thames-Coromandel District Council will be in contact with property owners at the end of Hahei Beach Road with more details around bollard locations, so that owners can maintain vehicle access to their properties.
Work is scheduled for the toilet facility before this summer period.
For more information on the proposals click here.
Detailed design work for the walkway can now begin, though the walkway itself may not be finished in time for next summer.
For more information on parking in Hahei, click here.
More on SunLive...