Young Guns firing under coach Hill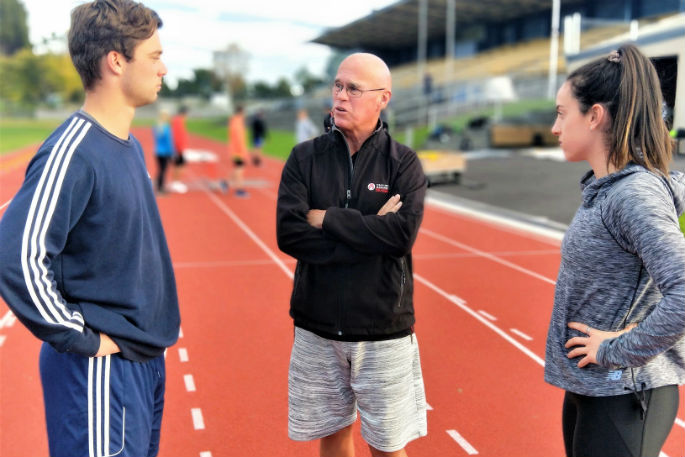 It is fair to say Kerry Hill knows a thing or two about sprinting.
The Tauranga resident is the Relays and Sprints Coordinator at Athletics New Zealand, the Speed/Agility Conditioner to the All Blacks Sevens team and Head of Speed and Agility at the Waikato University Adams Centre for High Performance Training.
Kerry was putting some of Tauranga's best young athletes through their paces on a blustery cool autumn evening at Tauranga Domain when I caught up with him.
Two of New Zealand's best sprinters in Ethan Holman and Brooke Somerfield were there. They are the Waikato/Bay of Plenty senior 100m sprint champions and have both represented New Zealand at overseas events.
But there were also rugby and soccer players and a professional equestrian who plays a winter code all looking to improve their running techniques.
Kerry says it is a good time for athletics in the region.
"The clubs that are here are quite big, they are definitely not getting any smaller, so the enthusiasm is still there. There are more than 300 kids at one of the clubs and 150 at another which is quite a lot.
"The clubs provide the fast, strong, agile and endurance kids for other sports. The key is whether the kids can be shown that if they want to they also have a future in this sport.
"Five of the six girls who went with Brooke in the New Zealand team to Poland to the World Under-20 Track and Field Championships were from smaller towns."
What Kerry works on is technique, power, agility, speed and endurance.
"We want the complete package really. We want them to be able to offer to their own sport that their conditioning is pretty balanced. Hopefully we operate in a way that we do prehab as opposed to rehab.
"Constantly we are talking to the parents and the athletes about why they are doing an exercise which is good for their long term future rather than a short term gain that may be pushing them in the wrong way too early."
Kerry has mentored 20-year-old track stars Ethan and Brooke from their early teens.
Both represented New Zealand in the 4x100 relay team in Poland last year. In March Ethan, in his first year in the senior ranks, came fourth in the 100m final and second in the 200m final for a silver medal. His 100m PB is now 10.8 seconds.
Brooke has qualified in the sprint relay for the World University Games to be held in Napoli, Italy this July.
Another star based in Tauranga for two years is Argentina long jumper Nicolas Moratella. He year he won the Argentina national senior title with a legal leap of 7.33m.
Kerry is proud of all his athletes who continue to improve.
"That's one of my philosophies is looking at kids who have got the work ethic. They usually come through ahead of the superstars because they just keep going."
More on SunLive...