Traffic woes stuck in limbo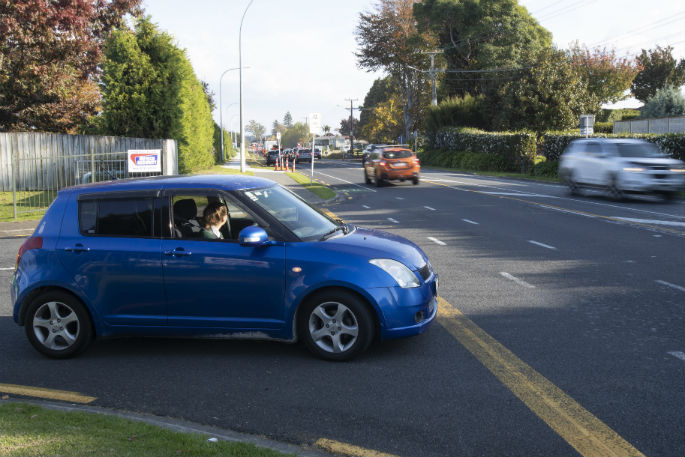 They felt fobbed off by the Tauranga City Council, so a group of Tauranga college students are ramping up the pressure to remedy what they perceive to be a traffic hazard – an accident waiting to happen - outside their school.
"Why wait for something bad, for someone to die or suffer serious injury?" asks 17-year-old Year 13 Aquinas College student, Georgia Jones.
She's talking about traffic madness at the school's front gate at either end of the day – where students, parents and buses and cars jostle with vehicles on a fast and furious stretch of Pyes Pa Road as they try to exit the school at day's end.
No one has died. Not yet. "But there have been accidents and lots of close calls," says Georgia.
So last year Georgia, another Year 13 student Fergus Lellman and other members of SADD, or the college's Students Against Dangerous Driving group, took their case straight to city fathers – the Tauranga City Council, the open submissions process where locals can vent on anything and everything.
Their submission was really good. "They said so," says Fergus. "and they said they'd had other feedback about the danger outside Aquinas."
What the SADD group pitched was a speed reduction on Payes Pa Road – at the peak times before and after school. It's an 60 km/h stretch of road outside the school.
"But cars are usually travelling in excess of 70km/h. Seems Kiwis don't like slowing down," says Fergus. SADD wants the speed limit reduced to 40km/h. And it suggests temporary school speed zones be put in place. "A good visual reminder to slow down" said the SADD council submission.
While a pedestrian crossing would help "to ensure student and community safety", it would not go far enough according to SADD. Another school, just three kilometres down the road, is protected by similar signs.
"You have a road feeding SH36 out of town one way. And the other way, there's a slight blind corner with people zooming at 60 or 70 towards town. Eighty or 90 percent of the traffic leavings school is headed towards town, so you have to cross one busy lane before trying to merge into another. It's almost impossible." Certainly frustrating and probably quite dangerous. "You just have to put your foot down and seize the gap," says Fergus.
Student drivers are resourceful. They tried another tact – turning left at the school entranceway and driving with the flow down Pyes Pa Road in the direction of Rotorua before doing a u-turn and heading back to town. But that was risky in itself and students were advised against it.
SADD also suggested a flush median strip with a merging lane - exiting school traffic would just have to safely cross one lane of on-coming cars before merging, like a zip, with the traffic flowing towards Tauranga. "And you have all the kids walking home, and they're trying to negotiate Pyes Pa Road. Sadd wants a pedestrian crossing rather than the current walking island, because students tell them speed is a menace, a threat to their safety. But two months after their submission, and despite the councils initial enthusiasm…nothing! "So I emailed council saying I know you're busy but are there any developments?" says Fergus.
"Then we got a generic thank you for your submission." Thank you, but no thank you it seemed.
Aquinas SADD decided another submission "wouldn't cut the mustard" and started a petition. "Perhaps the council thought we were just a bunch of students. Or it had bigger fish to fry. But the petition may force it to sit down and talk - here's our issue and how can you work with that?" There are now more than 500 signatures on the petition.
"Everyone is totally supportive," says Fergus. "Because they all know the dangers. And we are doing it every day - five days a week and 40 weeks a year. It's a gamble every day for us."
The petition is likely to be submitted to the Tauranga City Council as a SADD project this school term. "More for the benefit of others," says Fergus. Because he will probably be at Victoria University studying economics and psychology, or pursuing a cricket caeer by the time it's in place."I will be done and gone."
"It'll be our legacy to Aquinas," says Georgia. "Helping people out." And keeping them alive. "That job has fallen on SADD and the students because we are the ones affected, and we are the ones who must do something about it."
More on SunLive...