Will Tauranga's Patrick's Pies prevail in 2019?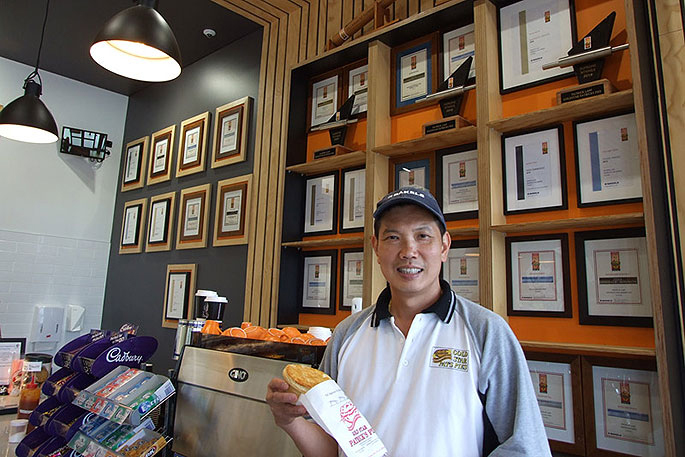 Pie enthusiasts will be pleased.
The 23rd Bakels New Zealand Supreme Pie Awards is taking place on July 25, and renowned Tauranga baker Patrick Lam of Patrick Pies Café and Bakery is hoping to add more awards to his repertoire.
He has taken home the Supreme Pie Award six times in the past 10 years.
Patrick says he is happy with what he and his team have achieved with their pies.
"We like to win but we fully understand it is very hard to win, and all the bakers are very good and they know what they are doing.
"It might be hard to win again to be honest."
Patrick says his pies have done well in various categories in past competitions.
"Normally the gourmet meat pie is pretty good, every year we are normally in the top ten.
"The chicken pie or the bacon and egg pie, we have done very well for the last 10 years, almost every year we are in the top 10, or we win an award for the pie."
When asked what his secret is to making award winning pies, Patrick says there is no secret.
"We don't have secrets for our pies, we just make them like normal and we are careful step by step.
"With the pastry we have to rest it, we have to rest the pie before the cooking.
"It is the process that needs to be done, it's not really a secret."
Patrick says a lot of hard work goes into making the pies, which is what makes them so special.
"We have so many people come from all over New Zealand especially to try our pies, take photos with us and give us comments about the pies.
"It's the quality that we put out."
New Zealand Bakels managing director Brent Kersel says the Supreme Pie Awards celebrate New Zealand's favourite convenience food; in excess of 100 million pies are eaten in New Zealand every year.
"It costs nothing to enter the Pie Awards, so bakers, what are you waiting for?"
Entries are now open for the 2019 Bakels New Zealand Supreme Pie Awards and close at 5pm on June 27. To enter, click here or ring 0800 PIELINE (0800 743 546) for an entry pack.
The Bakels New Zealand Supreme Pie Awards winner will be announced on July 30.
More on SunLive...