Tauranga teachers voice opinion at union meeting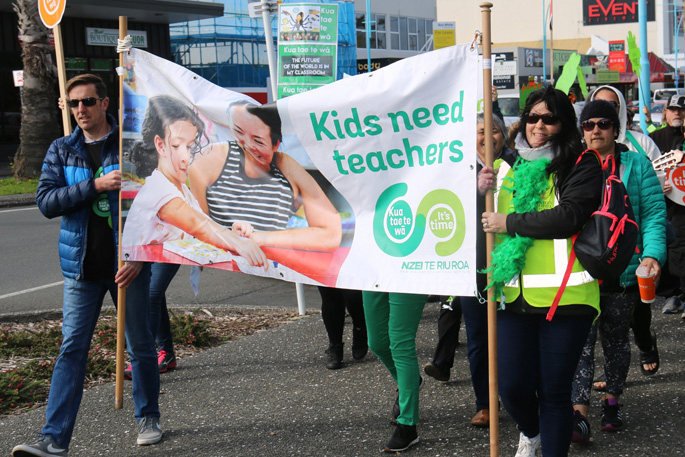 Teachers from across Tauranga gathered for paid union meetings on Wednesday at Baypark to have their say on matters within the education sector and to discuss further potential action.
Tauranga Special School Assistant Principal and lobbyist Andrea Andresen says overall around 700 teachers attended the meetings.
"I think that in itself says a lot about people wanting to be there and to have their vote and their say.
"The general feeling is that what is being offered is not enough to fix the current problem in terms of staffing supply, in terms of staffing for children with special needs, and in particularly for teacher work load; that's the message that comes again and again."
Andrea says many concerns were raised at the meeting in regard to people leaving teaching jobs because of the work load and the impact on their health and wellbeing.
The meeting also sparked many conversations around the upcoming strike action.
"It's about what other action we can be taking in terms of the lobbying and letting those in parliament know actually, this is the reality in the day to day life as a teacher.
"We need them to understand that reality, and I know from one of the meetings there was a lot of emails or Facebook messages sent off to MP's around those kinds of messages."
Andrea also says they discussed potential further strike action and what it would look like, however it depends on the outcome of the ballot and whether the minister goes back into negotiations.
"If the tone of those who spoke at the meeting have anything to go by, there's a strong sense in this area that strike action is quite likely," Andrea says.
National President of the New Zealand Education Institute (NZEI) Te Riu Roa, Lynda Stuart attended the meetings, and Andrea says it valuable for the region to have Lynda hear the concerns of local teachers.
"She is the top in regard to speaking to us, so she was able to give us the point of view from what it's been like for the negotiating team, because there's been a definite sense of frustration and there is an unwillingness by caucus to increase the size of the money that the negotiating team can negotiate with.
"Part of the discussion at the meetings was around how can we help caucus and treasury understand the scale of the problem that we're dealing with."
An issue Andrea has directly been affected by lately is the lack of relieve teachers, which is very frustrating when working in a school where students have learning difficulties, and they don't work well when changes are made in their learning environment.
"One of the things I spoke about at the meeting, and we're not on our own in this instance, is that I had one day last week where I had four teachers away and I could not get one reliever.
"It's not idea, it's not ideal for students in those classes. For our students, that continuity of routine is so important."
Andrea says the number of teachers are decreasing, particularly those in their mid-fifties and older, as well as teachers who are parents and are not returning to work.
"It's because of the work load, they're prepared to do relieving or part time teaching, but they're not prepared to return to the classroom.
"The key thing teachers are asking for is some kind of pay jolt, because we need to attract teachers in, we are looking for that additional time to actually be able to do our jobs and maintain some sort of work/life balance and wellbeing, and then the whole area of support for those with learning needs."
More on SunLive...