Tauranga mobster shot in the back twice, jury told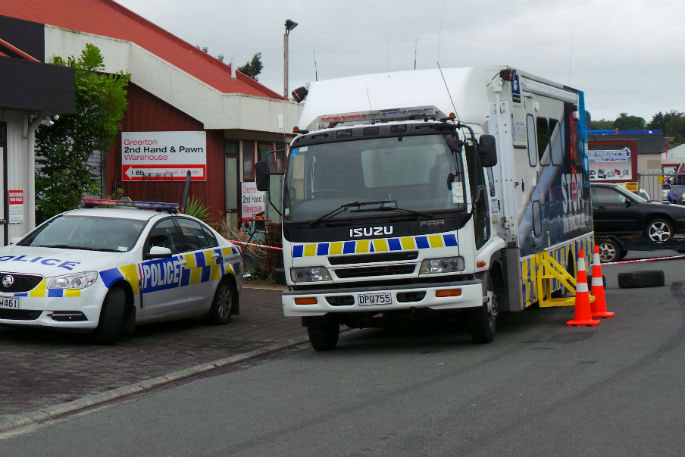 A patched Mongrel Mob member was gunned down and murdered over the 'taxing' of an $800 Nissan Maxima.
That's what the jury of seven women and five men were told at the murder trial of Colin Jeffries-Smith as the Crown made it's opening address at the High Court in Rotorua on Wednesday.
Jeffries-Smith faces one charge, that he murdered Mongrel Mob Notorious chapter member Lance Wayne Waite, in Tauranga on January 3 last year.
He is on trial with one co-accused, Casino Heta Williams, who faces one charge of possession of a firearm and one charge of accessory after the fact of murder.
Crown prosecutor Anna Pollett said the trial would be about "the dangers of the drug dealing business and debt collection".
She claimed that Jeffries-Smith was a low level street dealer, who through what she described as the 'Rob Peter to pay Paul' nature of the drugs underworld, had come to owe another dealer $3400.
Trying to engineer deals to pay that sum off, he was able to convince a woman called Kararaiana Wihapi to part with $2000 to source methamphetamine for her.
Neither the money, nor her methamphetamine were forthcoming.
"This is where the deceased Lance Waite comes in, a long time patched Mongrel Mob member of the Notorious Chapter. He became involved in the recovery of that debt," Pollett said.
"He didn't need weapons. The mere fact he wore a Mongrel Mob patch, looked intimidating and could use violence, he was able to use these things to demand payment."
On December 31, 2017, Waite and Wihapa "taxed" Jeffries-Smith car, it was a holding payment for the $2000.
"He had no car, no means of being able to get around and get his business done to sort out the debt," Pollett said.
He was also getting angry, telling one dealer associate he "was about ready to start chopping ***** up".
He had also sourced a firearm, a .22 Ruger semi-automatic from Black Power member Williams, a man known to Waite.
After a number of talks, all of which convinced Jeffries-Smith he would not be getting his car back, he went a place known as 'The Trap'.in Wilrose Place, Gate Pa, "where many drug deals took place".
It was also where Waite was staying.
Pollett said Jefffries-Smith entered the property armed with the rifle, and waited for Waite to emerge from one of the bedrooms.
"The defendant pointed the rifle at him and demanded he put the keys on the table. Lance Waite refused, the first shot was fired."
He was shot a second time as he attempted to escape.
Waite escaped the property and a "kindly" customer heading for 'The Trap' took him to Tauranga Hospital, where he was pronounced dead.
"No clearer charge of murder than taking a loaded firearm and shooting someone twice in the back," Pollett said.
She also told the jury Williams had supplied the gun to Jeffries-Smith, then aiding him after the killing.
He let him stay at his house, brought him a SIM card and disposed of clothing. The Crown also allege Williams coached him to say he committed the killing out of fear for his family's safety.
Pollett also referred to a statement made by Jeffries-Smith to police.
"He largely admitted what he had done, on the one hand he said he was angry about his car, but he also did it over fear for his mother and son, as Casino Williams had told him."
Pollett played the court a recording of a phone conversation between Jeffries-Smith and Williams, made by Jeffries-Smith from the Rotorua Police Hub.
"I'm getting charged with murder," he said.
"You done right bro, you upheld your mana. You wanted your property back, you smashed them mother******* dogs," Williams replied.
"I respect you my bro. I know it's against the law but I hope the judge can see what you done if for man, to protect your mum, to uphold your mana as a Māori man."
Williams also had some words about Waite.
"That **** was a nasty mother******."
The trial is set to continue and is expected to last six weeks and hear evidence from 83 witnesses.
More on SunLive...