NZ residents march at parliament for Keytruda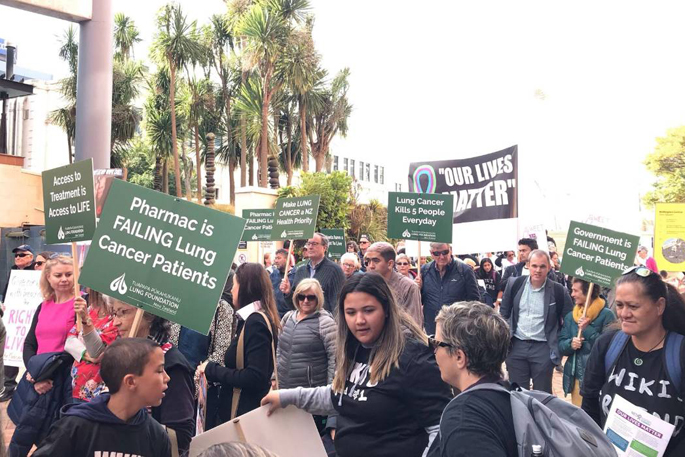 Around 200 people marched on parliament on Tuesday morning calling on the government to fund life-prolonging lung cancer medications such as Keytruda.
A 7618-strong petition prompted the march, ahead of its presentation to National MP Simon O'Connor.
Lung Foundation CEO Philip Hope organised the petition, which calls for the government to "declare lung cancer a national health priority" and approve additional funds for Pharmac to fund top lung cancer drugs.
That included Keytruda, Alectinib, Osimertinib and Crizotinib.
He says the impact on patients to meet the cost of those unfunded drugs could cause financial crisis and increased risk of suicide.
Philip's petition will be presented with other similar petitions calling for funding prioritisation for the drugs, with the total number of signatures numbering over 20,000.
Philippa Reed, the chief executive of Sweet Louise which looks after people with breast cancer, joined the march. She says they had lost 115 of their members since October 15 last year.
"It's important to be here to support all of our members to get better treatment and get funding," she says.
Drugs such as Ibrance and Kadcyla prolonged life and had an impact on the efficacy on other lines of treatment.
"These are mums and sisters and taxpayers we are talking about."
Lung cancer was New Zealand's biggest cancer killer, with five people dying each day from it.
The top three lung cancer drugs funded represented less than 3 per cent of the top five cancer drugs, even though lung cancer was the most "targetable" cancer, Philip says.
The petition was presented by Patricia Guttenbeil, whose husband, Jason, died of lung cancer last year aged 45.
His life – and the quality of that life – had been prolonged by about 11 months by Keytruda, according to his wife.
But it had drained the family's savings, as well as drawing on crowd funding from friends, family and kind strangers.
Keytruda costs roughly $13,000 every three weeks.
Tauranga local Leisa Renwick has also marched at parliament after setting up a petition to get Keytruda and other drugs funded by Pharmac, after being diagnosed with melanoma four years ago.
More on SunLive...