Resource consent dilemma for Tauranga trust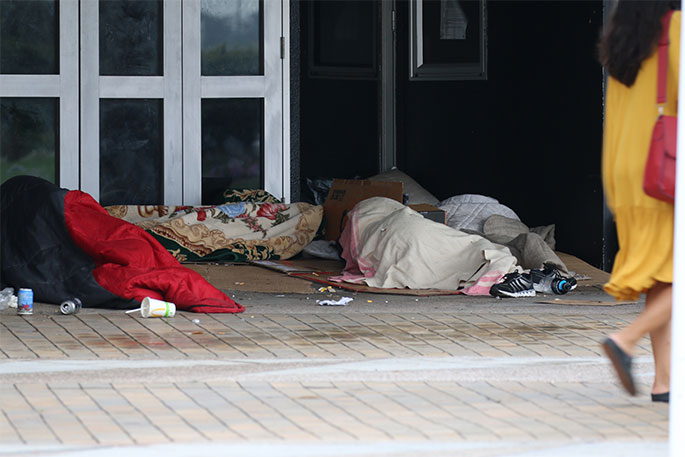 A Tauranga charity which operates on a shoe-string budget now have to look at gaining a resource consent or operate illegally.
Whare Ora 111 Charitable Trust has been housing Tauranga's homeless at 111 Ohauiti Road with demand for their services high following the introduction of the Street Use and Public Places Bylaw 2018.
The bylaw, which came into effect on April 1, will see people who are found sleeping or begging within 5m of a shop front in the central business district moved on.
With just two toilets and one shower for about two dozen people, the community hall was never designed to be a shelter but it has become a welcome port in a storm for the increasing number of homeless in Tauranga, reports Stuff.co.nz
The trust has started to turn people away as there are too many needing their help, placing a strain on their resources.
"The Anglican Church are good-hearted and opened this place up for those displaced," says Whare Ora 111 chairperson Hoki Bruce.
"We had about 40 people here in tents and some have not moved on."
The site has been levelled out, which means caravans have replaced tents and a family of nine sleeps inside the community hall at night.
The issue of resource consent came about after some people in the area complained about the location, resulting in a visit from council.
Trustee Victoria Davies says they were told a resource consent could start at $5000 but could end up being tens of thousands if it was contested.
"We lack the money to go through the resource consent process," she says.
"We'll just have to operate illegally as no one has anywhere to go. Homeless are everywhere. All these laws do nothing to stop homelessness."
Tauranga City Council environmental protection manager Andrew McMath says they're working out the detail of what consent was needed from the charitable group before any cost assessment could take place.
"The Trust are currently working through the type and scale of activity they wish to undertake," he says.
"Once this has been determined, Council will be able to provide advice as to the nature of the resource consent required."
-Additional reporting by Matt Shand/Stuff.co.nz
More on SunLive...