College production steeped in family roots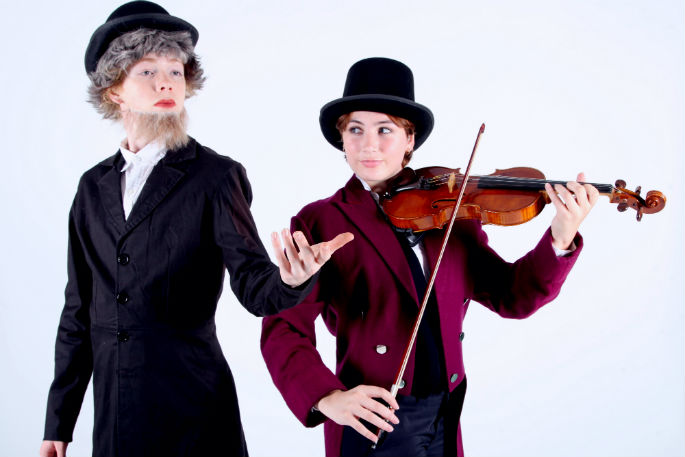 The upcoming Fiddler on the Roof musical at Baycourt will be a particularly poignant show for one Aquinas College family.
That's because Year 13 student Michael Graham, who plays the lead role in Aquinas College's biennial musical, is the fourth and final child in his family to be on stage in an Aquinas musical.
And it's not his first time. He was Bugsy in the college's production of Bugsy Malone in 2017, and the Artful Dodger in Oliver in 2015. Michael was joined in the Oliver production by big brother, Sam, who played Fagin.
In fact, the Graham family children have been involved in all Aquinas musicals. Rachel was on stage in Joseph and The Pirates of Penzance; Rachel, Joel and Sam were involved in Cinderella Enchanted (Joel in the orchestra pit on clarinet), and Joel and Sam had key roles in The Sound of Music.
Their parents – Fraser and Katie – are Aquinas College teachers who have also pitched in to support the school productions. Katie has been head of wardrobe for the last four productions, and part of the wardrobe team the previous one, while Fraser has been stage manager for the last four productions.
Michael says the arts has always been an integral part of his family's identity. "Many of us live to create and entertain, and this is the reason that theatre has enticed us in the way it has. It provides an outlet for us to thrive and create a sense of enjoyment for ourselves and others."
Michael, Sam and their dad have also been involved in a number of Tauranga Musical Theatre shows, with Katie joining in the fun by making numerous show costumes. Summer Shakespeare has also benefitted from Graham family talent.
Fiddler on the Roof, Aquinas style, involves 70 students taking on cast and crew responsibilities, is being directed by Toni Henderson, and will run from May 9 until May 11, including a matinee performance on the Saturday.
The crowd-pleasing show contains many well-known songs including Tradition, If I were a Rich Man, Miracle of Miracles, and Do You Love Me? It's a show about life, love, and tradition within a Jewish community in 1905 Russia. A poor milkman, determined to find good husbands for his five daughters, consults the traditional matchmaker - and also has a word with God.
Tickets for the shows can be purchased from Baycourt Ticketek on 577 7188 or through Ticketek.
More on SunLive...